OK team, I've got the answer for your sweet cravings! Like all good friendships, you need trust and you need to trust me on this. I'm putting it out there by saying that I've created one of the best brownies, ever. They're moist, rich and best of all…nutritious without any flavour compromises! I usually have to hold Lachlan (my boyfriend) down and force him to try my healthy recipes but he has already eaten half the batch (which speaks volumes)! I also took them into work, people were apprehensive but the whole plate was gone in a blink and the Sweet Potato doubters were asking for seconds!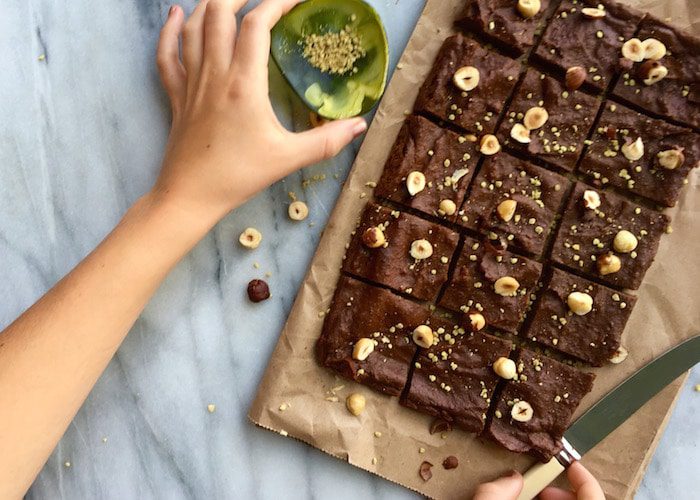 So please friends, trust me and try my recipe…you won't be disappointed!
Sweet Potato Brownie
What you need
1/2 cup raw cashews
2 cups pureed sweet potato
1 tsp gluten free baking powder
1 tsp vanilla extract
4 dates
1/2 cup coconut oil, melted
2 free range eggs
1/3 cup of raw cacao
1/2 cup roasted hazelnuts (for topping)
Let's create!
1. Preheat oven to 180ºC and line a small baking tray with baking paper and grease with coconut oil.
2. Place cashews in a blender and process till it forms a paste. Next, add in puree and process for 30 seconds, till combined.
3. Add remaining ingredients except the hazelnuts to the blender and blitz till you have a rich, smooth mixture.
4. Pour mixture into your baking tin.
5. Place into the oven and bake for 30 minutes or until an inserted skewer comes out clean. Allow to cool, sprinkle with nuts or desired topping (I also added some Australian bee pollen!)
6. Enjoy and watch everyone around you fall in love with them too!