So time for a not so successful baking story, one of tears, bloodshed and lives lost.
Well… not really. But it sounds way more interesting that way than "my crisp came out less 'crisp' and more 'squish'."
I have become victim of extra ripe, extra juicy peaches.
Plus side? I learned how to peel peaches!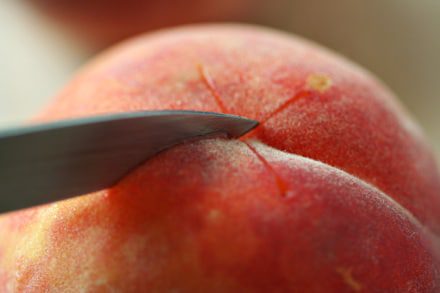 Step 1: Cut a shallow x-shape into the bottom of the peaches with a paring knife
Step 2: Bring a large pot of water to boil. While you are waiting for the water to boil, prepare a large bowl full of ice water.
Step 3: Gently place peaches in the boiling water and blanch them for 40-60 seconds.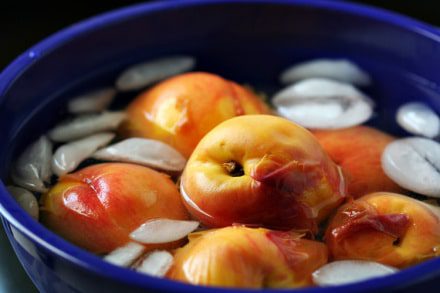 Step 4: Using a slotted spoon, remove each peach and place in the ice bath.
Step 5: Approx. 1 minute later, peel peaches. I found rubbing at the skins helps if they don't peel easily.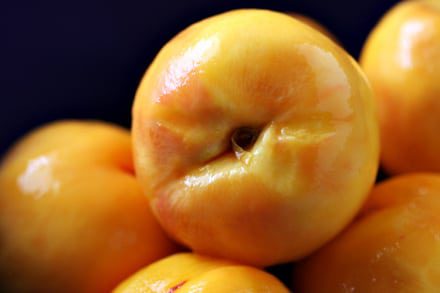 Step 6: Success!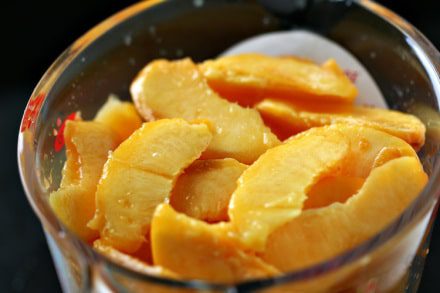 After the wonderful world of peeling, I pitted and sliced the peaches… no problems here yet.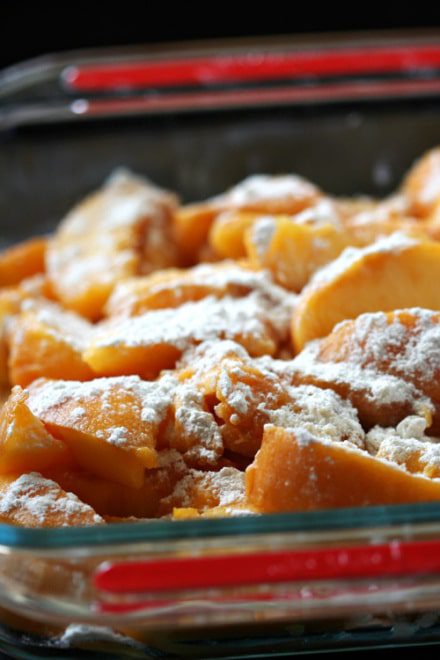 And theeeen… this is where I think things went wrong. What you see here is flour on peaches. I don't know if I didn't use enough flour, if I should have used tapioca instead or what, but I feel like there is something different I could have done at this step such that I would be rewarded with something other than peach soup the following day.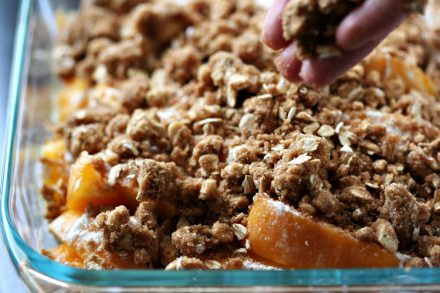 This step was great. Honey pecan granola based crumble? Fabulous.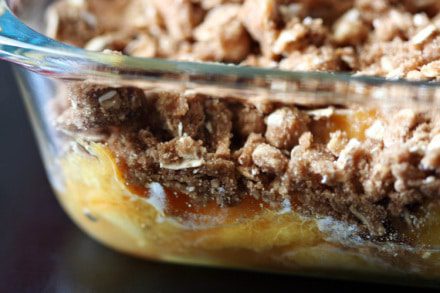 And theeen, another potential falter. This is the freshly baked crumble. Looks good, right? Crumble looks crisp, peaches look tender, and there is a reasonable amount of peachy juciness. If I had chosen to eat the crisp at this very moment, it probably would have been perfect.
I waited to eat it until the next day as I wanted to share it with others. At that point, I believe the sugars in the crumble had leeched out the juices. Thus, it was soggy crumble, floating in peach juice, with squishy peachness below it. Not my finest hour. Which is why I have no pictures to share of that state.
So, lessons learned?
Peeling peaches? Not as hard as I thought.
If you have particularly ripe peaches, you might wanna up the flour content to soak up more juice or maybe use tapioca(? Anyone have knowledge here to share?) or just eat it immediately. It probably tastes better if you eat it immediately anyhow. With ice cream.
If you fail as I did and make peach soup, it will actually make an AMAZING vanilla ice cream topping.
For serious on that last point. Crazy liquidy peach crisp makes better than average ice cream topping.
Make the best of your mistakes! And then share them with me so that I may feel less lame! 🙂
Peach Crisp
So this recipe didn't quite work out for my needs of being served the following day, and I also used peaches that were much more ripe than I should have. So just keep that in mind.
Crumble
1/2 cup quick cooking oats
1/2 cup honey-sweetened granola (I used a very chunky honey pecan granola)
3 tablespoons all-purpose flour
1 teaspoon ground cinnamon
1/2 teaspoon ground nutmeg
1/4 teaspoon ground allspice
1/2 cup packed brown sugar
1/4 cup cold butter
Peaches
5 cups fresh peaches – peeled, pitted and sliced
1 tablespoon all-purpose flour
Directions
Preheat oven to 375 degrees F (190 degrees C).
In a medium bowl, combine the oats, granola, 3 tablespoons flour, spices and brown sugar. Cut in the butter until crumbly.
Place peach slices in an 8-inch square baking dish. Sprinkle with remaining 1 tablespoon flour. Scatter the oat mixture over the peaches. Sprinkle top with pecans.
Bake in preheated oven for 30 minutes, or until golden brown.