I have a confession to make…I am addicted to peaches. I've been devouring about 5 pounds a weekby myself. I've been eating them in my fruit salads, broiling them and topping them with vanilla cinnamon sugar (aka my daily dessert), raw (duh), and now grilled. No matter what, peaches are my summer candy (that is, until I grab a bag of cherries, my all time fave).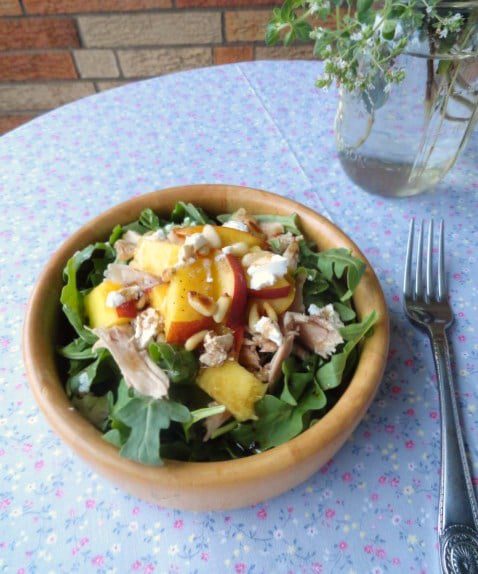 I love the idea of includingfruit in my salad, and thought I would take advantage of the fact that I have so many peaches in my fridge. I remember seeing the original recipe on Eat Live Run about a year ago, and was stoked that I had nearly all the ingredients on hand. I substituted toasted pine nuts for toasted hazelnuts (yes, I slightly over toasted them…oops), and regular balsamic vinegar for white balsamic. I think I may have a thing now for balsamic vinegar and peaches. The pairing just works!
The end result was wonderfully simple and delicious, just how all summer dishes should be. The only thing missing was a chilled glass of white wine…mmm.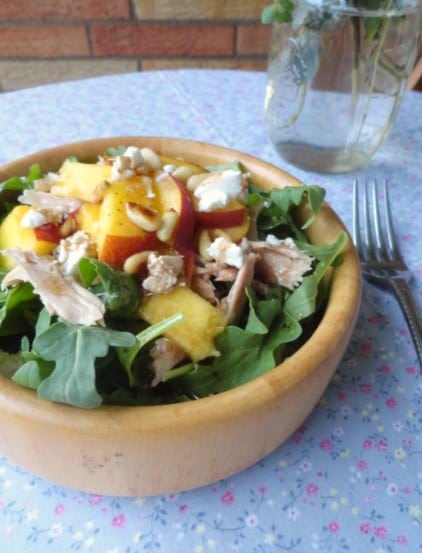 As usual, I will be submitting this salad to Souper (Soup, Salad and Sammies) Sunday atKahakai Kitchen!
Grilled Peach, Chicken, and Goat Cheese Salad
Ingredients
Dressing
2 tablespoons olive oil
1 tablespoon balsamic vinegar
1 teaspoon honey
Pinch of salt
Roughly 8 cups greens of choice (I used arugula, also my fave)
2 yellow peaches, slightly firm to the touch
1/4 cup toasted pine nuts
1 cup cooked chicken, shredded
2 ounces fresh goat cheese
Directions
First, make the dressing. Whisk together the ingredients and set aside while you prep the rest of the salad.
Preheat your grill to medium/high heat.
Slice peaches in half and discard pit. Place peaches, cut side down, on a preheated grill. Close the lid and grill about five minutes, checking occasionally. Alternately, you could broil them for the same amount of time. You want the peaches to soften and get char marks across the bottom. Remove peaches and thinly slice.
To assemble salads, divide greens into two bowls. Top greens with chicken, goat cheese, pine nuts and peaches. Drizzle dressing over the top and toss.