Happy November! It is finally, FINALLY, getting crisp here in Virginia.  The days are brisk, the leaves are bright, and the mornings are cozy. Fall is in full swing and these pumpkin muffins are a delightful way to celebrate it.
Pumpkin muffins are one of my favorite fall treats, but I really wanted to find a gluten-free, dairy-free muffin that still tasted like the ones I used to pick up at coffee shops in my pre-allergy days. After a few batches, I landed upon the perfect recipe. Warm, soft, and spicy these muffins taste like autumn. Pumpkin, applesauce, and fall spices gently flavor the quick bread. Roasted sunflower seeds and pumpkin seeds give the top the perfect crunch, plus it's a little healthier than a sugar-y topping. And, despite being gluten-free, these muffins have that nice, dense texture. Make these muffins.  They will rock your very cozy, striped socks.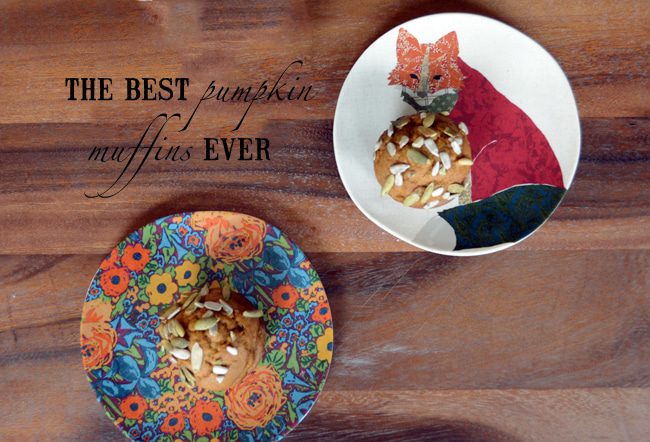 The Best Pumpkin Muffins Ever
Click here for a printable recipe!
Ingredients: 
1 (15 ounce) can pureed pumpkin
4 eggs
1/2 cup vegetable oil
1/2 cup applesauce
2/3 cup water
2 teaspoons vanilla extract
1 1/4 cup granulated sugar or raw sugar
1 1/4 cup dark brown sugar, packed
3 1/2 cups all-purpose gluten free flour
2 teaspoons baking soda
1 teaspoon baking powder
1 teaspoon xanthan gum
1 1/2 teaspoons sea salt
2 tablespoons pumpkin pie spice
1 teaspoon ginger
1/4 cup roasted, unsalted pumpkin seeds
1/4 cup roasted, unsalted sunflower seeds
Prep Time: 15 minutes
Cook Time: 25 minutes for muffins, 50 minutes for loaves
Yields: 24 muffins or 2 loaves
Method:
1. Preheat oven to 350F. Grease muffin pan or two 8.5 x 4 x 2.5 loaf pans. Set aside.
2. In a stand mixer, mix pumpkin, eggs, oil, applesauce, water, vanilla extract, and sugars until well-blended.
3. In a large bowl, mix flour, baking soda, baking powder, xanthan gum, salt, and spices. Stirring slowly, add dry mixture to pumpkin mixture one cup at a time.
4. Mix sunflower seeds and pumpkin seeds together. Fill muffin cups up 3/4 of the way with batter. Sprinkle seeds on each muffin. Bake for 20-25 minutes or until a toothpick comes out clean.  If using a loaf pan, bake for 50-60 minutes or until a toothpick comes out clean.
5. Store in a airtight container for up to 4 days.  Reheat muffins or a slice in the microwave for about 15 seconds.