This post is merely the recipe corollary to my Project Food Blog dinner party,Desserts in Disguise. Check out the main entry for more on the flavor profile & other delicious desserts.
My favorite kind of pizza is pineapple and pepperoni. There's just something about the combination of sweet, tangy and salty when paired with cheesy goodness. However, I'm a smart woman–I hold two degrees from top notch schools and a license to practice law–so I understand that some of you are currently scrunching your nose in disgust at my choice.It's okay. Because of my former (and still sometimes present) status as a picky eater extraordinaire, I'll try not to scrunch my nose at you for doing the same at me. I'll try, but I may not succeed.
As an ode to my caring and understanding side (cue maniacal laughter from my mother), when serving foods to others, I try to consider their dislikes and dietary restrictions. Not only did I do that by making non-garlic truffles just-in-case for my dinner party, I also left espresso beans out of my brother's crème brûlée 'cause he's weird and doesn't like coffee. And even though I desperately wanted to add a salty element to these pizzas to replicate the flavors I prefer, I refrained from doing so and stuck to the hard-to-beat deliciousness created when sweet and tangy meet cheesy.
I'd also like to thank the people atPOM Wonderful* for sending me a case of pomegranate juice, which inspired the flavors and my choice to model the pizza's visual after the more traditional pizza margherita. Reducing the juice creates the most wonderfully tart and flavorful syrup good for all sorts of desserts and drinks. I've got a cup of it waiting for me in the fridge.
Pomegranate Sauce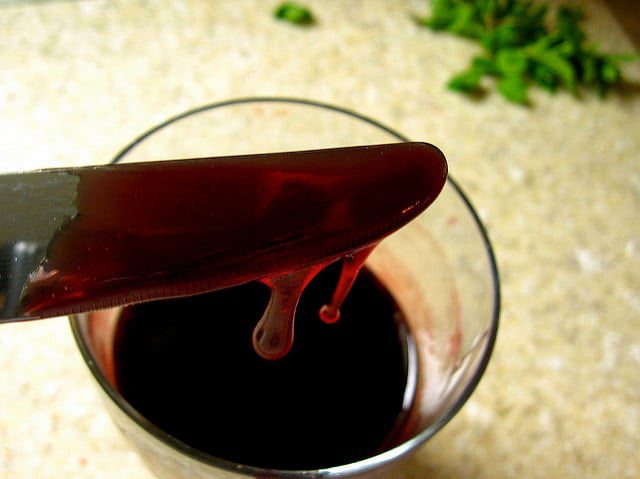 1 cup 100% pomegranate juice
2 Tbsp. sugar
1 tsp. cornstarch (optional)
Place juice and sugar in a sauce pan and bring to a boil. Reduce heat and allow to simmer until reduced to 1/3 cup with a syrupy consistency, about 45 minutes. If you're having trouble getting it to thicken up as much as you'd like, mix the cornstarch with a tablespoon of water, add to liquid, bring to a boil for 1 minute, and stir frequently. Allow to cool.
Sauce will hold up for about 2 weeks in refrigerator.
Mascarpone
Whip 1/4 cup powdered sugar with 6 oz mascarpone cheese.
Pizza Dough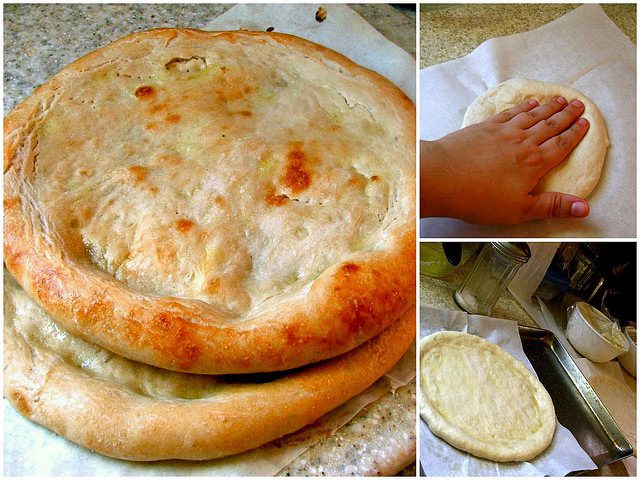 3/4 cups water
1/2 tsp. yeast
2 cups all-purpose flour
1/2 tsp salt
egg wash (1 egg + 1 Tbsp. water)
granulated sugar
Dissolve yeast in water. Mix salt into flour. Mix together and knead until smooth and slightly tacky. Place in oiled bowl and cover. Let rise for 1-2 hours until doubled. Preheat oven to 450.
To shape pizza, split dough in half and form each into a ball. On parchment paper, flatten ball into a circle. Beginning in the middle, use heel of hand or fingers to push out from the middle to the sides, turning dough bit-by-bit as you go. Dough will stick to parchment, which is fine and will help you stretch it out. Continue this until dough is 10″ wide with a slightly thicker crust on edges. Repeat with other half.
Brush the entirety of the pizza dough with the egg wash and then sprinkle with sugar. Bake on baking sheet with parchment for 12-15 minutes, until golden brown.
You can bake these a few hours ahead and keep in tinfoil in a warm oven, or bake them for 8 minutes and finish them off right before serving.
Assembly
You will need1/4 cup finely chopped mint leaves.
When pizza crusts are removed from the oven, spread with mascarpone. It will start to melt and separate, and that's okay. Just glob a bunch on. Using a spoon, drizzle pomegranate sauce over the cheese–it's a very strong flavor, so when I mean drizzle, I mean drizzle and don't glob it on. Sprinkle with mint leaves, cut into slices and serve.