A while back, I was catching up on reruns of what is arguably my favorite food-related TV show, Good Eats. In the episode aptly titled "Pantry Raid 6," Alton Brown whips up a really interesting batch of cookies using cooked lentils in the batter. Piqued my curiosity, for sure!
Maybe you've only had lentils in Indian cuisine or maybe you haven't tried them at all. They're an ancient food, dating all the way back to 9500 BCE or so, and they are packed with protein. I mean, packed! Lentils rank in at the 3rd highest protein content of all plant-based foods (soybeans and hemp hold the #1 and #2 spots, respectively). This makes lentils a great way to sneak protein into foods that are otherwise lacking in it. Oh yeah, and they taste AMAZING too!
Now, AB is not exactly known for vegan recipes, so I've adapted his original recipe to make it vegan. I've also made a few other substitutions based on taste. For example, his original recipe calls for shredded coconut, but since I know that my dear heart doesn't really care for coconut, I've omitted it from this batch. See my notes at the bottom, but do what you will.
Oatmeal Raisin Lentil Cookies
2/3 cup red lentils
2 cups water
1 tsp baking powder
1 tsp salt
1 1/2 tsp cinnamon
1/2 tsp allspice
2 cups pastry flour (I use Bob's Red Mill Organic Whole Wheat Pastry Flour here)
3/4 cup vegan margarine (like Earth Balance Vegan Buttery Sticks)
1 cup granulated sugar
1 Energ-G replacer egg
2 tsp vanilla
1 cup rolled oats
1 cup dried berries (I used 1/2 raisins and 1/2 blueberries)
In a medium saucepan on medium heat, cook lentils in water for 30-40 minutes. Whisk until they are the consistency of mashed potatoes. (The original recipe calls for a food processor here. You can do that if you like or if your lentils are not mashing well, but I didn't think it was necessary.) Once mashed or smashed or processed, set lentils aside to cool while you proceed with the next steps.
Preheat your oven to 375°F and prepare 2 baking sheets with parchment paper. In a small bowl, combine baking powder, salt, cinnamon and allspice with the pastry flour. Mix thoroughly.
In a large bowl, cream margarine and sugar thoroughly with a hand mixer. Add Energ-G egg and vanilla. Mix to combine.
Add the lentil mash into the creamed mixture and mix to combine.
Add the flour mixture, one-third at a time, mixing in between until thoroughly combined.
Add oats and dried fruit. Using a spoon, stir to combine.
Spoon by 2-3 tsp lumps onto parchment paper. The cookies will not spread, so you can crowd them quite a bit! This recipe yields around 4 dozen bite-size cookies. Bake 15-17 minutes or until, as AB would say, "GBD" – golden brown and delicious!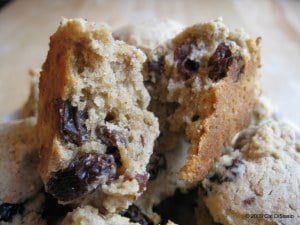 Notes:
AB's original recipe calls for 1 cup cranberries and 1 cup unsweetened shredded coconut. You can really use anything you want. I had a taste for raisins, but it turns out there was only 1/2 cup left in the house, so I supplemented with blueberries. You could add 1/2 cup chopped nuts instead of the coconut, or leave it out altogether as I did.
Enjoy your lentils!