Skinny Cheeseburger Chili is a playful take on two favorites- chili and cheeseburgers and fries. While this meal is hearty, it's healthy and sneaks in veggies where you wouldn't expect them.


It's that time of year where the magic of winter in December has transformed to a big frozen slush pile of cold yuck leaving me craving warm bowls full of comfort. Old Man Winter keeps dishing out snow storms and Polar Vortexes, keeping me in full on hibernation mode, which of course means one thing: SOUP! Granted, it's still January and I am still trying to keep my New Year's Resolution of jumping back on the healthy eating and exercising bandwagon after a holiday season full of diet debauchery.
But, the January factor of hibernation and an overwhelming desire for comfort food wins out, especially when we are talking soup. Because let's face it, after how pretty and sparkly winter is in December, by January, aren't you pretty much over the snow, slush and yuck that is winter and ready for spring to – well – spring?  (Granted this may not be the case if Christmas fell exactly one month later. January Christmas would rock my socks- way more than December Christmas. I mean especially if the season were to still start after Thanksgiving. That would mean a whole extra month of jingle belling, party going, shopping, and yes diet debauchery, which would mean the whole healthy eating, exercising thing would kick back into high gear on say, February 1 and you'd have an extra month of sins to atone for, but it would so be worth it in my opinion.)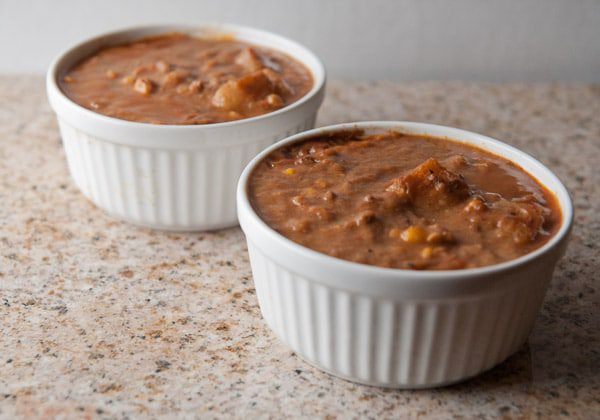 Fortunately, with soups like this, atoning for diet disasters of the previous month is no big deal. When you eat this soup, you will have no idea that there are so many veggies loaded into it and that each serving clocks in at around 220 calories per serving. Better yet, it's naturally gluten free. And moms and dads, if you have picky little eaters at home that won't do veggies, seriously, this is a soup for you. Because guess what, this soup's secret ingredient is….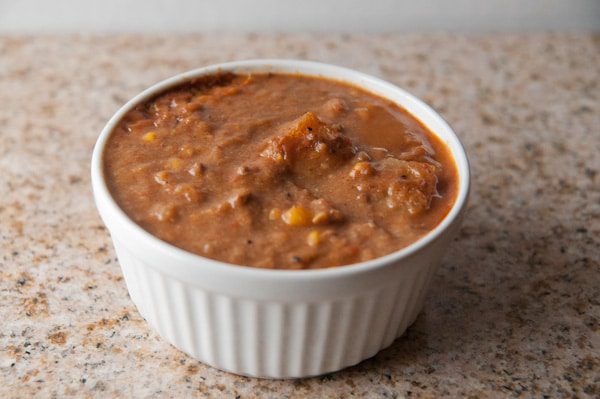 Cauliflower. Yep, you heard that right. Cauliflower. There is an entire head of it pureed in this soup along with two red peppers and an onion. Yep, all those veggies and not a single veggie to be seen by picky eaters.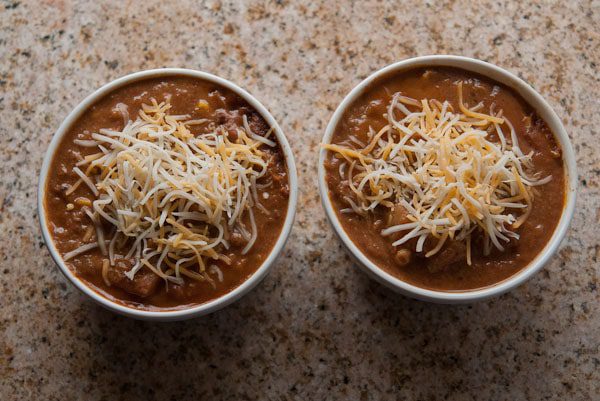 Picky eaters, I assure you this soup is creamy and tastes like a cross between cheeseburgers and chili, not like vegetables. As a matter of fact, it's so yummy and packed with chili cheeseburger taste that it'd be the perfect guilt free, figure friendly game day snack. Trust me, if this soup tasted like it had so many veggies, my hubs would have had nothing to do with it. But he did, he liked it so much, he went back for seconds.
Skinny Cheeseburger Chili
Serves 6-8
1 small head of cauliflower
1 onion, diced
1 clove of garlic, pressed
1 potato, cubed *optional* feel free to omit if counting carbs or to substitute for a sweet potato. I used it because I wanted to give a nod to the best burger side dish ever- fries.
2 red peppers, diced
1 cup of frozen corn *optional* feel free to omit this if counting carbs
8-10 cups of beef stock
1 pound of extra lean ground beef
2 cups of shredded cheese
Salt and pepper, to taste
1 tbs of olive oil
2 tbs of hamburger seasoning
1 tbs of chili powder
*optional* dash of hot sauce
How to Make:
Fill a medium soup pot, ¾ of the way with water. Bring water to a boil. Meanwhile, rough chop the cauliflower removing the green parts. Boil the cauliflower for about ten minutes or until cauliflower is tender. Strain and set aside.
While the cauliflower is boiling, heat a tablespoon of olive oil over medium heat. Add your onion, peppers, and garlic and sauté for 2-3 minutes or until the onion begins to soften. Pour into a bowl and set aside.
Once the veggies are removed from the pan, add beef and diced potatoes and season with salt, pepper, hamburger seasoning, chili powder and a dash of hot sauce. Brown beef.
While the beef is browning, put half of the cooked cauliflower and half of the cooked veggies into a blender with 1 cup of beef broth. Blend until smooth. Repeat with remainder of the veggies and cauliflower.
Once the beef is brown and the veggies are softened, pour the mix of cauliflower and beef broth into the soup pot. Stir in the remainder of the beef broth. Bring the soup up to a simmer and stir in cheese. Let cheese melt and serve hot.