Remember the famous Nasi Lemak Sambal Chilli recipe I posted not too long ago? I am officially addicted to it. Besides using it as dip for fried chicken and fish, I have also been adding it to some dishes. Like these:
Sambal tempeh
This fiery dish is perfect for the cool, rainy weather we've been enjoying. Even better, there is only 1 skillet to wash up! Yay!
Recipe
– 1 tempeh, cut into small pieces
– 1 tbsp (or more) sambal (homemade or storebought)
– A few stalks of french beans, sliced
– A handful of cashew nuts
– Some water or chicken stock (on standby)
– 1 clove garlic, minced
1. In a skillet, heat up some oil. Add garlic and fry briefly. Toss in french beans and fry till almost cooked. Add some water or chicken stock if too dry.
2. Add tempeh and continue frying. Again, add some water or chicken stock if it's too dry.
3. Throw in cashew nuts just before turning of the flame. Mix and toss briefly. Add salt if desired, and you are ready to serve.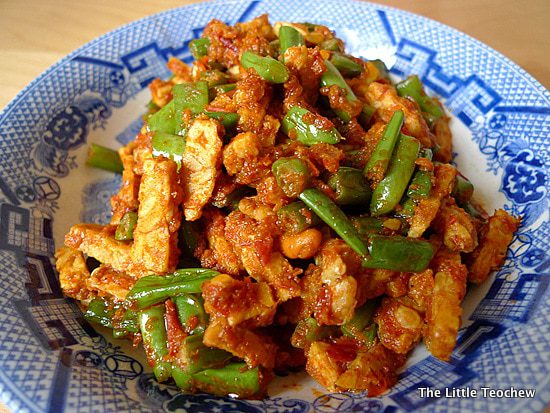 Another dish I made was Sambal Ikan Bilis (dried anchovies), which was all I needed to go with myNasi Lemak (coconut rice). Yummy!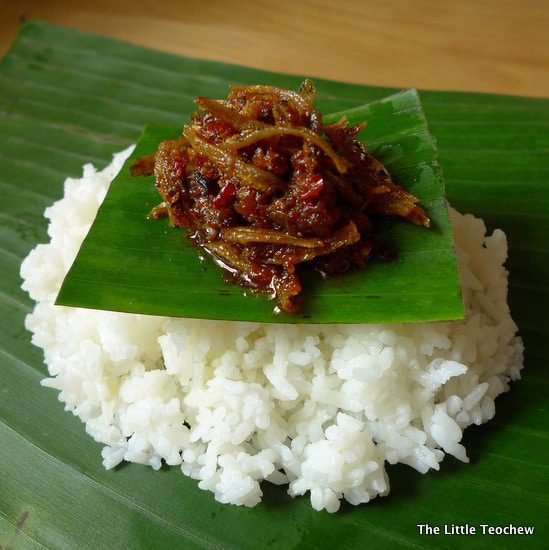 Nasi Lemak in its simplest form. Of course you can add on your fried chicken, fried fish, eggs and otak-otak.
Whoever first thought of cooking rice with coconut milk is a genius. This was breakfast … and it was worth waking up for! 🙂
Recipe
(for Sambal Ikan Bilis)
1. Fry some ikan bilis (dried anchovies) till crispy.
2. Add somesambal chilli and toss well before turning off the flame.
Recipe
(for coconut rice, from Lee Wee & Brothers)
Serves 5
– 370g rice, rinsed
– 625ml water
– 10 tsp thick coconut milk (the creamy layer)
– 3g salt (just a pinch)
– 4g ginger, sliced
– 3 pandan leaves, knotted
1. Put rice, water, coconut milk, salt, ginger and pandan leaves in an electric rice cooker. Mix well, cover and cook.
2. When rice is done, stir it gently with a pair of chopsticks to fluff it up.
* Note that I have not used the above recipe. When I cook coconut rice, I don't use ginger. And I tend to be very generous with my coconut milk (or cream, as I sometimes also use). However, since this recipe comes from a famous name in Nasi Lemak, I thought I'd share the original here with everyone.