Is it bad that I look forward to holiday food year round? I've had recipes bookmarked from last January that I want to make this season, and I can't wait to get going! I'm also aching to put up my Christmas decorations, but I'm trying to restrain myself and wait until after Thanksgiving. Same goes for the holiday sweets and hearty holiday fare (except Indian food, Indian food doesn't count!).
In an effort to postpone all the holiday indulgence that will soon ensue, I did a quick search for something filling, seasonal, and healthy, and came across this recipe. This quinoa salad fit the bill perfectly! Several autumn veggies are roasted then tossed with cooked quinoa, green onions, and an Asian style dressing. For me, the cilantro is a requirement. You know I love my garnishes! I find it to be pretty filling on it's own, due to the quinoa, but it would also be nice served as a side to a piece of fish or chicken. Hopefully this will tide us all over until Thursday! I wish everyone safe travels and a happy Thanksgiving!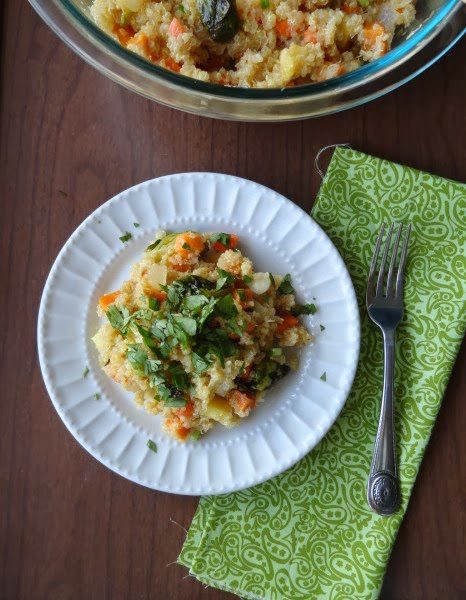 Warm Quinoa Salad with Roasted Autumn Vegetables and Ginger-Sesame Dressing
Ingredients
For the salad:
1 medium sweet potato, peeled and cut into 1/2 inch pieces
6-8 medium Brussels sprouts, trimmed and quartered
1 medium parsnip, peeled and cut into 1/2 inch pieces
1 small turnip, peeled and cut into 1/2 inch pieces
3 tablespoons olive oil
1/2 teaspoon salt, plus more as needed
1/4 teaspoon freshly ground black pepper
1 1/4 cups quinoa, any color or variety
2 green onions, sliced (the whole onion)
1/4 cup coarsely chopped fresh cilantro, for garnish
For the dressing:
2 green onions, thinly sliced
3 tablespoons olive oil
3 tablespoons apple cider vinegar
2 tablespoons peeled and finely chopped fresh ginger (3-4 inches)
2 tablespoons soy sauce (I used gluten free for Chris)
1 teaspoon sesame oil
Directions
Preheat oven to 400F.
In a large bowl, toss vegetables, oil, salt, and pepper. Transfer vegetables to a baking sheet, and arrange in an even layer. Roast the vegetables, stirring every five minutes, until they're tender and cooked through 18-20 minutes. While the veggies roast, cook the quinoa according to the package's directions (I like to cook mine in a rice cooker…so easy!).
Meanwhile, make the dressing by whisking together all the ingredients.
When the veggies and quinoa are ready, toss in a large bowl with the green onions. Add the dressing, and gently stir to combine. Serve warm, and garnish with chopped cilantro.