From now until Thanksgiving I am sharing some of my favorite dishes to serve on turkey day.  And why not start the smorgasbord off with dessert – my favorite part of any meal!Now Thanksgiving can be a little overwhelming, with the turkey, green beans, mashed potatoes, plus starters if you're the one entertaining.  Add in drinks and dessert and you will probably be going crazy.

The key for Thanksgiving is starting early, making what you can ahead of time and if possible, finding some shortcuts to not make the holiday feel like a day of work.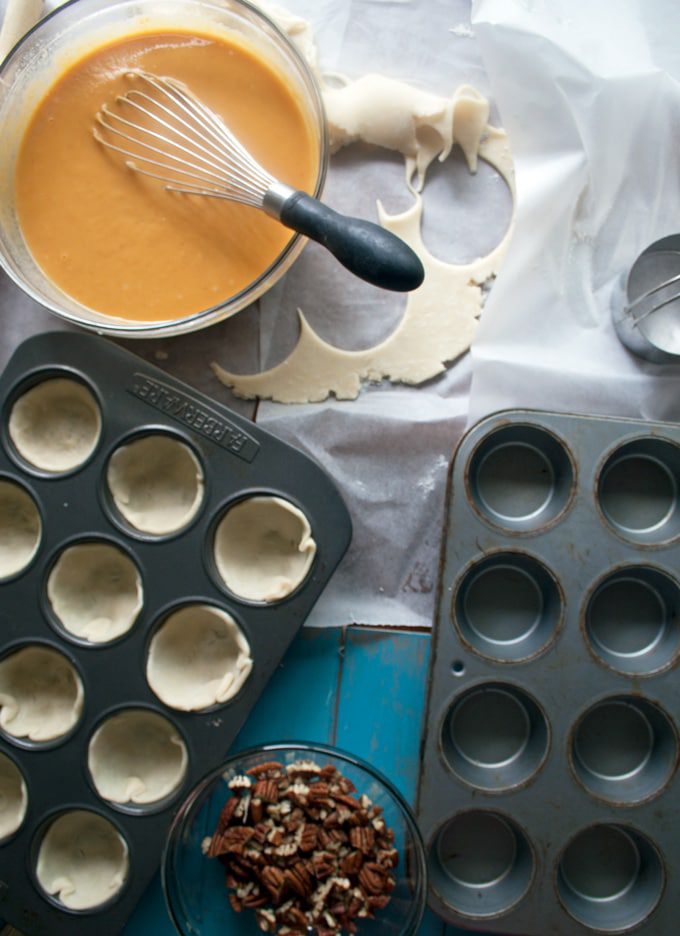 This is one of those make ahead recipes – plus you can totally eliminate dishes with these bite size, hold in your hand and eat as you go pie.  And these cook in a fraction of the time a regular pie takes to make – yeah!
You still use the same amount of ingredients- one pie crust and enough filling with one pie -and you just put it all in muffin tins.  You can buy or make your crust and toppings, I did a bit of a mix.  I made the crust (recipe below) because it is super easy and can be made a day or two ahead. But I bought the cherry pie filling and the pumpkin pie filling (time saver!).  I did make the pecan pie filling because I'm pretty sure you can't buy it.
Simply cut out the dough, I used the largest biscuit cutter I had, and fit it into your muffin tin.  Fill the crust with your desired filling, but leave a little bit of a lip of crust.  This will create not only the perfect "pie" but also will help you remove the pie from your tin.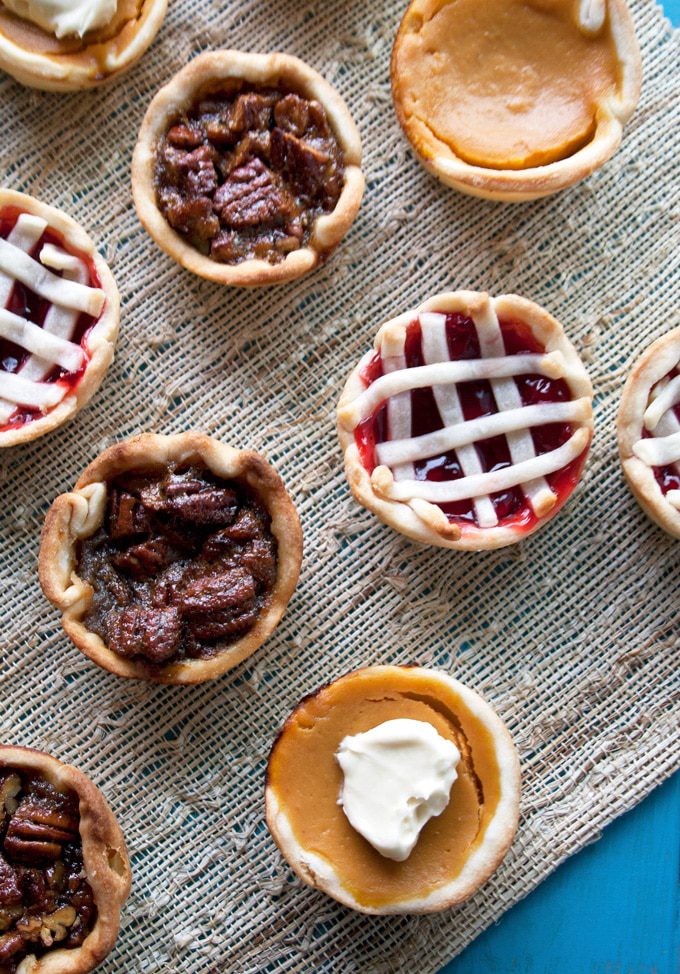 If you want to add a lattice topping, simply cut dough into thin strips and lay them over top.  Seriously, these are super simple to make and everyone loves them because you can have a bite (or a few) of every pie choice.
ingredients
Pie Crust
1¼ cups all purpose flour + more for rolling dough
½ teaspoon salt
½ teaspoon sugar
8 tablespoons (1 stick) cold, unsalted butter, cut into pieces
2-4 tablespoons ice cold water
Pecan Pie Filling
⅓ cup chopped pecans
½ cup packed dark brown sugar
⅓ cup light corn syrup
1 teaspoon pure vanilla extract
1 egg
1 egg white
¼ teaspoon salt
Pumpkin Pies
1 – 15 ounce can pumpkin pie filling (look at directions for how to prepare)
Cherry Pies
1 – 30 ounce can of prepared cherry pie filling
mini pies
Instructions
Pie Crust
You'll need to prepare one pie crust for each type of pie.
In a food processor, pulse flour, salt and sugar together just to combine. Add the butter and pulse until the mixture resembles coarse meal with a few small lumps remaining.
Slowly sprinkle in 2 tablespoons of the water while pulsing the flour-butter mixture. Do this until the mixture comes together when squeezed with your fingers.
Turn out onto a work surface and form into a disk. Wrap with plastic wrap and refrigerate for at least 30 minutes.
When the dough is ready, roll out onto your floured work surface until it is about ¼" thick. Cut 12 circles, large enough to completely fill your muffin tin. I used the largest biscuit cutter I had. In a greased muffin tin, add in the pie crust circles. Pressing to the edges and bottom with your fingers.
Below are the directions for each pie type.
Pecan Pie
For the filling, mix all of the ingredients together except for the pecans.
Add 1-2 tablespoons of the chopped nuts to each pie filled muffin tin. Top with the prepared filling, leaving about ¼" room.
Bake at 350 degrees for 18-20 minutes. The pastry should be lightly brown and the filling should have puffed up.
Pumpkin Pies
For the pumpkin pies, I filled the muffin tins with the prepared filling and baked at 350 degrees for 20-22 minutes, or until a toothpick is inserted and comes out clean and the crust has slightly browned. Top with whipped cream once cooled.
Cherry Pies
For the cherry pies, I filled the muffin tins with prepared cherry filling and then topped it with a few strips of leftover dough to form a lattice. Bake at 375 degrees until the crust tops are slightly brown and the filling is bubbly, about 20-25 minutes.