It t'was a wise man who said, "Vegetables are a must… I suggest carrot cake, zucchini bread, and pumpkin pie" (Jim Davis). Well, I might not be able to give you all of those in one simple post, but I can certainly give you the first one!
Not as sweet as traditional carrot cake, this recipe was originally called "Carrot Ring Mold" in the family recipe book I found it in. Around Thanksgiving, my family serves it with cranberry sauce that has hints of orange in it. Man oh man, is it delicious!!
And what's better than moist, carrot-packed cake with a gooey and creamy frosting drizzled over the top? How about adding aromatic cinnamon, sweet nutmeg, and decadent brown sugar to create a flavor-packed bunt cake? These can be made mini (as pictured) or in one big bunt pan: either way, this delightful and divine carrot cake is a sure-fire hit! This recipe was passed down from my Grandmother, and edited a little by me to make it a bit healthier without sacrificing any of the rich, scrumptious flavors!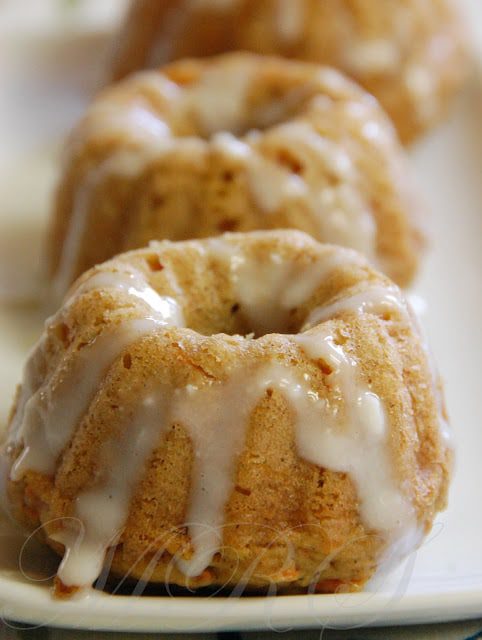 Below is the recipe for the mini bunt cakes; if you want to make one large ring mold, prepare the exact same way but cook for 45 minutes (instead of 23). When the smell of cinnamon and nutmeg baking away in the oven wafts upstairs to tantalize your senses, you'll understand just how amazing this dish is!
I can't stand it any longer! Turn on your oven and treat yourself!
Mini Carrot Bunt Cakes
Serves: 12        Serving size: 1 bunt cake with frosting         
Calories/Serving: (with frosting): 106            (without frosting): 91
Ingredients:
1/4c. packed brown sugar
1/3c. splenda
1/2tbl baking powder
1c. all-purpose flour
1/4c. whole wheat flour
1tsp cinnamon
1tsp nutmeg
3/4c. no sugar added applesauce
1tsp baking soda, dissolved in 1tbl warm water
2tbl light margarine, melted
2tbl light sour cream
1large whole egg
1 large egg white
2c. grated carrots
Cream Cheese Frosting
2oz package fat-free cream cheese
1/4tsp vanilla
2tbl. Splenda
2tbl skim milk (I would start with a little, then add more to get to the desired consistency you want)
Instructions:
Preheat oven to 350 degrees. Spray a 12-cup bundt pan with cooking spray.
In a large bowl, mix together the brown sugar, splenda, baking powder, flours, cinnamon, and nutmeg. Make a well in the center of the mixture, and place in all remaining wet ingredients (except carrots). Mix until moistened, then add in carrots. Mix well. Batter will be relatively thick.
Fill each bundt cup about 2/3 of the way up. Bake for 17-25 minutes, or until a toothpick inserted in the center comes out cleanly.
Allow to cool, and then carefully remove from pan. Drizzle lightly with the thinned-down cream cheese frosting (about 1tbl per cake). Devour!