Making risotto is like beginning a romance, you have to take it slow, pay it a lot of attention, make sure she has everything she needs and whispering sweet nothings to it probably wouldn't hurt.  This is not a multi tasking dish, you have to give risotto a lot of time and attention, and it is fairly simple to get it right if you can keep your focus.  I like to use this recipe when I want to impress someone, because it is creamy, seductive and everyone will love it. Risotto plays like she's way more mysterious and complex than she is. Sounds like someone I know.  They will all wonder how you pulled it off.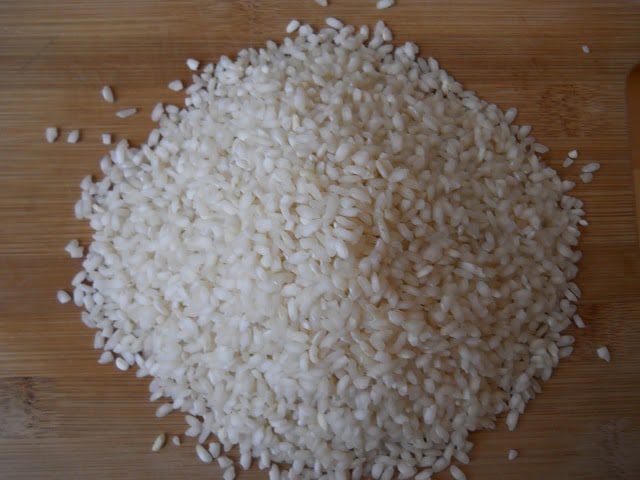 The first step to making a completely delicious and sultry risotto is to purchase the right ingredients. Most importantly is the Arborio Rice. You cannot make risotto with any other kind of rice. Arborio is short grain rice named after the teeny town where it is grown in the north of Italy. Romantic already right? It is extra starchy which is just what we need, because in the process of cooking we will draw that starch out making what seems like a creamy sauce.
Risotto is fantastic to showcase seasonal ingredients; you will notice that the ingredient list is only for a standard risotto. Please experiment with something you haven't tried or a combination of things you have wanted to try. Let it bring out the lover in you.
1 Quart Stock
1 Cup Arborio Rice
1/2 Cup White Wine
1 TB Butter
2 TB Grated Parmigiano
Salt & Pepper
You will need two pots for this. Go ahead and get them, I'll wait…
You'll need one shallow and one a little deeper. Pour the stock into the deeper pot and the butter to the shallow one.  Add the washed rice and toss to coat in the melted butter. Stir for a couple minutes until the rice sizzles in the pan. Now you'll know that it's ready to add some of that stock that has been warming when each grain of rice is a little clear and looks like it has a seed in the middle.  Have you ever eaten a pomegranate?  It is a favorite pastime of mine, but that is a whole other story. A piece of the rice should look like a pomegranate seed. Except white, not jewel toned shade of garnet, that would be weird.  So now you have the bleached out pomegranate seed looking rice, add a splash of white wine and salt. Maybe another splash, ok maybe its three and a half splashes. Now pour yourself a glass, you deserve it.  Wait until t almost all the wine has been absorbed and then ladle in just enough stock to cover the rice. Sip some wine, you are going to be here a while.
You have to tease the starch out, add just enough stock and wait for it to be absorbed and then add just enough more. Keep doing this until the rice is completely cooked, but still a little al dente.  You don't have to take its temperature or throw some up against the wall to know if it's done. Just taste it, you know what rice is supposed to feel like when it's done. Notice that buttery creaminess; you are totally getting that first kiss later.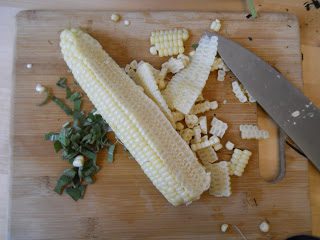 Now the fun part, parmesan cheese, fresh cracked pepper and your signature ingredient. I added a little sage chiffonade (you remember that right!) and fresh roasted corn right off the cob.
My recipe is for a Sweet Corn and Sage Risotto, but common recipes include mushrooms and pancetta, butternut squash, spring peas, or any delicious little morsels of seafood you love.
If I were a rich girl this dish would definitely include sweet pieces of Dungeness crab. You know, the kind they crack for you at the pier, and hand you a steaming pile with butter and lemon. You walk over to the dock of the bay with your crust of sourdough and get sticky and watch the fog role in. Ya, that kind.
But this roasted corn is sweet and the sage is smoky and, try to name something that has butter and parmesan cheese in it that isn't good. So I promise I will thoroughly enjoy this opportunity to cheat on my low-carb diet. Love it.