Let me explain.
Look, I totally know that is is still freezing cold where some of you guys are. And so when you saw that the title of this post included the word "grilling," your first thought may have beenWait… as in outside?!
And here is what I say to that: this insanely delectable, spicy, slightly sweet, bursting-with-citrus marinade is totally worth putting on some snow boots, digging out the grill, and creating some good ol' smokey flavor. Plus, seafood is totally spring-like: light, refreshing, quick to cook!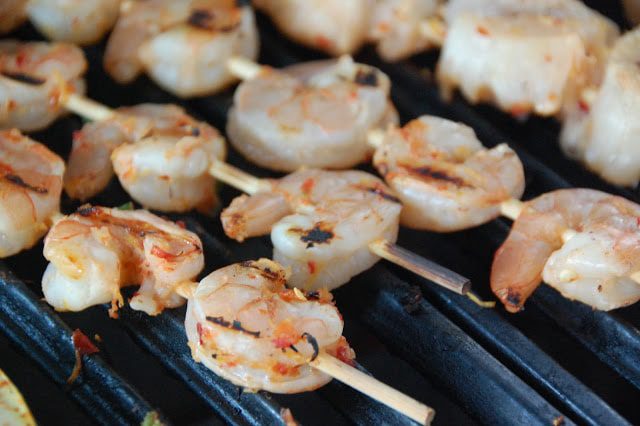 Oh, don't give me that look. Fine. If youreally have to, you can probably cook these delicious seafood kebabs indoors, like a sane person who actually goes along with the weather and wears fuzzy socks when it is cold (which, by the way, I do… I just also really liked grilled food).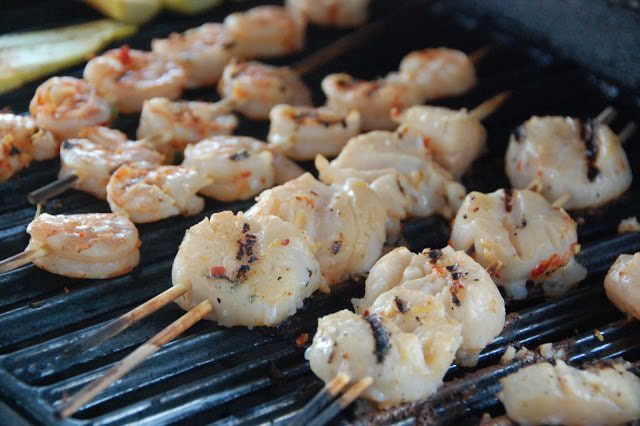 Especiallythis grilled food.
Lemon-Chile Seafood Kebabs
Serves 4          Serving Size: 2 kebabs                Calories/Serving: 205
Ingredients:
Juice and Zest of 2 large lemons
2tbl Sambal Oelek (fresh ground chili paste)
1tbl honey
1tsp olive oil
2tbl minced green onions
1/2lb raw shrimp, 30-40ct size, peeled and cleaned
1lb large scallops, cleaned
Ziploc Bag
Cooking Spray
Skewers, for kebabs
Instructions:
Combine lemon juice, lemon zest, sambal oelek, honey, olive oil, and green onions in a large Ziploc bag. Put the shrimp and scallops in the bag and gently rub the marinade into the seafood. Allow to marinate in the fridge for thirty minutes.
Preheat your grill to medium-high.
Meanwhile, remove seafood from the bag; discard remaining marinade. Divide shrimp evenly among four skewers. Divide the scallops evenly among another 4 skewers. Spray with cooking spray, and move to the grill. Cook shrimp for about 2 minutes per side; cook scallops for about 3.5 minutes on each side, or until cooked through.