Many people who dislike lamb like my husband because of its strong smell have surrendered and ate up the whole pot of this delicious Lamb Korma. The spices and herbs wonderfully cover up the meaty smell and turn it into the beautiful aroma.

Korma is like a curry but thicken by yoghurt, cream, coconut cream or nut paste. We love devouring hot flat bread in this creamy dish. Nothing is left on the plate, the bread wiped it clean!
The best part of this dish came from the very beginning when we picked out fresh mint, coriander and juicy lime from the market. And the part when we dry roasted the spices made the house smell like our favourite Indian restaurants. The ingredients are so important; they need to be fresh and organic so the Korma will be the most scrumptious.
This Lamb Kurma is not spicy at all. We used coconut paste to tune it down and make it milder and creamier.
Lamb Korma
Ingredients: (4 servings)
500 gm boneless lamb- cut into medium chunks
1 large onion- finely diced
2 large tomato- pureed
5 cloves garlic
1 tbsp ginger- cut into small pieces
5 shallots- peeled
1 green chili
1 tsp chili powder
1 tsp tumeric powder
2 tsp coriander seed powder
1 tsp cumin powder
1 tbsp + 1 tsp lamb masala or meat masala (recipe below)
1 lime- juiced
1 1/2 tsp salt or to taste
Few fresh mint- finely chopped
Few fresh coriander leaves- finely chopped
5 curry leaves- optional
1 tsp mustard seed- optional
3/4 cup freshly grated coconut- ground to fine and smooth paste (you can substitute this with thick coconut cream)
1 tbsp oil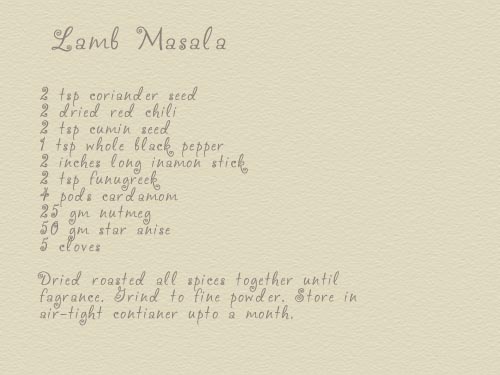 How to cook: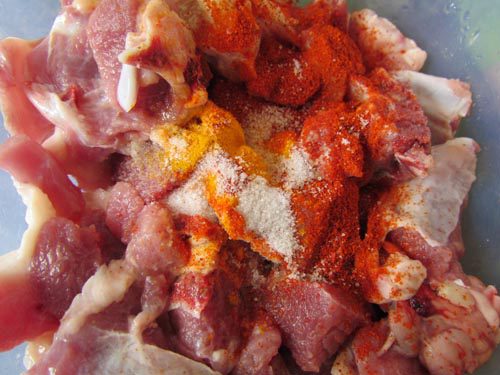 Marinade lamb with 1 tsp salt, turmeric powder, chili powder and lime juice and keep aside for 30 minutes to an hour.
Grind garlic, ginger, shallot and chili to fine paste in the blender.
Heat oil in the medium pot over the medium heat.
Add mustard seeds, once they're splattered add onion and curry leaves. Stir fry until the onion is translucent.
Add garlic-ginger-shallot-chili paste and sauté for 1 minute or until fragranced.
Add lamb masala, cumin powder and coriander seed powder and stir for few seconds, then add tomato paste. Cook further for few minutes.
Add marinated lamb and stir until the juice of the meat comes out.
Add about 2 cups of water or chicken stock and bring to boil. Simmer for 45 minutes- 1 hour or until the meat is cook and tender.
Add mint and coriander leaves and mix well.
Add coconut paste and cook further for 1 minute without boiling it.
Check the seasoning, add more salt if needed.
Serve hot with some flat bread or rice.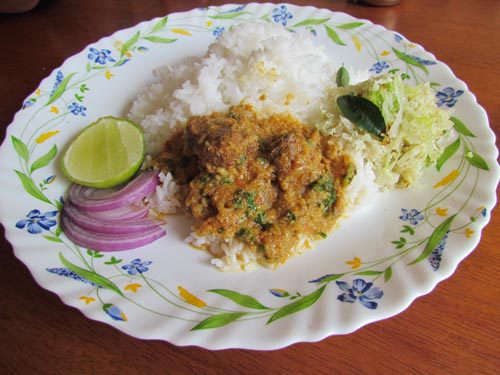 The meat was melt-in-the mouth tender. It was so perfect and flavourful. My husband didn't complain about cooking lamb, and Yaseen just love chewing on the delicious meat. The smell of spices and fresh coriander and mint really warmed up the house. The Korma was creamy and went so well with hot rice and stir fried cabbage with coconut which I will share the recipe soon.
Happy cooking,