I was sampling way too much of this kochujang broccoli egg salad while recipe testing for this post. Creamy eggs and crunchy broccoli smothered in kochujang-mayo sauce leaves me weak at the knees and the temptation to eat the entire bowl before its photo op was really a gorilla of a test.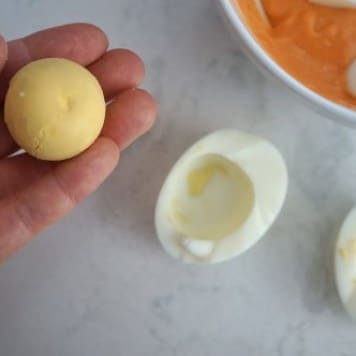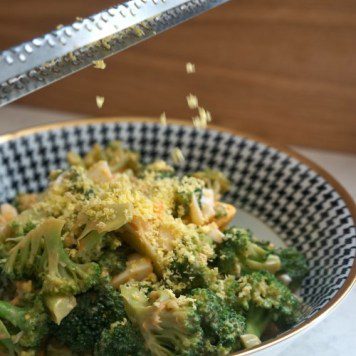 This recipe's origin comes from my tall aunt. She's my mother's sister, and she's the only woman of that generation in my family that is taller than 5′ 4″. I hear that high
school volleyball is what spiked her growth (pun intended).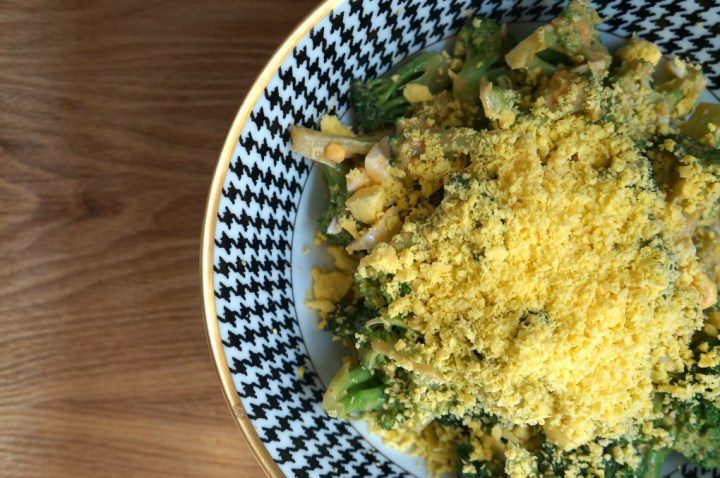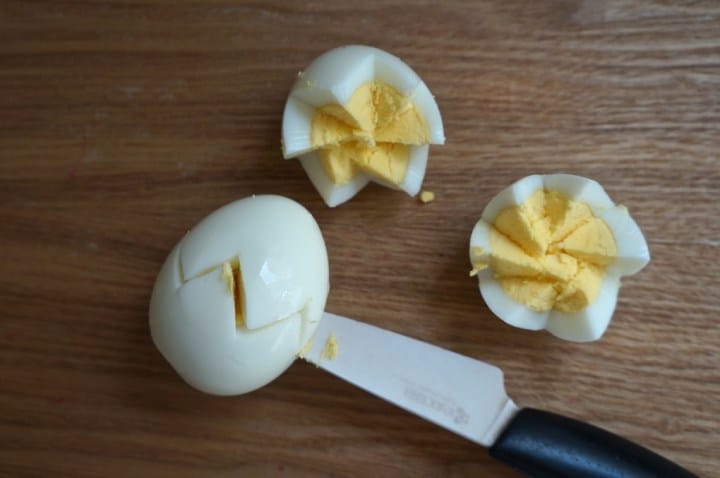 On the holiday buffet table, she would serve vibrant broccoli blanketed with a fine dusting of egg yolk. On the side would be a bowl of kochujang sauce to dip the broccoli in. The colors would jump off the table, inviting guests and even little ones to eat their broccoli.
Ingredients
2 large heads of broccoli (look for tight florets)
6 eggs
1 1/2 tsp salt
1-2 tsp kochujang (depending on how spicy you like things)
1 finely minced garlic
3/4 c of mayonnaise (low fat or full fat)
1 tbs sesame oil
1 tsp of pickle juice or lemon juice
Break up broccoli into florets.
Put a gallon of water in a large pot. Add 1 tsp of salt and 6 eggs to the water.
Bring the water to a boil, and lower to a simmer.
Simmer for 5 minutes.
In the meantime, put ice and water in a large bowl. (This will be used to shock eggs and broccoli.)
Remove eggs from the pot using a strainer and transfer to the ice water.
Bring the pot of water back to a boil, and add broccoli florets to the pot.
Boil for 2 minutes. Strain florets, and submerge into the ice bath with the eggs.
As soon as the broccoli florets become cold, strain the eggs and florets.
While the florets are drying, peel the eggs.
To make kochujang-mayo sauce, add mayo, kochujang, sesame oil, 1/2 tsp salt, minced garlic, and pickle juice to a large bowl.
Take two eggs and gently cut in half without cutting through the yolk. Reserve two whole yolks for dusting later. Cut another two eggs for decoration. Using a paring knife, make a zig-zag pattern across the middle of the egg, making sure you pierce the center(yolk) as you go around. Gently separate the halves. Reserve these halves for decorating the salad.
Chop remaining two eggs plus two egg whites into chunks. Add to the kochujang-mayo sauce. Add broccoli to the sauce, and mix well.
If making ahead, plastic wrap the salad and eggs, and keep in the refrigerator.
Before serving, transfer salad into a serving bowl. Using a strainer or microplane, grate the cooked egg yolks over the salad. Add egg flower decorations to the salad.