My first post for this year and I'm pushing myself to consistently blog at least few days in a month. My best option was to join Blogging Marathon group who are a set of bloggers or more friends who encourage me to not lose touch with my love for cooking and blogging.
Today's recipe is Kancheepuram Idli and below is my daughter's view on this dish
An idli. What's an Idli? A staple food. It's color? White. Texture? Soft and squishy yum. What do you eat it with? Anything almost. This staple food, mentioned in almost every single south Indian restaurant, shop, or even takeout. It's because it's easy to make, takes less than an hour, and also is the answer to every single time someone asks "What can we take to eat when we travel?" In addition, I'd like to mention that it is small, and not messy at all. It can be eaten sweet and wit a little spice. Maybe a little yogurt or maybe a little bit of sambar. But as the years go on, when each mouth is happily filled with idlis every week, the routine becomes occasionally mundane. That's where this comes in. Kanchipuram idlis. ahhhh. They add a little omph and a little yeah! to our idli routines. Don't get me wrong idlis are absolutely the best, and I could probably have them with any type of sambar anywhere and be completely satisfied. But the Kanchipuram idlis just add a little bit of spice and herbs and flavor to the idlis themselves, sometimes enough to rid the plate of any sides! So enjoy these "kick" to the simple idli, just to add to the lovely cycle of weekly idlis :))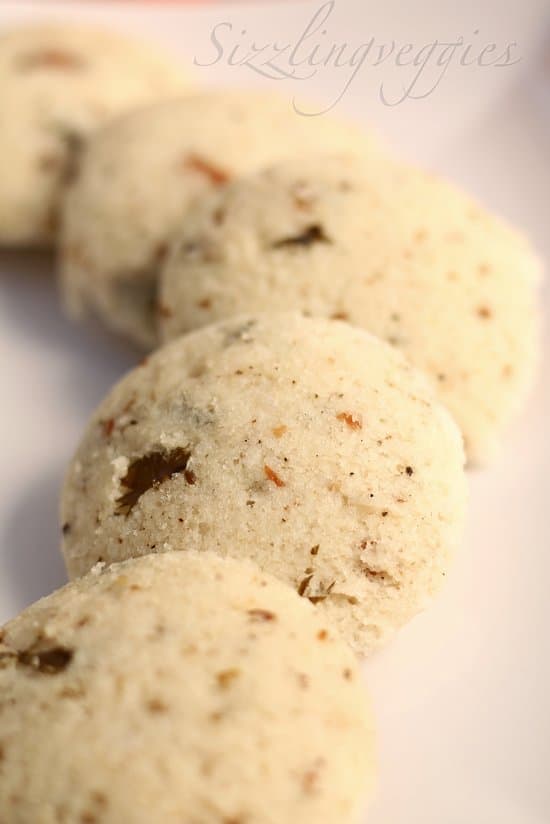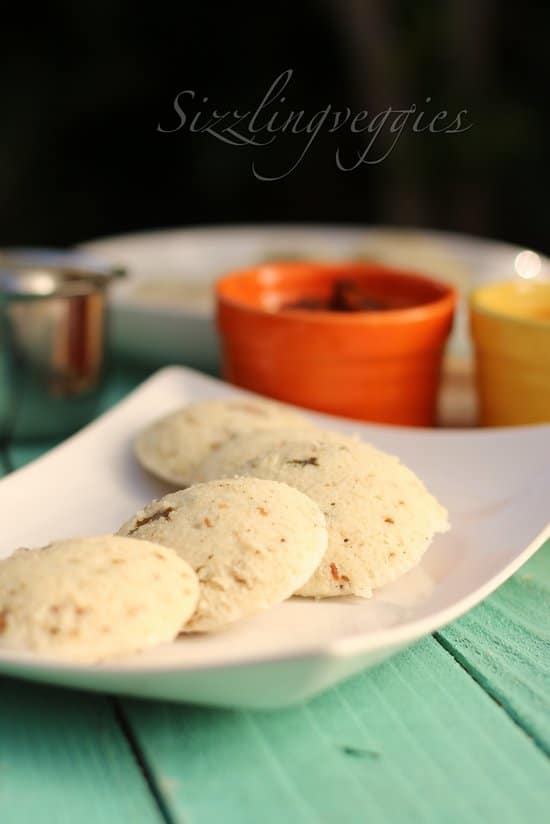 Kancheepuram Idlis
Ingredients
Raw Rice – 1 cup
Boiled Rice(Idli rice) – 1 cup
Urad dal – 1 cup
Peppercorns – 2 tsp
Jerra(cumin seeds) – 1 tsp
Hing (Asafotida) – 1/2 tsp
Cashews – 2 Tbsp
Ghee – 2 Tbsp
Sesame Oil – 2 Tbps
Green Chillies – 2 (finely cut)
Ginger -1/2 inch (finely diced)
Curry Leaves – 10 leaves
Salt – to taste
Instructions
Soak raw rice, boiled rice, and urad dal together for about 2-3 hours.
Grind the soaked ingredients from step 1 to a coarse texture like rava (semolina) or like adai.
Mix salt to the ground batter and let it ferment for atleast 10-12 hours
In a small pan, heat ghee+oil and add coarsely crushed peppercorns, jeera, green chillies, ginger, hing, cashews, curry leaves and fry till the ingredients are slightly golden in color.
Add all the fried ingredients from step 4 to the batter and mix well.
Grease either a plate or idli plate with oil and pour the batter and steam cook for about 7 minutes.
Remove from heat, cool for few minutes. Remove the idlis and serve hot with chutney or sambar. Enjoy!!!