Brunch time is the best time! Here's a recipe for your lazy Sunday brunch using yesterday's recipe: Lemon Garlic Basil Butter. I used whatever veggies I had in my fridge and this turned out beautifully!
Ingredients:
Pillsbury Crescent Rolls
2 cups of cut veggies (I used onions, squash, tomatoes, and bell peppers)
Eggs
Basil Butter 
Parmesan Cheese
Instructions:
Preheat your oven to 375°  
Cut and prepare your veggies. Toss them in your Basil Butter and put them on a cookie sheet. Place veggies in the oven for 15 minutes.
While your veggies are roasting take out your crescent rolls. Shape the dough into a rectangle and build up the sides to make walls to hold in your ingredients.
Sprinkle your Parmesan cheese in the bottom.
Take out your veggies and put them in the center of your crescent "basket".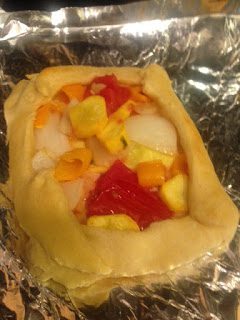 Place in oven and bake for 5 minutes.
Take out your basket and put your egg on top of your veggies and sprinkle more cheese on top. Place back into the oven for 5 more minutes (or until egg is cooked to your liking).
Happy eating! -Tricia