It was with great excitement that I picked my first broad beans of the summer yesterday.
Freshly harvested, small and sweet, broad beans are one of nature's true delicacies and the earlier in the season, the better.  They are sweet enough not to have to be peeled and can even be eaten raw like freshly podded peas (and in my opinion broad beans win very time).  There is something so nostalgic about podding broad beans, which conjures up childhood memories of endless hot summer nights with my mother and grandmother drinking wine and podding.  Happy days!
I am also having to make room in my freezer for the next batch of lamb as this year's hoggarts are fattening nicely up on summer grass ready for eating.  I am a huge advocate for wonderful hoggart meat rather than 'spring' lamb, which really contains no flavour in comparison.  A hoggart is a lamb that is 12-48 months old.  In principle I do prefer to eat an animal which has lived at least a year, covering all the seasons, and the different grasses and herbs it consumes add immense flavour to the flesh, rather than a three month old lamb whose diet has mainly been milk and feeding pellets.
Sweet broad beans and succulent lamb are a match made in heaven.  So last night I made barbecued lamb chops with a broad bean & preserved lemon cous cous salad.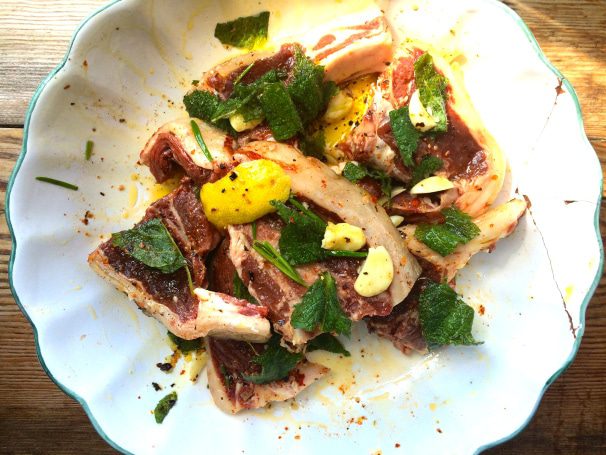 (for 4 people)
8 lamb chops (please try and go for the hoggart, rather than spring lamb as hoggart is so much more superior in taste)
2 cloves of garlic, sliced
A few sprigs of rosemary, crush in your hand to release the oil
A handful of mint leaves, roughly torn
Dried harrisa mix
Thin lemon peel strips from a lemon
Extra virgin olive oil
Salt & pepper
For the cous cous salad:
Cous cous (your guess on how much you need…)
A small bowlful of young broad beans (pop in boiling water for about three minutes then run under cold water to refresh)
A couple of spring onions, finely sliced
A handful of both mint and parsley, roughly chopped
A small preserved lemon, finely sliced
A sprinkle of Aleppo chilli
A glug of extra virgin olive oil
Flaked sea salt and black pepper
Firstly marinate your lamb for at least two hours.  Place your chops in a bowl and add all the ingredients.  Mix thoroughly, using your hands, and rub the flavours into the lamb meat.  Either pop in the fridge and leave over night or keep at room temperature for a couple of hours to allow the flavours to amalgamate.
I barbecued my lamb, but this works well being pan-fried or grilled.  Whatever your preference, I make sure that I also cook all the herbs and garlic with the lamb as I think this too helps to add flavour.
While the lamb is cooking, make the cous cous salad.
Pour the cous cous into a bowl, add salt, pepper and a glug of olive oil then add enough boiling water to just cover the cous cous and immediately cover the bowl with either a tea towel or cling film and leave for five minutes.  After this, uncover the bowl and with a fork, scrape through the cous cous grains to unstick and separate them.  I like my cous cous to have a little crunch, if you prefer it softer, add a bit more water at the start.  Now add all the other ingredients.  Check the seasoning (you want it quite salty)….