I didn't mean to disappear on you all this past month. All I have to say is…wow. My life has changed drastically, and in such a wonderful way. Not only did I finish all my required coursework for my doctorate, but I won a JOB. It's a career I'm not sure I ever saw myself going into, but I couldn't be more excited about it. By hopefully Christmas, I will be playing my flute with the US Navy Band in Washington, DC. That's right, I'm moving to DC!
I am required to go to boot camp (trying to keep calm about it…ouff), but until then I plan on not only getting in shape, but also taking a bit of time to relax and enjoy my summer. It's been a year since I've had an actual break, and I'm planning on soaking it all in.
I wish we had a grill on our balcony for the summer, but alas, it's against the law in Ohio (hah! try telling my neighbors that). If we did have a grill, I would definitely make these first thing. Thankfully, one of my beloved cast iron pans got the job done just fine. These burgers are so scrumptious and flavorful, and would be a great addition to any Cinco de Mayo party. For the guac, I kept it simple using some of the remaining lime juice, garlic, and salt, which is my favorite way to make it. Be warned, this is a messy burger once you start eating it, but that didn't stop me from hoovering the whole thing in under two minutes…oops. Whatever, I'm not sorry.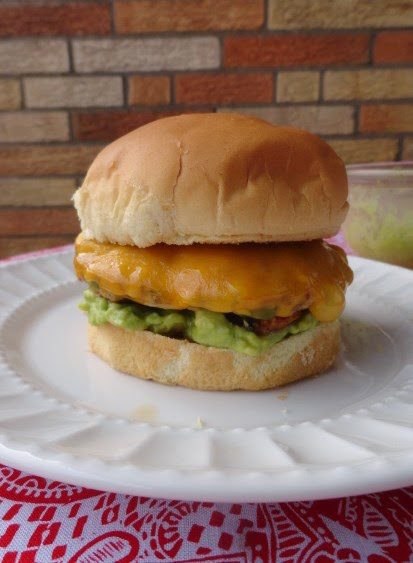 Psst…like turkey burgers? Other variations I've made can be found here and here (what is it with summer and burgers? Apparently a turkey burger was the first thing I made at the start of summer last year as well! ha!)
Jalapeño Cheddar Turkey Burgers with Guacamole
Ingredients
1-1 1/2 pounds ground turkey (preferably dark meat if you can find it!)
1 small onion, finely diced
1/3 cup fresh cilantro, minced
2 cloves garlic, minced or pressed
1 jalapeño, seeded, cored, and minced
1 teaspoon ground cumin
1 teaspoon paprika
Juice of half a lime
1/3 cup shredded cheese, plus more for topping
1/2 teaspoon salt
1/2 teaspoon pepper
Toppings: guacamole, salsa, additional cilantro, etc.
Directions
Heat a grill (or cast iron skillet) to medium-high heat, spray with cooking spray. To make the burgers, combine all ingredients in a large bowl, and mix until evenly combined. At this point, either put in the fridge for an hour to let the flavors marry, or go ahead and cook (I put them in the fridge for 45 minutes). Form the mixture into 4-5 patties.
Cook the patties for about 3-4 minutes per side, flipping only once. A few minutes before the burgers are finished cooking, top with sliced or shredded cheese. Remove the burgers and let rest for a few minutes before serving. Assemble with toasted burger buns and guacamole, and whatever other toppings you desire.