Idiyappam also called as "string hoppers" is a delicious steamed breakfast commonly made in Kerala. My mom makes a similar more laborious recipe called sevai. She makes it by soaking rice, grinding them to thin batter, steaming them, and squeezing them through sevai machine called sevai nazhi. It's a fun process and my entire family will be involved in making them. I love to eat them not so much in making them. As a compromise, I make idiyappam a step-down version of sevai with idiyappam powder. The method of making this recipe is much simpler and less time-consuming. To make it even more healthy I make it with chemba (red rice) idiyappam powder and it's very filling and delicious.
All you need for this recipe is idiyappam powder, water, coconut oil and the idiyappam/sev machine like this one. I usually serve this dish with garbanzo beans curry but any coconut based kurma or gravy will go well with this dish.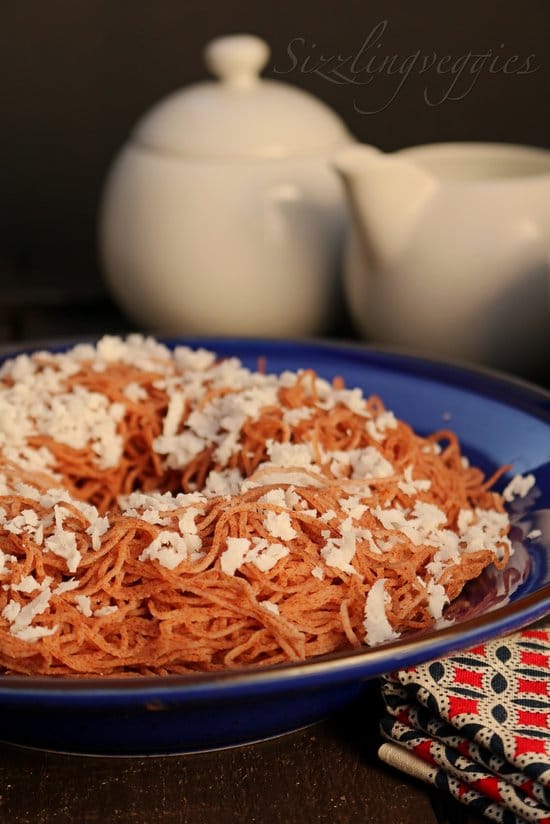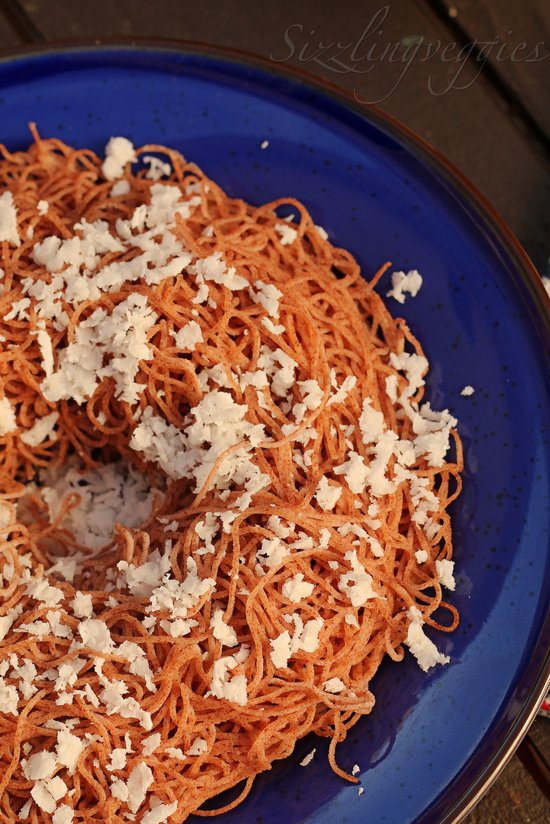 Ingredients
Chemba Idiyappam Powder(I used Nirapara brand) – 2 cups
Coconut oil – 1 Tbsp
Salt – a pinch
Water – as needed
Instructions
In a big plate or vessel add chemba idiyappam powder.
In another vessel heat water, salt and coconut oil. Let it come to a rolling boil. This step is important. If the water is not to rolling boil, the idiyappam when pressed through machine will start breaking or crumbling. So let it boil well.
Mix boiling water little by little with the idiyappam powder. Mix the water and idiyappam powder using a laddle or flat spoon to a thick dough. The consistency should be slightly loose than chappati dough, enough to be able to easily squeeze them through the idiyappam machine.
In a idli plate or plate with holes, squeeze idiyappam with idiyappam machine using the sev disc. Steam the idiyappams in high for about 7 minutes. Serve hot with your choice of kurma or gravy. Enjoy!!!