It's Thursday, what's for lunch?  Around here it is the working man's slump.  My husband works the early shift on Thursdays and by this time of the week we are both feeling the crunch of long days at work and short evenings at home.  Luckily this week I made herbed chicken salad, so we could nosh on it in a crunch.  This is a quick and easy riff on classic chicken salad, which you can make and eat right away or refrigerate until ready to serve.  Tarragon is the star of this lunch salad, but if you don't LOVE it – Leave it out! Tarragon, especially in fresh form, has a powerful flavor that isn't for everyone. Just sub in an herb you love or some good crunch veggies like celery.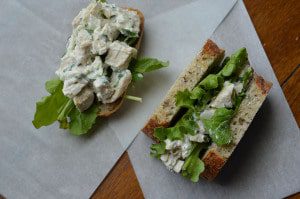 We enjoyed these sammy's – especially the lemon element, which really brightens the dish.  But, that being said I have a tea room cookbook, which still holds our favorite tarragon chicken sandwich recipe.  It leaves the salad deconstructed and using a tarragon mayo; but this lighter-healthier version was a great lunchtime treat.
HERBED CHICKEN SALAD
            makes 4 sandwiches
1 tablespoon finely chopped fresh tarragon
3 tablespoons canola mayonnaise
3 tablespoons 2% plain Greek yogurt
1 tablespoon fresh lemon juice
1/8 teaspoon kosher salt
2 cups chopped skinless, boneless rotisserie chicken breast
1/4 cup minced sweet onion
8 (1 1/2-ounce) slices rye sandwich bread
4 red leaf lettuce leaves
1 cup microgreens or arugula
DIRECTIONS: Combine the first 5 ingredients in a large bowl. Stir in chicken and onion. Top each bread slice with 1 lettuce leaf, about 1/2 packed cup chicken salad, 1/4 cup microgreens or other rabbit food of choice, and 1 bread slice. Nom. nom.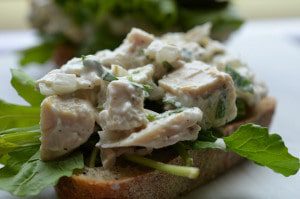 Cooking that book: The New Way to Cook Light one page at a time!