After starting the blog I've started making many baked goodies and sweets that I feel so guilty and always fear I've put on weight somewhere in my body. In order to compensate the extra calories that goes ever so easily in the pretext of tasting, I started running. I thought that running in the natural terrain will give me fresh air and I won't be bored as I can enjoy the scenic beauty in my neighborhood. Little did I know that my body just doesn't like running. When I run, I pant terribly and the moment I see dogs (which by the way, looks like little ponies) my panting can escalate. To be on the safer side, I decided I'll run indoors in a treadmill in a gym. This option also has its cons. Today I chose a safe spot, next to a grandma, thinking she will by no means intimidate me by running like a marathoner. Mid way during my running, I was almost about to give up when I looked at my neighbor by chance (I curse myself even now, why did I have to look at her, there were so many things running on the tv sets). I was so wrong about her, she was running so perfectly with no indication of stopping anytime soon. Inspired by her dedication for such an intense workout, I pushed myself so hard and finally came home like a drag. Later I had a hearty breakfast but my sweet tooth was aching for a spoonful of tapioca sweet I made yesterday for my kids. This sweet is a Cantonese desert (recipe taken from Perfect Light Desserts by Nick Malgieri and David Joachim), the dish is made by cooking tapioca in simmering coconut milk along with orange peel and when ready to eat, its topped with pineapple and lemon zest salad. The mix of such fresh flavors just alerts you the moment you have a spoon that even a hard workout like the one I had today will not matter anymore. My kids liked it so much because the dish had the natural sweetness of pineapple and not the striking sweetness from sugar.
Ingredients:
Tapioca (not the crushed or instant kind–its Indian name is Sago/Sabudana/Javarisi) — 1/4 cup
Whole milk — 1 cup
Orange zest — 4 inch long removed with a vegetable peeler
Sugar — 1 Tbsp (I felt I needed at least 2 more tablespoons)
Thai Coconut milk — 1 cup canned
Heavy Whipping Cream — 1/3 cup
Topping:
Pineapple — 1 (15 oz can, washed, rinsed and drained) or fresh cut pineapples can also be used.
Sugar — 2 Tbsp
Zest of 1 lime — removed with a zester
Lime Juice –1 Tbsp
Mint leaves — 6 rolled up and cut in to thinnest ribbons possible (I didn't have any so didn't use them)
Method:
1. Soak the tapioca in 2 cups cold water for an hour. Pour into a saucepan and cook over low heat, stirring occasionally until almost all the water has evaporated. Add the milk, orange zest and sugar and bring it to a boil. Make sure that the heat is not on high, let the tapioca balls boil gently for another 20 minutes until the liquid is thickened. Add the coconut milk and cream and return to a boil. Remove from heat, pour the tapioca in to a bowl and let it cool to a room temperature. Stir occasionally to avoid skin being formed on the top. Remove orange zest and loosely cover with a plastic wrap until you are ready to serve.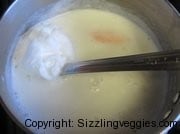 2. In a bowl combine pineapple, sugar, lime zest, lime juice, and mint, if using. Set aside.
3. When serving, divide the tapioca equally among the bowls/cups. Mound the drained pineapple in the center of each cups and serve immediately. Enjoy!!!