A few days ago, it rained.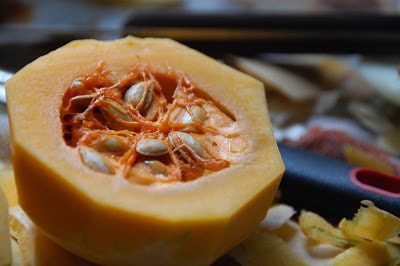 Hardcore.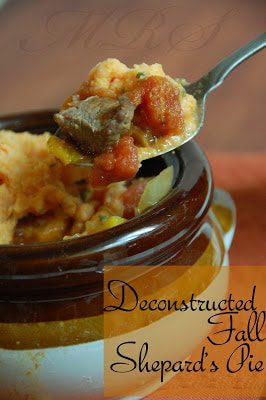 Now because of the frost that was left over, all of the leaves are changing colors. It is so beautiful outside, and yet as soon as you step out the door the cold wind sucks away all the warmth from your body.
So I found myself craving a hearty, rich, and warm meal. I had never made Shepard's Pie before, but I had the iingredients to make a fall-inspired one on hand. I decided to do a "deconstructed" version, meaning that I didn't bake the entire thing together– in a way, I made a very thick lamb stew and then added mashed sweet potato on top. It turned out sooo good, with a rich broth made of tomatoes, garlic, and herbs that made the house smell wonderful. Plus, cubes of tender, melt in my mouth butternut squash and lamb were the perfect pairing.
If you need to warm up this fall (or any day!), you're in for a treat with this recipe. I adored it!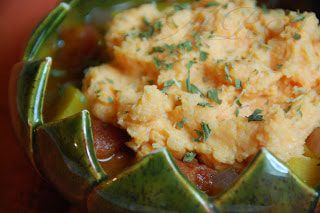 Deconstructed Fall Shepard's Pie
Serves 3          Serving Size:1c. lamb mixture plus 1/4c. potato mixture    Calories/serving: 260
Ingredients:
1tsp olive oil
Cooking spray
6oz boneless lamb chop, trimmed of all fat and cut into bite-sized
cubed
1c. chopped white or yellow onion
1 and 1/2c. cubed butternut squash
2-3 cloves fresh garlic, minced
1/4 cup low sodium beef broth, plus a few tbl more for
mashed potatoes
1 (14.5 oz) can diced tomatoes, no salt added
1/4tsp salt
1/4tsp thyme
1/8tsp rosemary
1/4tsp black pepper
1 small (8 oz) sweet potato, cooked and peeled
1c. cauliflower, steamed until very very tender*
2tbl fat free cream cheese
*To cook cauliflower, fill a small pot with about 1 inch of
water, add in the cauliflower, bring to a boil, and then cook for 12-20 minutes
(until very tender, more tender than if just eating it on its own).
Instructions:
In a medium-large pot, preheated over medium-high, sear the lamb cubes for about 1 minute on each side. Remove from pot, and reduce heat to medium. Add in onion and saute for 3 minutes, stirring occasionally. Remove onion onto same place as lamb.
Add butternut squash, garlic, beef broth, tomatoes, salt, thyme, rosemary, and pepper to the pan. Bring to a boil, then decrease heat to low. Cover and simmer lightly for 10 minutes.
Meanwhile, cut sweet potato into large cubes. Combine sweet potato, cauliflower, and cream cheese in a food processor. Pulse until combined, and then slowly add beef broth one tablespoon at a time until your desired consistency is reached (it should become creamy and smooth)
Preheat oven to 350 degrees.
Add lamb and onion back into the pot and cook for another 30 minutes on low, or until lamb is incredibly tender.
Ladle 1c. Shepard's pie base into 3 oven-safe bowls, and top with 1/4c. of the mashed potato mixture. Bake for 10 minutes, until hot. If you want a crust on the top, you could put the bowls under the broiler for a few minutes (watch them to prevent burning).