This is a recipe straight from Gramma, so you know it's going to be good. I don't know what it is about grandmothers, but everything they touch is gold. The name could use a little work; anything you eat that has the word "Surprise" in it makes me a little hesitant but Gramma named it and who am I to change it?
This is a perfect dish to bring to a party. It travels well, is easy to make and it's a crowd pleaser. It's always one of the first things to go. This is the original recipe, straight from the source. I've modified it a little (I know… how could I!? Sorry Gramma), mostly because some people are a little iffy about shrimp and the seafood sauce on it's own can be strong for some people.
Anyways, make it, share it, eat it, love it.
Ingredients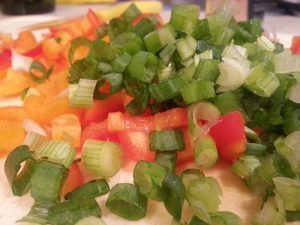 1 package of cream cheese – softened
1/2 cup sour cream
1/4 cup mayonnaise
3/4 cup seafood sauce
1/2 cup salsa
2 cups shredded cheddar cheese
3 green onions – chopped
1 pepper (red, green, or yellow)
Directions
Mix cream cheese, sour cream and mayonnaise together. Spread over 12 inch circular platter.
Add layer of seafood sauce, then salsa, followed by peppers, green onions and cheddar cheese.
Chill until ready to serve. Serve with crackers or nachos.
Eat.