Long weekend in Italia implies coming back
to sunny (!!!) London with a tummy full of vegan piadina, a slightly lighter
weight on my chest and a head full of ideas. It would be nice to sleep at night
sometimes however dreams of cakes and biscuits and things made with buckwheat
and sugar sprinkles and lupin flour (yes, flour shopping, yes) and clouds and
kittens and seaweed do make me all excited and creative (oooh, creative). So
whilst my to-do list of cakes grows and grows and the space in my flour cupboard
(!) worryingly diminishes, here's a recipe for the sweetest moistest cake
you'll ever taste, prepared and baked kind of as soon as I stepped out the
plane this morning. It shouts ENGLAND all around because of the golden syrup,
but oh well, it could be worse. It could be raining.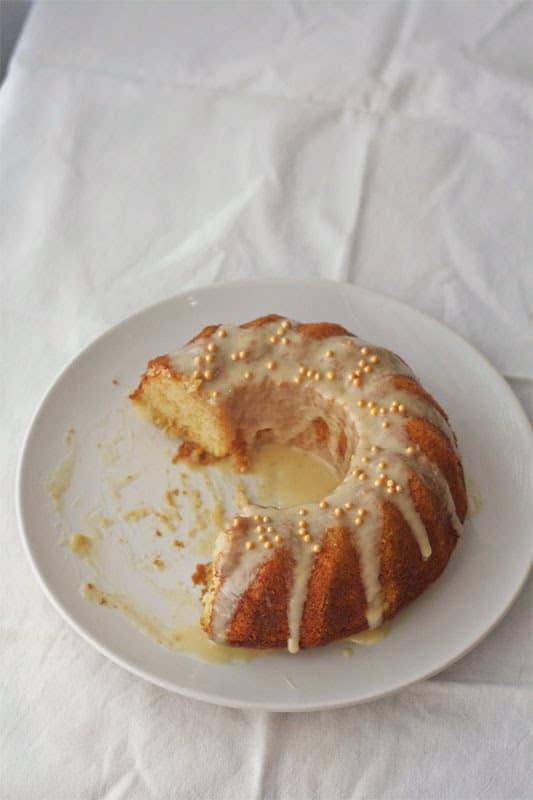 Adapted from Ms Cupcake – Golden syrup cupcakes
200ml (3/4 cup + 1 tablespoon) soya milk
1 tablespoon + 1 teaspoon cider vinegar
200g (1 ¾ cups) self-raising flour
160g (2/3 cup) sugar
¼ teaspoon baking powder
¼ teaspoon bicarbonate of soda
¼ teaspoon salt
80ml (1/3 cup) sunflower oil or other
flavourless oil
40ml (3 tablespoons + 2 teaspoons) golden
syrup
1 tablespoon vanilla extract
60ml (1/4 cup) golden syrup
Glaze:
60g (1/2 cup) icing sugar
2 tablespoons golden syrup
1 teaspoon soya milk or other non-dairy
milk
½ teaspoon vanilla extract
Preheat the oven to 160°C (320°F) and
lightly grease a Bundt pan. In a mixing bowl, combine soya milk and cider
vinegar and set aside for a few minutes for the mixture to curdle. In a large
bowl, mix together flour, sugar, baking powder, bicarbonate of soda and salt.
In a separate bowl, combine oil, the first 40ml of golden syrup and vanilla
extract. Pour the wet ingredients into the dry and quickly mix everything
together with a spoon until just combined. Pour the batter into the prepared
tin and bake for 30 minutes or until a toothpick inserted into the cake comes
out clean. As soon as you take the cake out of the oven, prick the surface of
the cake with a skewer or fork, then pour the remaining 60ml of golden syrup
all over. Place the tin on a rack and leave to cool.
Once cool, make the glaze – mix icing
sugar, golden syrup, milk and vanilla extract and pour over the cake. Go crazy
with decorations or just leave to set then take to your picnic in the sun and
devour.