I had some left over strawberries from a sorority event and I remember seeing a bunch of different chocolate-filled strawberries on Pinterest a while back, so that's what I decided to do.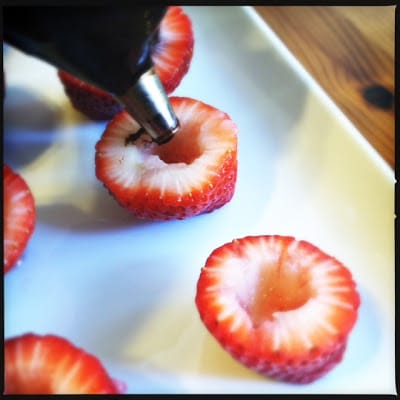 I started by chopping off the tops and a little bit of the bottom of each strawberry so it could stand on its own. Then I used a spoon or melon-baller to scoop out some of the insides. Once you're chocolate is ready, you have to fill fairly quickly. I didn't so my chocolate started to harden inside my makeshift pastry bag and I had to squeeze the bag so hard, this happened…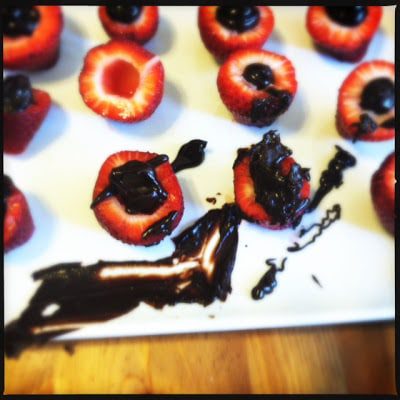 Yup…chocolate explosion! I squeezed the bag so hard it burst at the seams (literally) and got chocolate everywhere. No problem, though! I just transferred my berries to another plate and sacrificed myself by eating the messed up strawberries.
At the end of the day, the berries were a hit and hubby and I had a great time meeting some of our neighbors! Can't wait for the next get together!
THE PASTRY POSTS CHOCOLATE FILLED STRAWBERRIES
Makes approximately 30 strawberries
Ingredients
30 strawberries
8 ounces dark chocolate, finely chopped
1/2 cup heavy cream
1 teaspoon vanilla bean paste
1/2 teaspoon ground cinnamon
Directions
Chop the stems off of the strawberries then take a little bit off of the bottom so the strawberry can stand on its own. Scoop out some of the berry insides using a spoon or melon baller so you have room to fill with chocolate.
Place the chocolate in a heat-proof bowl and set aside.
Over medium heat, warm the cream, vanilla and cinnamon until it starts to simmer. While the cream is warming, stir it gently every once in a while to keep all of the ingredients mixed and to make sure nothing is sticking or burning.
Pour the warm cream over the chocolate and let it sit for a couple of minutes before you begin stirring to combine and melt all of the chocolate. Stir until the mixture is nice and smooth then transfer into a plastic bag (or pastry bag) fitted with a large tip (I used a #12). If you don't have a cake tip, you can just snip the corner off of the plastic bag and pipe the chocolate out from there.
Fill each strawberry with chocolate.