Growing up in Northeast Thailand, I am quite familiar with Laos cuisine. When my dad took us on a hunting trip along Khong river, Thailand-Laos broader, we found ourselves sitting in a small shack with dried grass roof slurping on a hot spicy Pho or eating grilled fish with spicy Laos style chutney. The food there was always so simple and rustic yet comforting and relishing. I remembered a small restaurant served spicy string beans salad with hard boil duck eggs, the simple dish I couldn't find anywhere served up to the same standard.

Summer makes me miss sitting down at the riverside restaurant and enjoyed the local delicacies. When I read a post about Or Lam, a spicy flavorful stew from Laos in my favourite blog, Eating Asia last week, it felt like a lightning struck my stomach. Reading that post gave me unbearable crave this simple stew with steamy hot sticky rice. Or Lam is a savory spicy thick stew- a similar dish to a dish in my hometown called "Orm", a rustic spicy stew made with about kind of meat and vegetable. My favourite version is with mushroom and bamboo shoot. I follow the link to get the recipe but sadly those authentic ingredients are difficult to come by in India.
So instead of hunting down the ingredients for another week, I decided to make a vegetarian version of meat with dill with I find it quite similar to Or Lam. Though, I wouldn't call this really vegetarian recipe because I snuggled in some fish sauce. If you don't want to use fish sauce or don't have fish sauce, I recommend preparing a rich vegetable stock for the recipe and season it with simple salt.
Eggplant and Mushroom Stew with Dill

Ingredients: (2 servings)

100 gm mushroom- cleaned and sliced

2 large eggplants- sliced

6 shallots- peeled

4 cloves garlic- peeled

2 green chili (or red)

1 stalk lemon grass- roughly sliced

A handful of fresh dill- cut into 1 1/2 inches long

1 tbsp fish sauce or to taste (you can omit this and use salt instead)

2 cup vegetable stock

1 tsp oil

Preparation:

Grind shallot, garlic, chili and lemon grass in food processor until smooth paste.

Heat a medium pot over the medium heat and add oil.

Gently stir fried the paste for 1 minute.

Add vegetable stock and bring to boil.

Add mushroom, eggplants, fish sauce, and continue boiling it for 30 second or so.

Cover and simmer further for 10-15 minutes or until the eggplant is tender and partially melted to the stock. Reduce the stock by boiling further with the lid open if the gravy is not thick enough.

Add dill and give it a quick stir.

Check the seasoning and serve hot with some rice.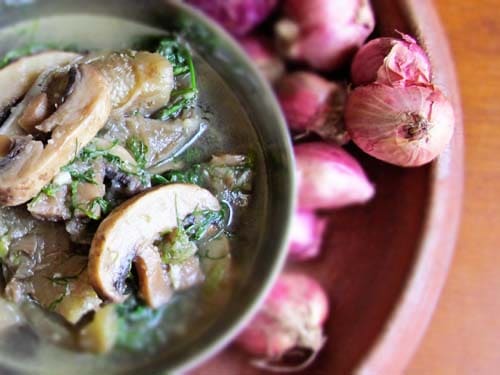 The eggplant and mushroom stew with dill turned out to be really comforting and delicious. The eggplant was so tendered and melted into the gravy. Fish sauce and dill gave an intense aroma, similar to what the kitchens near Khong river smell like. There is something about dill that makes me want to cook and eat and somehow remind me of home. One of the reasons may be that it is always there in my mom's garden. Right now few mackerels are grilling in the oven; I know it is going to be a great combo.
Have a nice day,