My version
This week's recipe, originally from Guy Fieri, had more unique interpretations than we've had for a Food Network Friday in a long time! While the sauce was easy to veganize, we all chose different main dishes to sauce-ify.
First up, a big welcome to Vegan Aide who joined us for the first time! We're really glad you did. Look at these tasty seitan ribs which are made from a gluten/tofu rib recipe. Hearty and delicious, these would make a perfect summer barbecue. Especially with that refreshing side of coleslaw. July 4th, anyone?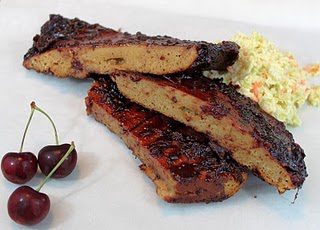 Vegan Aide's version
Liz went the aubergine route which she brilliantly smoked before coating. I can only imagine the layers of flavor she got in these beautiful slabs of eggplant! We were tossing around ideas of the side dishes and Liz played up the Asian flavors in the sauce, opting for great looking scallion pancakes from What the Hell Does a Vegan Eat Anyway. Way to go, Liz!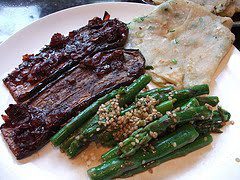 Liz's version
Over at Vegan Conversion Project, Kim, who chose this week's recipe, really outdid herself! For starters, smoked tofu and tempeh were coated with that flavorful sauce. For a side dish, Kim created East Meets Southwest Tamale Eggrolls. I know! These just have to be seen to be believed. Then she even made dessert! For all the details, check out her blog.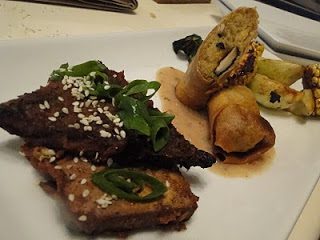 Kim's version
For my version, I cut a pound of pressed tofu into quarters and made a small slit in the end. After coating them with 1 teaspoon mustard, I pressed a 1/2 recipe of the rub (minus the salt, subbing smoked paprika for regular) onto the sides. These went into a lightly oiled baking sheet with sides. When ready to bake them, I poured about a cup of broth with 1 tablespoon tamari into the baking pan and baked them at 400 degrees for about 20-25 minutes (or until the broth has evaporated), turning once.
My sauce was a little different than the original, so I'll post the ingredients below. The technique is the same as written. It makes about 1 1/3 cups and we had leftovers. If you're wondering where the tequila went, it's still in the bottle. I couldn't get it open! Feel free to add it.
Spicy Cherry Glaze (Adapted)
1/2 tablespoon olive oil
3/4 cup diced red onion
1 1/2 tablespoons minced ginger
2 cups (1 can) pitted sour cherries in water, drained
2 teaspoons sriracha, or to taste
1/2 teaspoon sesame oil
1/2 tablespoon sherry wine vinegar
2 tablespoons tamari
2 teaspoons lime juice
1 tablespoon molasses
1/2 teaspoon black pepper
Salt and pepper to taste
My sides were straight ahead. We had roasted green beans, corn on the cob, and a quick Mexican fried rice dish. The sauce is as impressive as it is versatile. It would be a great way to add a new twist to any barbeque menu.
If you happened to cook along, please post a comment to this post so we can see your version.
6/19– One more just came in! Check out Amanda's (aka B.A.D). She was undaunted by the lack of canned cherries in Canada and opted for fresh. Her description of the sauce is spot on. She also did a double whammy and used both portobellos and seitan. The mushroom caps were cut through part way (but still attached), so they could be pulled apart. Great idea, Amanda. So glad you joined us!