I pretty much spend 90% of my free time drooling over gorgeous cakes on the internet. Gorging myself on crisp Peanut butter biscuits and Peppermint bark in the cyber world.
No wonder I constantly have the urge to bake. I'm the most impatient person when it comes to baking. I don't just want to bake, I need to bake.
I have weekly arguments with myself deciding what to bake for you guys. I too often than not, change my mind about three times. Then I usually find a knock out recipe that puts all the others to shame.
After one of my hour-long scrolls through pinterest, I stumbled across a beautiful ginger cake adorned with tumbling ruby-red raspberries. And it got me thinking, a winter white cake topped with festive red cranberries. All of this encasing luscious ginger cake.
I needed this in my life.
This Ginger cake is sticky, dark and enriched with flavour. This combined with unsweetened boozy orange cream makes the perfect balanced moist morsel.
Soft, sweet with a bit of bite in the centre. These Cranberries help cut through the richness of the cake, preparing you for another mouthful worth savouring.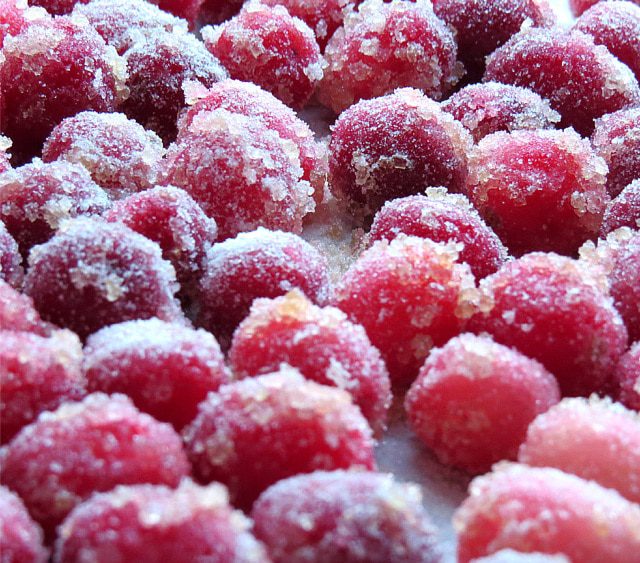 Ingredients
Ginger Cake – Recipe adapted from GoodFood
225g self-raising flour
1 tsp bicarbonate of soda
1 tbsp plus 1/2 tsp ground ginger
1 tsp ground cinnamon
1/2 tsp ground clove
115g butter, cut into cubes, plus extra for greasing
115g dark muscovado sugar
115g black treacle
115g golden syrup
250ml whole milk
1/2 tbsp fresh grated ginger
1 egg
Orange Cream
600ml Double Cream
Zest of one large Orange
Cointreau
Frosted Cranberries – recipe from 101 Cookbooks
200g Cranberries, if frozen – defrosted
200g Water
200g Sugar
(Extra castor sugar and Demerara sugar for coating)
Method
Start the night before:
Frosted Cranberries – Place the water and sugar in a pan and bring to the boil to create a sugar syrup. Leave to cool for a few minutes until just warm. Pour over your cranberries in a bowl. Make sure the syrup isn't too hot or it will burst the cranberries. Cover and refrigerate overnight.
Orange Cream – Place the double cream and zest of a large orange in a pan and place over medium heat. Bring just to the boil and remove from the heat. Pour into a bowl, cover with cling film and leave to infuse in the fridge overnight.
On the day:
Frosted Cranberries – Drain the cranberries and toss them in Demerara sugar, a handful at a time. This will ensure the sugar doesn't clump. Continue to add sugar until the cranberries are nearly covered in large sugar crystals. It's fine if the cranberries have a few patches as these will be filled with castor sugar later. Lay on a flat surface to dry. I used a baking tray lined with baking paper. Leave to dry for 1-2 hours.
Now to get on with the Ginger Cake:
Pre-heat your oven to 160C fan. Grease and line two 18cm round, 3-4cm deep cake tins with butter and baking paper.
Place the flour, bicarb and spices into a large bowl. Rub in the cold, cubed butter with your fingers until the mix resembles bread crumbs.
Place the sugar, treacle, golden syrup and milk into a saucepan on medium heat. Bring to just below the boil and take off the heat. Place the grated ginger on top of your dry mixture and pour over a third of the wet treacle mix.
Stir to combine and add the next third. Repeat this until all the wet ingredients have been added and combined. Crack in the egg, beat again. Your mix should resemble pancake batter. Divide this into your prepared baking tins and bake for 20-30 minutes. A skewer poked into the centre should come out clean and the cake top should feel springy.
Leave to cool in the tins. Turn out and leave on a cooling rack.
Quickly back to the frosted cranberries:
After drying for a bit, sprinkle castor sugar over the cranberries and toss. Continue to add more sugar. Once completely covered, leave to dry again until needed.
Orange Cream:
Get the infused cream out of the fridge and add a capful of Cointreau. Or if you like your alcohol then add to taste. Whip the cream up with an electric whisk until the cream can hold its shape but isn't too firm.
If your cakes have domed a bit on top, trim this off so that you can have a square finish to the cake.
Place the bottom half of the cake onto your cake stand, bottom side down. Place some of the orange cream on top and spread it to the edges. Place the top half of the cake, top side down, against the cream. This means that the base of the cake is facing up so that the top is flat.
Coat the entire cake with a thin layer of cream and refrigerate for 20 minutes to firm up. Don't worry if any of your cake shows through, it will be covered later. This first layer means that you will get a cleaner line for the second coat.
Take the cake out of the fridge and coat with the rest of the cream, using a hot palette knife to get a clean, smooth finish.
Tumble the frosted Cranberries on top and serve. Keep leftovers refrigerated.