Wandering in Chinatown in the late evening with a giant skewer of sweet plum was a surreal experience for any food-lover. The aroma of chicken stock fumed up the old pots and the night wind wept the exotic fragrances across your faces. In the seconds of curiosity, you searched every direction for the source of that delightful smell. Every restaurant sent the ambassadors in the form of magical scents vividly stood in front of the crowded room. Small stores and food carts tucked in the street and between golden restaurants were even more overfilled. Food were cooked and flied out of the hot wok like free birds. Along with food, there were always great spreads of exotic ingredients seemed alienated and intriguing.
I had fish maw soup many times at Chinese restaurants, it was one of my Chinese love. The thick soup was overloaded with flavours and comforting aroma. I had never cooked it at home, I didn't even know what fish maw looked like before it become a soup.
When I was walking with my mother in Chinatown one evening, she picked some ingredients from the old shop covered with shady wooden walls filled with strange dried ingredients. She confidently pointed here, there and wherever her finger rested the old Chinese man measured up the ingredients for her braised chicken and beef stews. She grasped few packages of noodle, strange seeds/nuts, and strange dried things so courageously that made she seemed like a Chinese master chef. She whispered, "Ahh, fish maw!" when she picked and threw a bag of long, yellowish white, dried tubes over the counter. My brain immediately registered the picture of fish maw, but I wondered if she really knew how to cook it.
And it was the night I learned how to make fish maw soup and that my mother made the most delicious fish maw I forever tasted.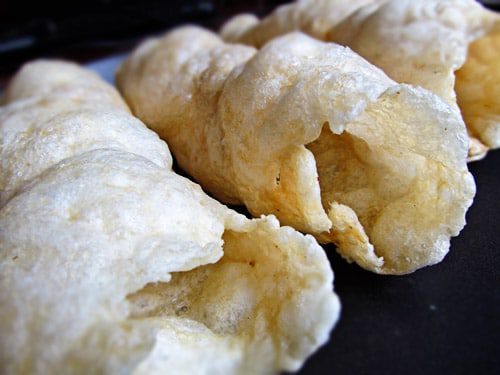 Fish maw is dried swim/gas bladder of fish. It maybe deep fried or plainly dried used in savoury dishes like soup, stew or stir fry. I bought the deep fried version which is fluffier and spongier.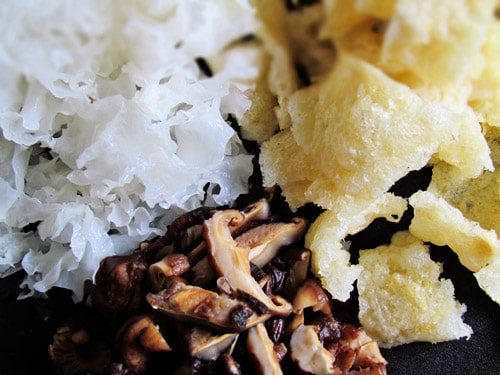 I started of with washing and soaking fish maw until tender and sliced into small pieces. I also use dried shiitake mushroom and white cloud ear fungus in the soup. These two also should be soaked until soften and sliced into small pieces.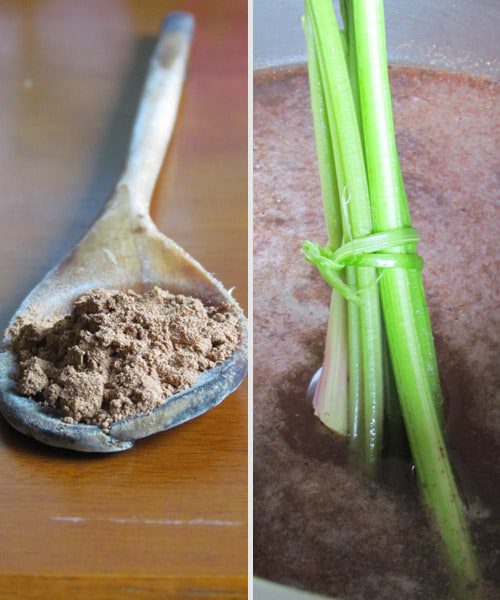 The scent of homemade chicken stock swirled up celery stalks dunked the earthy fragrance in the dark whirlpool. Chinese five spices gave the licorice sweetness wrapped the electric aroma to the broth.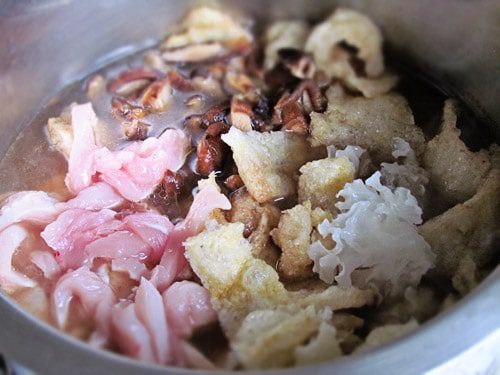 The slices of all ingredients drowned in the dark lava. Nothing to be done, except waited for everything to melt down and the flavours to muddle in the darkling soup.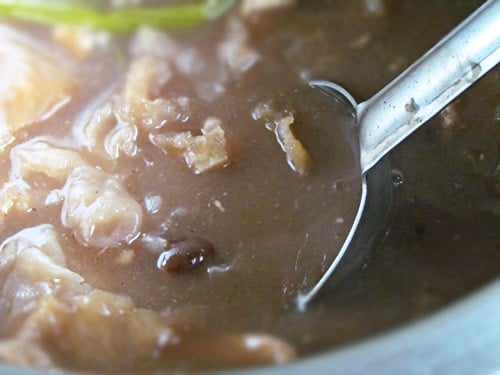 Fish Maw Soup

Ingredient: (6 servings)

1 1/2 cup soaked and sliced fish maw

1/2 cup dried shiitake mushroom- soaked and sliced

1/2 cup white cloud ear fungus- soaked and sliced

1 cup thinly sliced chicken

1 tbsp soy sauce

2 tsp rice wine vinegar

1 tsp salt

2 tsp Chinese five spices powder

1 tsp ground white pepper

10 cup chicken stock

A handful of celery stalks

Few celery leaves- chopped

5 tbsp corn flour- dissolved in little water

Preparation

Bring chicken stock to boil, add soy sauce, celery stalks and Chinese 5 spices.
When the stock is furiously boiling, add fish maw, shiitake mushroom, cloud ear fungus and chicken. Let it boil for few minutes and simmer further for 20 minutes or until every turned very tender.
Add salt and rice vinegar to taste.
Add corn flour and stir until thicken.
Check the seasoning, sprinkle over with celery leaves and white pepper before serving.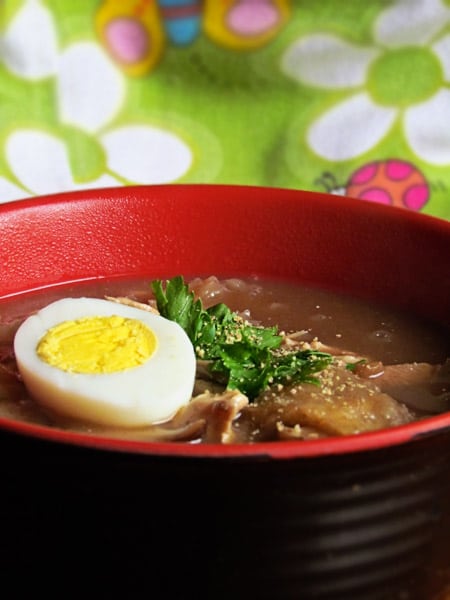 Today when I think of all those year my mother has been cooking millions of dishes for me, the most cherish was when she got time to teach me how to cook them. So whenever they were recreated in my own kitchen, her love tarried in every sip.