As a child I would model my older brother especially when we went out to eat in restaurants. I would wait till he ordered so I can order the same just so I didn't want him to have a better meal. Even on very rare occasions if I did order a different dish my brother would just make it seem that I missed something terrible and that would be make me one grumpy person. Because of him I've never tried anything new at restaurants and I knew about different dishes after he left for college. Aapam was one such dish. With crispy outer edges and soft center its very nice recipe that goes well with kadalai (Garbanzo or Black Channa) gravy or simple stew. I often make aapam not for breakfast but for dinner during weekends. I mix the batter just after lunch and let it ferment till its ready to be used around dinner time and thus eliminating the big question of 'what to make?' for at least a day. So easy to make, this recipe is on our menu at least once in two weeks.
Ingredients:
Nirapara Idiyappam/Aapam powder or Rice Flour — 2 cups
Rava — 2 Tbsp
Rapid rise yeast — 1 tsp
Sugar — 3 Tbsp
Salt — a pinch
Thick Coconut milk — 1/2 to 1 cup
Water — as needed
Method:
1. In a small saucepan heat about 1/2 cup of water and when it comes to boil slowly add rava and keep mixing it. Once the rava cooks and thickens switch off the flame and let it cool completely. This is called rava kurukku.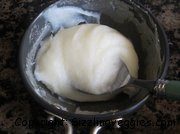 2. In a bowl add ready made appam powder or rice flour, salt, sugar, yeast, rava kurukku, thick coconut milk and about 2-3 cups of water. Mix well and make sure there are no lumps. Cover and let it ferment for at least 3 to 4 hours or overnight.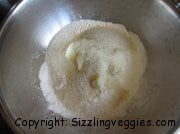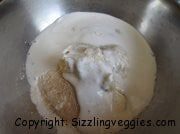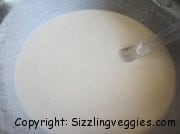 3. When ready to make aapam, add enough water to make the batter to running consistency. Heat the aapam pan (I have the non-stick pan so didn't need to use any oil) and when hot, add about a big laddle of batter in the center and quickly lift the pan and circle the pan to spread a thin coating of the batter around the edges of the pan. Cover and cook till the batter in the center is cooked and the edges get a nice golden brown color. Carefully remove the aapam from pan and serve with your choice of kadalai curry (Garbanzo beans/Black Channa) or potato stew. Enjoy!!!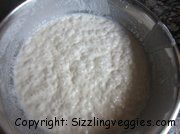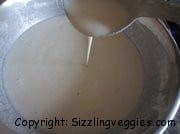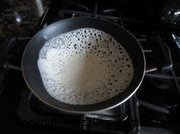 I fermented the batter for about 4 hrs and this is how the fermented batter should look.