"Vegan cheese" and "vegan cream sauce" are two phrases that strike terror in the hearts of most omnivores I know. They understand how tofu and tempeh and beans can sorta-kinda stand in for their familiar protein sources. When I talk about making vegan cream sauces, however, it's all too often that I'm greeted with something akin to "Why do you bother?" After all, vegan cheese and vegan cream sauces couldnever be as smooth, as satisfying, as familiar and as heart-warming as the "real thing," right?
Ehhhh, wrong.
My Vegan Cheezy Cream Sauce is all those things and, I argue, even more. This ain't alfredo, but it doesn't need to be. Yes, it's creamy and cheezy and, yes, it contains quite a bit of garlic. But alfredo it just isn't. Dare I say, this vegan cheezy cream sauce is far better than alfredo. (Even your mom's!)
The secret here is plain non-dairy yogurt. Yogurt gives us the creamy consistency we're looking for in a pasta sauce as well as the tang of cheese. A little nutritional yeast ups the cheezy ante and helps boost the texture as well. In this pasta dish, you'd never know you were eating yogurt, let alone that it's a dairy-free dish. Unless you made the recipe yourself. Which you totally should.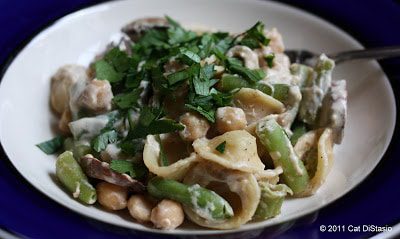 Yield: 2-3 servings
4 oz whole wheat orecchiette (or other small shape pasta)
1 Tbsp olive oil
1 shallot, minced
2 cloves garlic, minced
1/3 lb crimini mushrooms, sliced
3/4 cup cooked chickpeas
3/4 cup cut green beans (I used frozen)
1/4 cup nutritional yeast
3/4 cup (6oz) plain non-dairy yogurt (I use soy)
1/4 tsp salt
fresh ground black pepper, to taste
1 Tbsp chopped parsley
1 Tbsp chopped basil
1 Tbsp chopped toasted walnuts
Cook pasta according to package instructions. About 2 minutes before pasta is done cooking, add frozen green beans to the pasta water and then drain them together. 
While pasta is cooking, heat olive oil in a large skillet over medium-low heat. Stir shallot and garlic in oil until fragrant, about 2-3 minutes, but do not allow them to brown.
Add mushrooms and chickpeas, stir, cook 4-5 minutes until mushrooms are mostly cooked.
Add nutritional yeast, salt and pepper and stir to combine.
Remove from heat and whisk in yogurt.  
Add drained pasta and green beans to cream sauce and stir to combine.
Serve hot topped with parsley, basil and walnuts. 
Now, what else can you do with a sauce like this?
Omit the veggies for a plain cream sauce, or substitute your favorites. Broccoli and peas would be great in this sauce!
Toss it with plain pasta for a mac-and-cheese type dish. 
Try mixing the sauce with your grits or polenta for a savory breakfast. 
Pour it over steamed broccoli or cauliflower.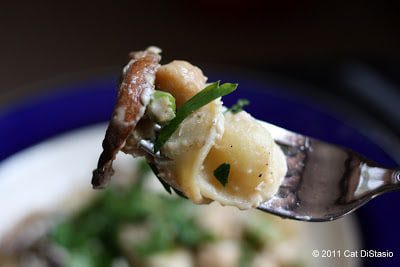 Use it as a spread for garlic toast. 
Stir a fat spoonful into tomato soup or potato chowder. 
What other uses can you think of for this vegan cheezy cream sauce?