I've been feeling a little sluggish lately. I got married in November (yay!) and I was eating so healthy and being so good beforehand. We had a destination wedding and the food was so delicious; the healthy eating went out the window… out the window, down the street and into the next city. When we came home it was almost Christmas and who goes back to eating healthy right before Christmas? Not me!  Then I just fell into a rut. I feel like all I was eating was carbs and refined sugars and empty calories.  Well, not anymore.
Recently, I've really started to notice it how my diet is affecting me. I feel bloated, lethargic, my stomach gets angry with me and I feel like I'm always tired.  It's incredible how much of an impact your diet has on how you feel. This seems obvious but when you feel the changes yourself, it really is incredible.
So, I've decided that I'm going back to eating healthy and telling myself that I will work out (I hate exercise. I love being physically active and going for hikes, biking and everything outdoors… I cannot stand lifting weights, being in a gym or running for an hour and physically going nowhere). I've already been making healthier recipes but I'm really committing to it now.
Enter today's recipe. It doesn't get too much healthier than this. Bonus: it tastes super duper delicious.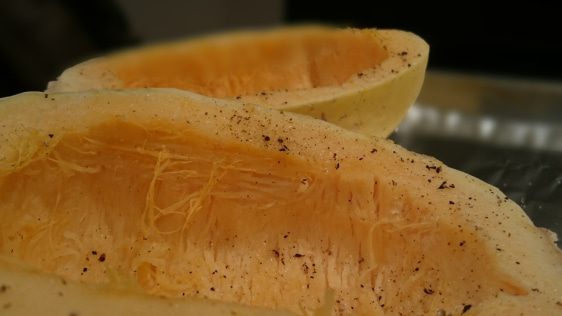 Ingredients
2 carrots, finely diced
2 onions, finely diced
1 tablespoon olive oil
1 tablespoon minced garlic
1 pound ground turkey
1 cup dry red wine
14 ounce can of crushed tomatoes
1 teaspoon oregano
1 teaspoon basil
1 teaspoon sage
1 teaspoon rosemary
1 spaghetti squash
Optional: parmesan cheese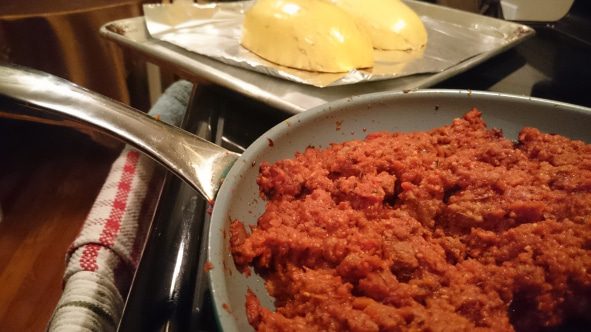 Directions
Preheat your oven to 350°.
Add oil and garlic to your skillet and heat over medium heat.
Add carrots and onions to the skillet and fry for about 10 minutes or until the veggies have softened.  Put aside.
Increase the heat and brown the ground turkey. Once browned, add the veggies back to the skillet.
Add the wine to the skillet and cook until reduced.
Stir in  crushed tomatoes, oregano, basil, sage and rosemary. Reduce heat, put a lid on it and let it simmer as long as you can. Ideally you want to let it simmer for a little over an hour but I know that we all live busy lives so let it simmer for at least half an hour.
Remember that oven we preheated? Now is the time to put your spaghetti squash in it. Cut it in half, scoop out the seeds (you can save them and roast them later), sprinkle with salt and pepper and put it face down on a baking sheet lined with tin foil. Bake for 40 minutes (time it so the bolognese is done at the same time as the spaghetti squash).
Scoop the insides out of the squash (it will be stringy like spaghetti) and put your desired serving on your plate. Spoon bolognese on top and add parmesan cheese if you like.
Eat.