A little spicy and a lotta sweet! This sauce is delicious and pretty easy to make your own. You will need a blender but everything else you should have in your kitchen! I'm partial to this BBQ sauce because most of the ingredients I had in my fridge! A quick trip to the farmers market got me the blueberries I needed to make this 4th of July sweet and spicy treat!
Ingredients:
1 cup Blueberries
Jalapeño (to taste. I'm a wimp and only used half of one! But you do you!
¾ cup diced Onions
2 tbsp crushed Garlic
2 tbsp Molasses
Olive oil
Salt (to taste)
Optional: Smoked Paprika (Just to add a little kick and to lessen the sweetness)
Instructions:
Mince jalapeños, garlic, and onions. Add them to skillet with olive oil and cook them down until the veggies are translucent. This should take about 3 minutes.
Add blueberries. After a few minutes they will soften and you can mash them.
Add the rest of your ingredients.
Let your mixture cook down for 5-7 minutes.
Put in blender. (Strain if you feel you need to) Pour into a storage container and this sauce will keep for up to 5 days!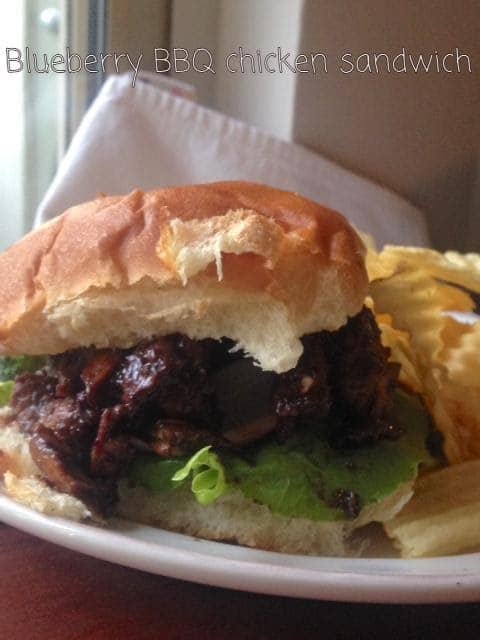 Here is where you can get really creative…
You can marinate your chicken in this sauce and throw it on the grill. You can baste your chicken with it and put it in the oven OR you can cook your chicken on the stove top, shred it, and then toss it in your impressively made BBQ sauce, which is what I chose to do!
Add a little lettuce, tomato, and onion, and a big beautiful potato bun (my favorite) and you're ready to go!