Happy Monday, everyone! Mondays aren't known as the best day of the week so I decided to help you with the Monday blues by posting a recipe for something delicious to the max. Pie! Apple Pie! Dutch Apple Pie! Dutch Apple Pie with vanilla ice cream! My mouth is watering so much right now. Seriously though, this is an amazing recipe that my mom used to make all the time and now it is my pleasure to share it with you.
What is a Dutch Apple Pie? You might be asking yourself. Well, I will answer. A Dutch Apple Pie is a pie that has a layer of cheesecake on the bottom and apple pie on top with a crumble topping. There my mouth goes, watering again. Geez. I'm hungry.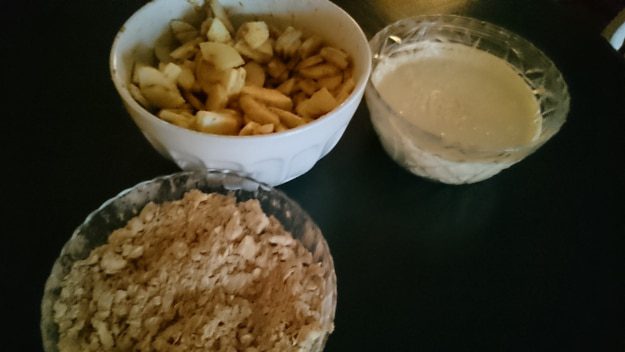 Here's how you make one for yourself (I won't judge you if you don't share it).
Ingredients
Apple Pie Mixture
4 Granny Smith apples, peeled and sliced
1/4 cup sugar
2 tablespoons flour
2 teaspoons cinnamon
Cheesecake Mixture
1 package (250 ml or 8 oz) of cream cheese
1/4 cup sugar
1 egg
1/2 teaspoon of vanilla
1 tablespoon Amarula (optional but adds a delicious flavour)
Crumble Topping Mixture
1/2 cup flour
1/2 cup brown sugar
1/2 cup rolled oats
1/2 cup softened butter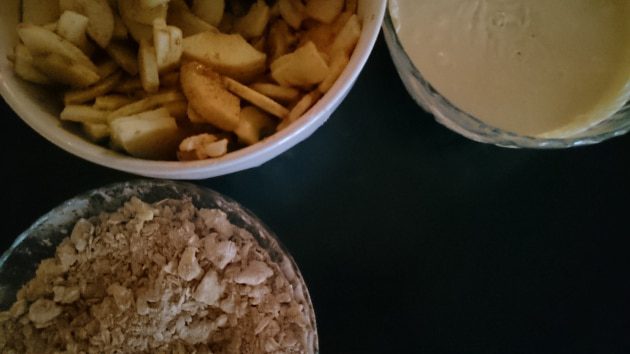 Directions
I will be doing a separate post on how to make homemade pie crusts but you can also use a pre-made refrigerated one (homemade is always better but there isn't too much of a difference if you are running short on time).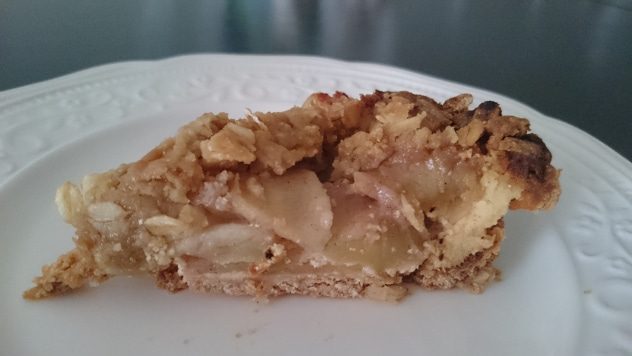 Preheat oven to 375°.
Cheesecake Mixture: beat cream cheese and sugar together until well combined. Add everything else and mix well. Spoon over your crust.
Apple Pie Mixture: Add everything together and mix until the apples are well coated. Spoon over the cheesecake layer.
Crumple Topping Mixture: mix all of your ingredients except the butter together until well combined. Cut butter in with two knives or a pastry blender (this is the most tedious step of this whole recipe). When you're done, it will look crumbly. Sprinkle on top of the apple mixture. Cover with tin foil.
Pop 'er into the oven for 55 minutes (uncover after 25 minutes).
Serve with vanilla ice cream.
Eat.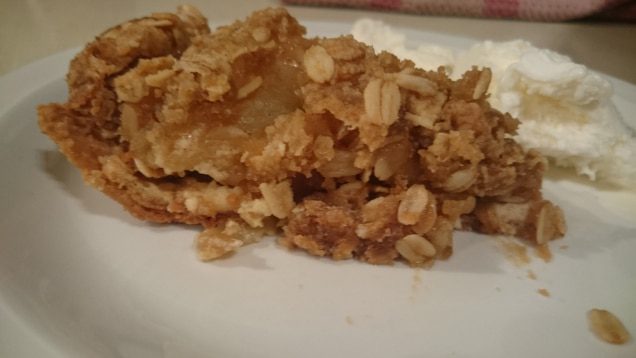 This is honestly, one of my top 5 favourite desserts of all time! Let me know if you love it as much as I do.