"A Balanced Diet is Chocolate in Both Hands" — unkown
People who eat loads of food and never gain weight….I so envy you. All I have to do is breathe or just think about food and poof!!! my weighing scale seems to tip in the wrong direction. A balanced diet may be the best medicine to solve my health issues. Well, my definition of balanced diet is exactly what the quote says. This recipe is perfect for me– with banana power, chocolate and more chocolate and even more chocolate. Don't you agree?
I'm one of those people who have to mask the smell of banana in recipes, what better way than to do it with chocolate. The bread is so rich in chocolate, the texture kind of resembles a chocolate cake. I used coconut oil and it gave a moist texture to the bread and it was pure decadence. I don't think I need to explain more about this bread, the pictures should speak for themselves. This bread can be stored in a refrigerator for about a week, reheat them for about 10-15 seconds before serving. Never underestimate the power of chocolate. Enjoy!!!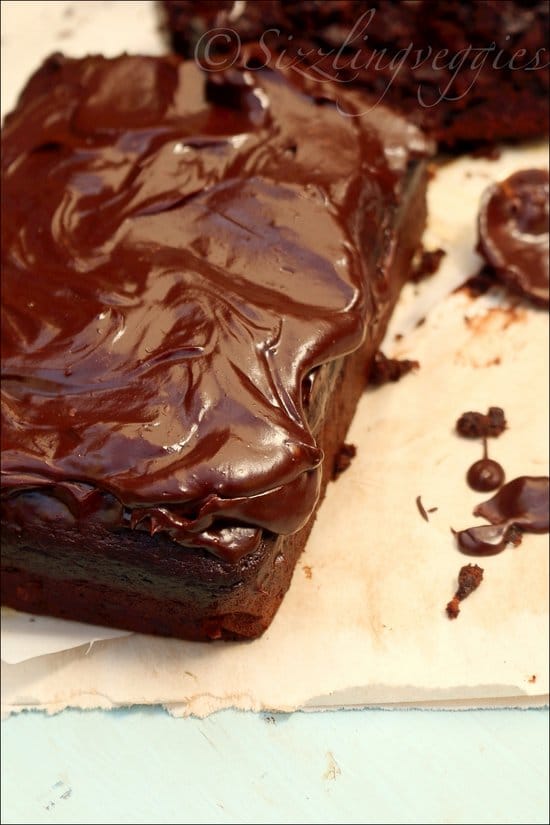 Triple Chocolate Banana Bread
Ingredients
Chocolate Banana Bread
All Purpose Flour — 1 cup
Cocoa Powder — 1/2 cup *
Baking Soda — 1 tsp
Salt — 1/4 tsp
Espresso Powder — 1 Tbsp (optional)
Bananas — 1 cup (approx 2 large over ripe bananas)
Organic Coconut Oil — 3/4 cup melted (can be substituted with vegetable oil)
Light Brown Sugar — 3/4 cup
Egg — 1 large
Vanilla Extract — 1 tsp
Chocolate Chips — 1 cup
Ganache (optional)
Dark Chocolate — 5 oz (chopped)
Heavy Cream — 5 oz
Instructions
Chocolate Banana Bread
Preheat oven to 350F. Prepare a 9″x5″ loaf pan with grease and flour or line with parchment paper.
In a small bowl mix flour, cocoa powder, baking soda, espresso powder (if using), and salt.
In another bowl mix mashed bananas, coconut oil, sugar, egg, vanilla extract.
Add dry ingredients to the wet ingredients and mix until well combined. If you are mixing using mixer, then first add all the wet ingredients to the mixer and then add dry ingredients one by one until well combined. Fold in chocolate chips to the batter.
Transfer the batter to the loaf pan and bake for 55-65 mins o r until tooth pick inserted in the center of the bread comes out clean.
Cool the bread completely in wire rack before adding the ganache. Enjoy!!!
Ganache
Place chopped chocolate in a bowl. Microwave or in a stovetop bring cream to a slight simmer. Pour the cream over chocolate. Cover with plastic wrap for about 2 mins. Stir well with a spatula. Cool completely before topping the bread. Leftover ganache store well in refrigerator. Enjoy!!!