If I combine the words "childhood, winter, food", I come up with "Chocolate Self Saucing Pudding".  This wasn't something reserved for birthdays, Christmas, or any other special occasion.  This was a good, hearty pudding that Mum would make for my two older brothers and I a few times every winter.  It's incredibly simple to make, and nowadays I often rustle it up impromptu after the dinner mess has been cleared up, and mostly at the spontaneous request of Meneer Prins.
There are many recipes out there for Chocolate Self Saucing Pudding.  I personally like this combination of ingredients inspired by Alison Holst's slow cooker recipe as it contains a relatively small amount of fat, plus using oil rather than butter means that it's just as good when reheated the following day (in fact it might taste even better!). It makes a wickedly fudgy yet light cake, and the real chocolate gives it a richness and decadence.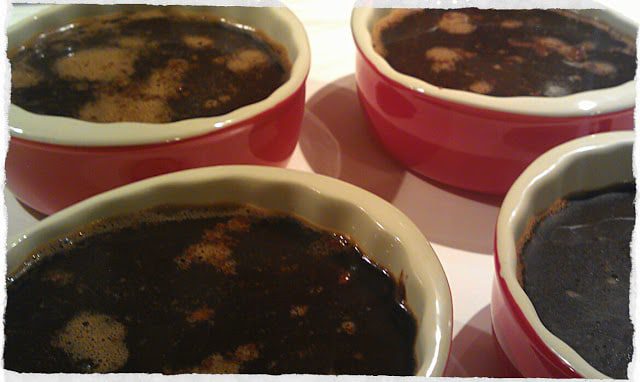 If I do know that I'll be cooking this ahead of time, then I'll throw it in the slow cooker for a couple of hours on high.  But the problem is that I normally never plan to make this pudding, and so more often than not I'll bung the mixture into individual dishes as pictured.  The advantage of this is that you'll get a nice crunchy top to the fudgy cake underneath, as well as a fair share of the sauce. In the oven at 180 degree celcius, these little beauties only take about 25-30 minutes.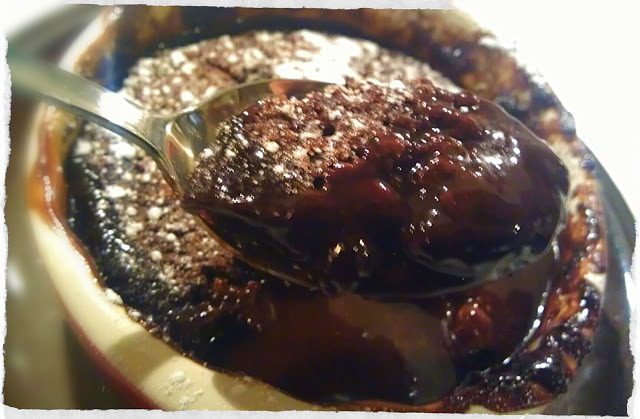 Ingredients
1 cup flour (tarwebloem)
1 1/2 tspn baking powder (bakpoeder)
1/2 cup sugar (kristalsuiker)
1/4 cup cocoa (cacaopoeder)
1/4 tspn salt
1/2 cup milk
1/4 cup sunflower oil (or even better, canola oil)
1 tbspn vanilla extract
1/2 cup chocolate chips (or chopped up dark chocolate)
for the sauce
1 cup brown sugar (basterdsuiker)
1/2 cup cocoa powder (cacaopoeder)
2 cups boiling water
Instructions
Turn the oven on to 180 degree Celsius.
Start boiling your water.
Mix all the dry ingredients in a medium sized bowl.
Whisk together the wet ingredients (milk, oil, vanilla) in a separate smaller bowl.
Pour the wet ingredients and the chocolate chips into the bowl with the dry ingredients and mix gently until just combined.
TIP: As in all cake batters that contain flour, if you mix it too much, then you overwork the gluten in the flour which will make the cake tougher.
Spoon the batter evenly into four individual ovenproof dishes that are sitting on an oven tray or roasting dish (makes it easier to pull them in and out of the oven).
To make the sauce, combine the boiled water with the cocoa and sugar and pour gently over the top of the batter.
Chuck your puddings into the oven for 25-30 minutes. Use a wooden skewer to check if they are cooked – the skewer should come out clean. If it's covered in wet batter, then it needs to be cooked a little longer.
When ready, dust the puddings with some icing sugar (poedersuiker) and serve.
Eet Smakelijk!!
Monique xx