I feel like I'm slipping a bit lately with my blog. I'm getting behind on replying to comments and reading blogs. I think this just happens with time, the longer you've had your blog. Or it could be that I've been baking so much. I have about ten recipes I need to post.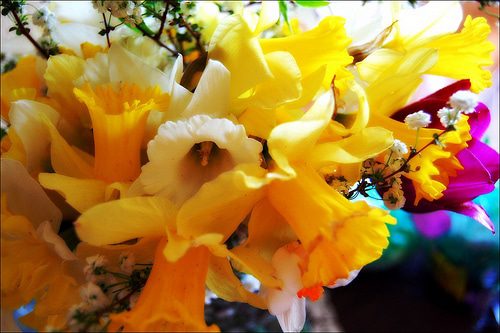 I've been meaning to thanks some laaaaadies. I would give you these flowers if I could.
Brindi ofOf Food and Fat sent me a copy of Nigella Lawson's Nigella Express. Thanks Brindi! I love the cookbook. Nigella is one of my favorites.
Aimée ofUnder the High Chair sent me a spice rub and a tonka bean. I have to think carefully about how to use the tonka bean, because I'll never get another one ever again. Thank you Aimée.
Heather of Diary of a Fanatic Foodie sent me some truffle oil! Yummmm. I can't wait to use it. Thanks Heather.
Also, Stonyfield Farms sent me coupons for freeOikos Organic Greek Yogurt. I was very excited to use them, and then I discovered my grocery store doesn't sell that brand. Very disappointing. Oh well.. thanks anyway. I bet your yogurt is delicious!! Sorry I live in the middle of nowhere.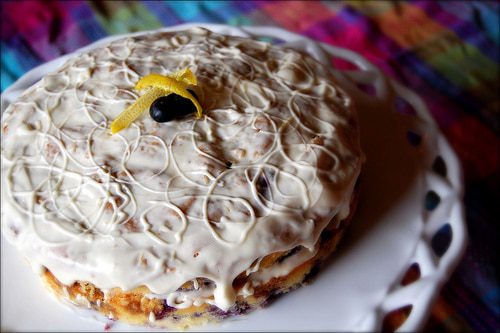 I'm not feeling very well so I'm going to make this (fairly) quick. I'm never tasting any of my raw batters for baked goods ever again. And yes, I actually did that all of the time. I did it for you fine folks. I had to make sure the flavors were right.
I created this cake and it was very, very tasty. I made it for Easter, but I think it would be lovely for mother's day, don't you? Bake it for your mom! She'll love you for it!
It's a blueberry cake topped with an almond-oatmeal-spiced streusel, and then that is topped with with a luscious lemon-cream cheese glaze. I love blueberry and lemon together.
Are you kidding me with this next picture?! Look at that drippage.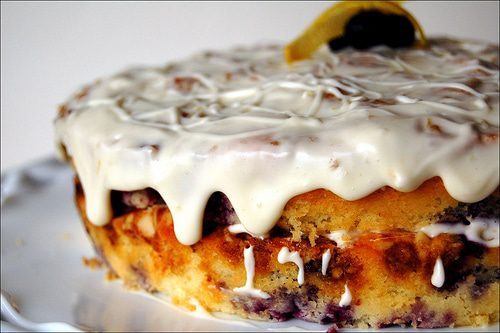 Blueberry Buckle Cake with Lemon Cream Cheese Glaze
1 3/4 cups cake flour, plus 2 tablespoons
1 1/2 teaspoons baking powder
1/4 teaspoon salt
1/2 cup unsalted butter, softened
1 cup granulated sugar
1 teaspoon vanilla extract
3 large eggs
1/2 cup milk
2 1/4 cups blueberries
Almond Streusel
3/4 cup firmly packed brown sugar
1/2 cup finely chopped almonds, toasted
1/3 cup old fashioned oats
1/4 cup cake flour
1 teaspoon ground cinnamon
1/2 teaspoon ground ginger
1/2 teaspoon salt
6 tablespoons cold unsalted butter, cut into small pieces
Lemon Cream Cheese Glaze
4 ounces cream cheese, softened
1/2 teaspoon finely grated lemon zest
1/3 cup confectioners' sugar
2 tablespoons milk
Preheat oven to 350 degrees F. Grease and flour 2 (9-inch) cake pans.
In a medium sized mixing bowl, sift together 1 3/4 cup cake flour, baking powder and salt.
In a large mixing bowl, using a mixer on medium speed, beat together butter and sugar until creamy, about 1-2 minutes; beat in eggs and vanilla until combined, about 1 minute. Reduce mixer speed to low and beat in flour mixture, alternating with milk, until combined, about 1 minute. Toss the additional 2 tablespoons cake flour together with the blueberries until well coated; gently fold into batter. Divide batter into prepared cake pans.
To make the almond streusel, stir together brown sugar, almonds, oats, cake flour, cinnamon, ginger and salt until combined. Knead in butter using fingertips until well combined and mixture starts to clump together; sprinkle evenly over batter.
Bake for 35-38 minutes or until golden brown and a toothpick inserted into cakes comes out with moist crumbs attached. Cool for 12 minutes; run a knife around outer edges and invert cakes onto wire racks to cool for 30 minutes.
To make the lemon cream cheese glaze, combine cream cheese, lemon zest and confectioners' sugar in a medium sized mixing bowl. Beat together using a mixer on medium speed, until creamy, about 2 minutes. Beat in milk until combined. Spread and drizzle glaze over one cake round, top with second cake round, and drizzle and spread remaining glaze over the top.
Makes 8 servings