Summer is a time for salad. Fresh beautiful produce is everywhere, and it's too enticing to pass up. The second I saw this salad on this month's round up ofNo Croutons Required, I knew it had to be mine. I had everything but the strawberries, so I added it to my grocery list before heading to the store that afternoon. I forgot how sweet and juicy fresh strawberries are when they are in season. They are like candy, and I adore them. Speaking of candy, I added some candied pecans, which took it to a whole other level. With a sweet and sour dressing, this is probably one of my new favorite salads! Plus, look how pretty it is!!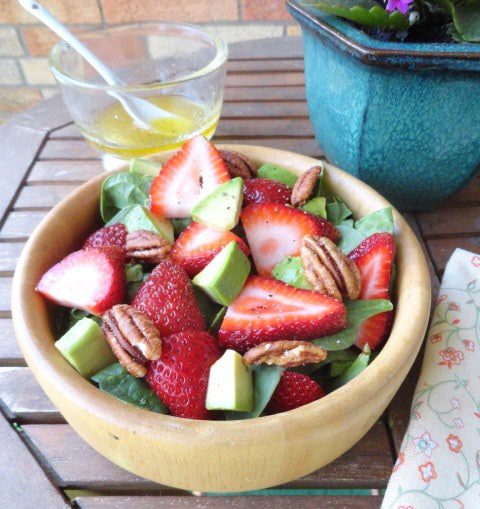 One doesn't need exact measurements for ingredients, as it's very much up to personal taste. Below, I've simply listing the ingredients I used, followed by the recipe for the dressing. Make this salad immediately!
I'm also submitting this to Souper (Soup, Salad, and Sammies) Sundays over at Kahakai Kitchen!
Avocado and Strawberry Salad with Honey Dressing
Ingredients
For the salad:
Avocado
Strawberries
Greens of choice (I used spinach)
Nuts of choice (I used candied pecans)
Dressing for two:
1 tablespoon lemon juice
1 tablespoon olive oil
1 tablespoon honey
Sea salt and freshly ground pepper, to taste
Directions
In a small bowl, whisk together dressing ingredients.
Peal avocado, and cut into chunks or wedges, then wash and slice strawberries.
Arrange greens in salad bowls. Top with avocados, strawberries, and nuts. Drizzle with dressing, and serve immediately.