Had a craving for some pizza this week and had recently read some tips on achieving the ultimate thin crust.  We are huge fans of thin crust pizzas so naturally we had to give this one a go.  MBH did the shopping and found some wheat pizza dough at Publix. We got some fresh mozzarella, tomatoes, prosciutto, basil, and oregano for toppings.  We made the same sauce we have used in the past minus the sugar (I wasn't a huge fan of the sweet sauce).
Prep:
I let the dough rest for a while on some lightly floured parchment paper.  Using the tips I had recently read, I placed Saran wrap on top and rolled the dough out.  This worked perfectly and I was able to get the dough as thin as I desired.  I think I could make 3 thin crust pizzas out of one dough ball.  I cut this one in two and one of the pizzas was huge.
Cooking:
I cooked the pizzas at 500º for about 12-15 minutes each with the larger taking just a bit longer.  I cooked them on the parchment paper on the stone until they were close to being done and then removed the parchment to finish off the crust directly on the stone. The setup was the same as I have used in the past.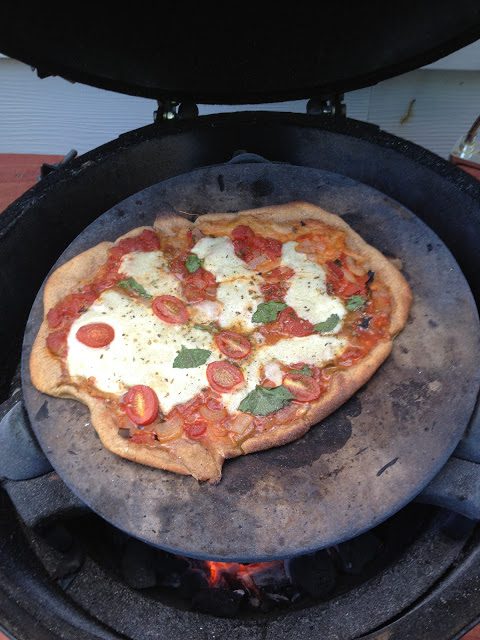 Notes:
Best pizzas I have made to date.  Not much else to be said.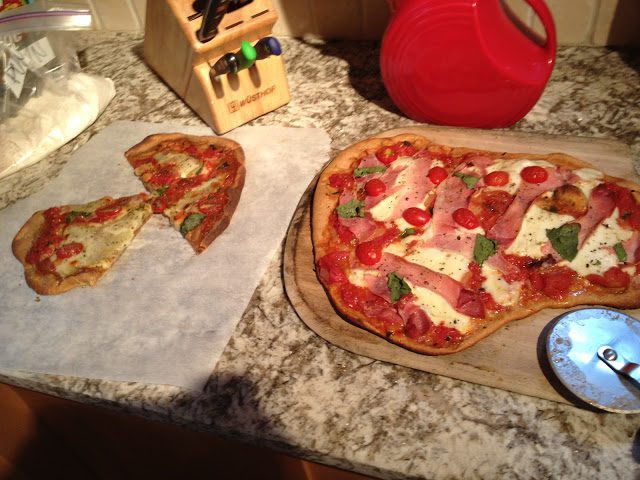 Bonus:Here is a picture of some chicken and veggies we did using some newly acquired flexible skewers.