It's snowing outside!!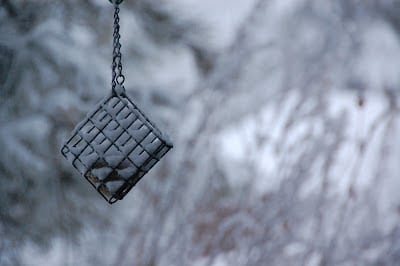 That is right, it's finally officially the winter season here in Flagstaff. Everyone has been bundled up in thick coats and fluffy scarves for at least the past month, just waiting for the snow to make its grand arrival! And what an arrival it was (although belated…)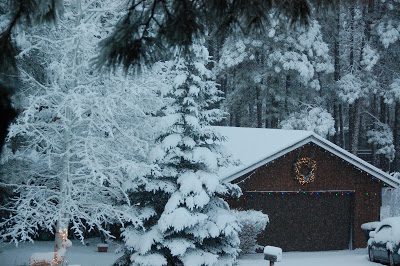 Along with the snow came a bout of sickness for me. I have been lying around and working on preparation for finals, attempting to tame my sore throat with plenty of hot tea, cold bananas, and frozen yogurt.Whenever I'm sick, I basically crave exclusively sweet or spicy foods, because they are the only things I can taste. Not only that, but I want it to be easy to make; as in, pop it in the oven or the microwave and leave it be.
This recipe totally hit the spot.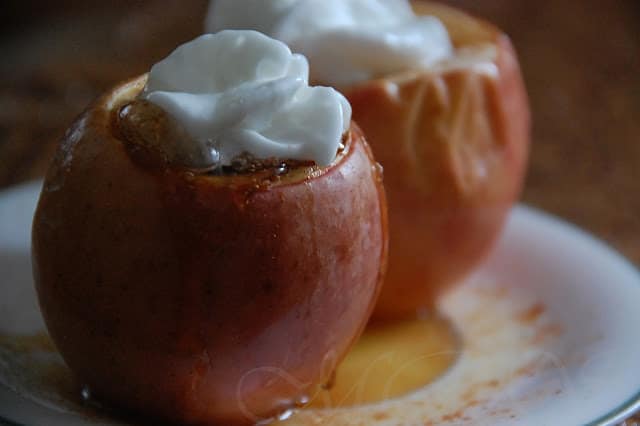 I used sweet Gala apples and cored them, filled them with maple syrup, and baked them in some Vitamin C-filled orange juice to compliment the natural flavor of the apple with bright citrus. After they were tender and the sweet smell of caramelizing maple syrup filled every room in my house, I took them out and sprinkled them with warm cinnamon and a touch of whipped cream.
To. Die. For.
These are fancy enough for company, easy enough for a lazy day around the house, and delicious enough for any craving needs. Warm, gooey, and full of natural fruit flavor, these cinnamon and maple baked apples are fall and winter in dessert form.
P.S.
Don't forget about the huge Christmas 2012 Giveaway, ending December 17th!
Cinnamon and Maple Baked Apples
Serves: 2 (can easily be changed to serve however many you want) 
Serving Size: 1 apple, cinnamon, and 2 tbl whipped cream          Calories/Serving: 95
Ingredients:
2 small Gala apples, washed
2/3c. water
1/3c. reduced sugar orange juice (such as Trop50)
1/4c. sugar free maple syrup
Cinnamon for dusting
1/4c. fat free whipped topping (such as ReddiWhip)
Instructions:
Preheat oven to 350F.
Meanwhile, core the apples (being careful not to go all the way through to the bottom, because they need to hold the maple syrup), creating a cavity. Make sure all seeds are removed.
In a small, shallow oven-safe baking dish, combine orange juice and water. Set the apples, core-side up, in the baking dish. Fill each apple with 2tbl of the maple syrup (if the syrup overflows into the pan because the cavity is too small, no worries– that just means more flavor in the cooking liquid!)
Bake for approximately 1 hour, or until apples are quite tender. Remove from oven, and let cool for at least 7 minutes. To serve, sprinkle with cinnamon and top with 2tbl of the whipped topping. If you want an extra citrus punch, pour the cooking liquid over the apple too.