Healthy scrambled eggs with oriental flavors.
This recipe was born out of a desire to limit the amount of sweet things I eat in the morning. Because if I fill my morning with sugar I am not only hungrier the rest of the day, but all I want is sugar. It's hard to find a western style breakfast that is sugar free, gluten free, and not oily.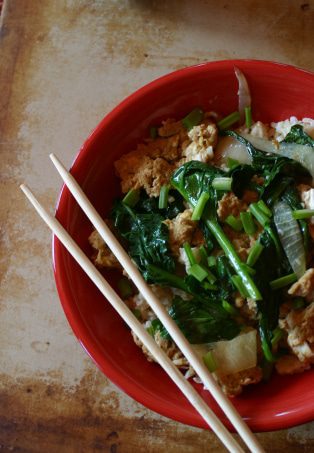 A couple of weeks ago, I spent a day in Tokyo on a layover, and had a breakfast of scrambled eggs, rice and salad–which sounded crazy to me after my weeks of waking up to Müsli and pile of strawberries, but it was really good. I find that Müsli makes me hungrier throughout the day, so I'm trying to avoid it. I'm happy to report that this recipe actually succeeded in removing my hunger, not amplifying it.
This recipe is an adaptation of something my host-mother would make me for breakfast in southern Germany. I usually halve the recipe and serve the scrambled egg with sriracha over brown rice and sautéed spinach, onions and mushrooms.
Serves: 1 hungry person, or 2 not-so-hungry people
Cost (using organic/local ingredients): $1.08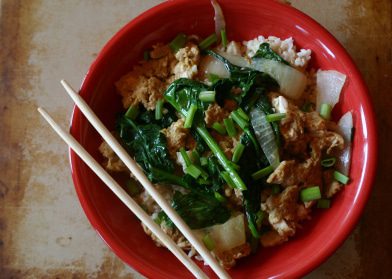 Ingredients:
2 Eggs
2 T Unsweetened almond or soy milk
Tiny pinch of ground ginger
Tiny pinch of cayenne pepper
Tiny pinch of garlic powder
1/2 T soy sauce
1 t sesame oil
You'll need:
A small pan
A woodenspoon for scrambling
A whisk or a fork
A bowl
Directions:
Heat the sesame oil in a small pan.
Whisk the rest of the ingredients together (if you don't have a whisk, a fork works equally well) in a bowl
Scramble these guys
Don't let them sit in the pan or they'll get all crusty, just throw them on some rice when they're moist but not runny. If you add a lot of liquid sometimes that will seep out of the eggs while they're cooking. That's normal.
Alternatives:
To make this dish gluten free, use gluten-free soy sauce