A few day ago, when we had breakfast at Macdonald, Yaseen adored a "hot cake meal" which was hot pancakes with maple syrup, crispy hatch brown and some hot chocolate. His hands and face were so sticky with the syrup and butter. He wanted more so we went to order again, but it was such a popular dish that they were out of it. He looked instantly upset, I told him I would make some more for him at home.
The thing about Yaseen is he is not a picky eater. He loves eating and he will try anything. Some of his favourite dishes are spaghetti, idli, spicy omelet and anything with Nutella. It is hard to notice that he also loves strawberry because he eats half a kilo of fresh strawberry a day.
It would make him very happy if I served a warm pancake with some warm strawberry reduction. It's strawberry season here in Pune. They are not grown here, but at about 120 km away hill station, Mahaboleshwar. They are so plum and juicy. The sweet innocent smell vaporized in the air as you walked pass making it's difficult not buy them.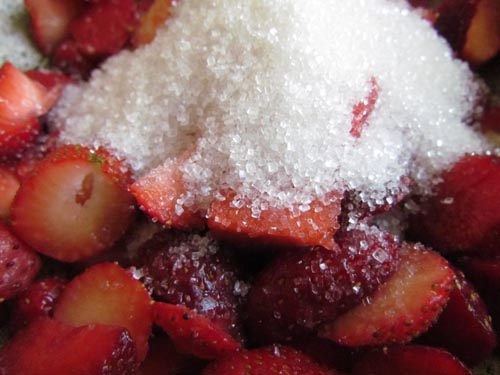 I let the strawberry and sugar bubbling on the stove while cooking my pancake. 20 minutes later, our breakfast was ready.
Here's our simple fluffy pancake is made.
Strawberry Reduction
Ingredients:
2 cup diced strawberries
1/2 cup sugar
1 cup water
How to cook:
Add strawberries, sugar and water in the medium pot and bring to boil.
Simmer for 7-10 minutes and stir occasionally.
The sauce should be thick and sticky ready to pour on pancake or toast.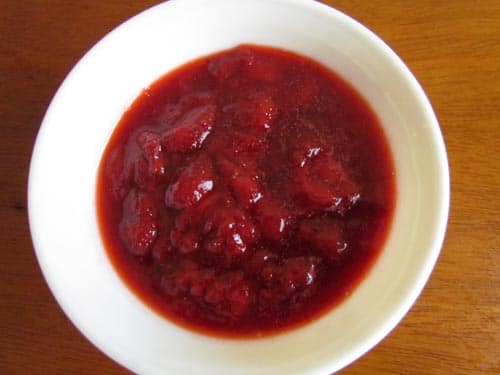 So much better and using jam or syrup from the cans, our simple strawberry reduction is so fresh and delightful. The sauce is thick and rich oozed in the hot fluffy pancake.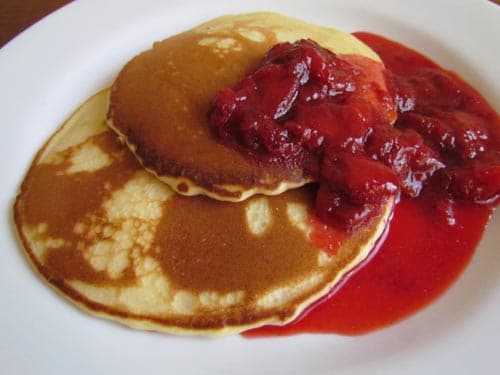 One of our New Year Resolutions was to eat more fresh, healthy and seasonal as much as possible. Since it's strawberry season here, we decided to try and invent new recipes with strawberries.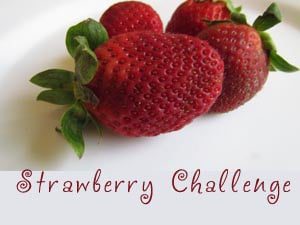 I told my husband the idea of BBQ chicken breast with strawberry and pepper glazing; he got so excited and wanted to join my challenge. He told me about the idea of strawberry pickle and how he's gonna make it. I am still not so optimistic about it. I don't know if we could make strawberry pickle and what it would be good with.
If you come across any luscious strawberries recipe please let us know. I am going to keep this challenge posted throughout the season.
Take care,