Chocolate, fig and fennel; a combination that is only made all the more amazing when paired with buttery, light and fluffy bread. This alchemical mixture of of spice, fruit and chocolate is nothing short of amazing.  I first was introduced to this great combination of flavors when I had my first Theo candy bar.
Have you had a Theo candy bar yet? They're made locally here in Seattle in the Fremont neighborhood and I promise, once you try one you'll be so, so glad you did.  It spoils you for other chocolate and that is no small statement. So, so good.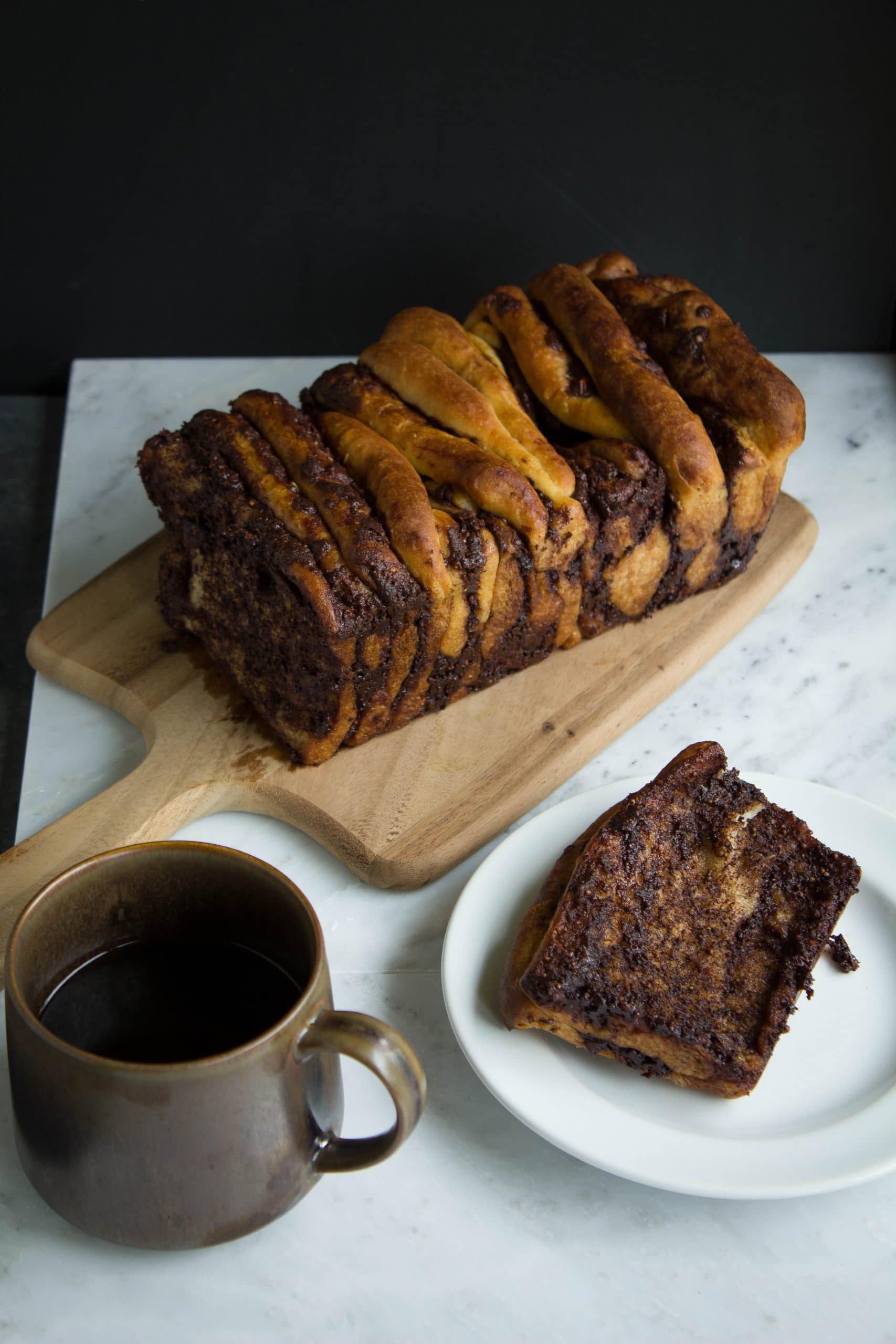 This bread, is the classic pull apart variety, yeasty, light and airy and it's a perfect companion for all the good chocolate amazingness going on inside. In my never ending battle to shed a few pounds, I've sworn off white breads and simple carbs for awhile. I've been doing pretty well too, until yesterday morning. I hit the wall. I hit the wall so hard, I made myself a chocolate microwave mug cake. At 4 am. A girl has to do what a girl has to do. Three weeks of whole grains only and no carbs after noon takes a toll on a body. Yes indeed.
Today I'm back on the wagon, but not before I had one gorgeous, luscious piece of this bread, straight from the oven. It was definitely, definitely worth it. I think you will definitely find it worth it too.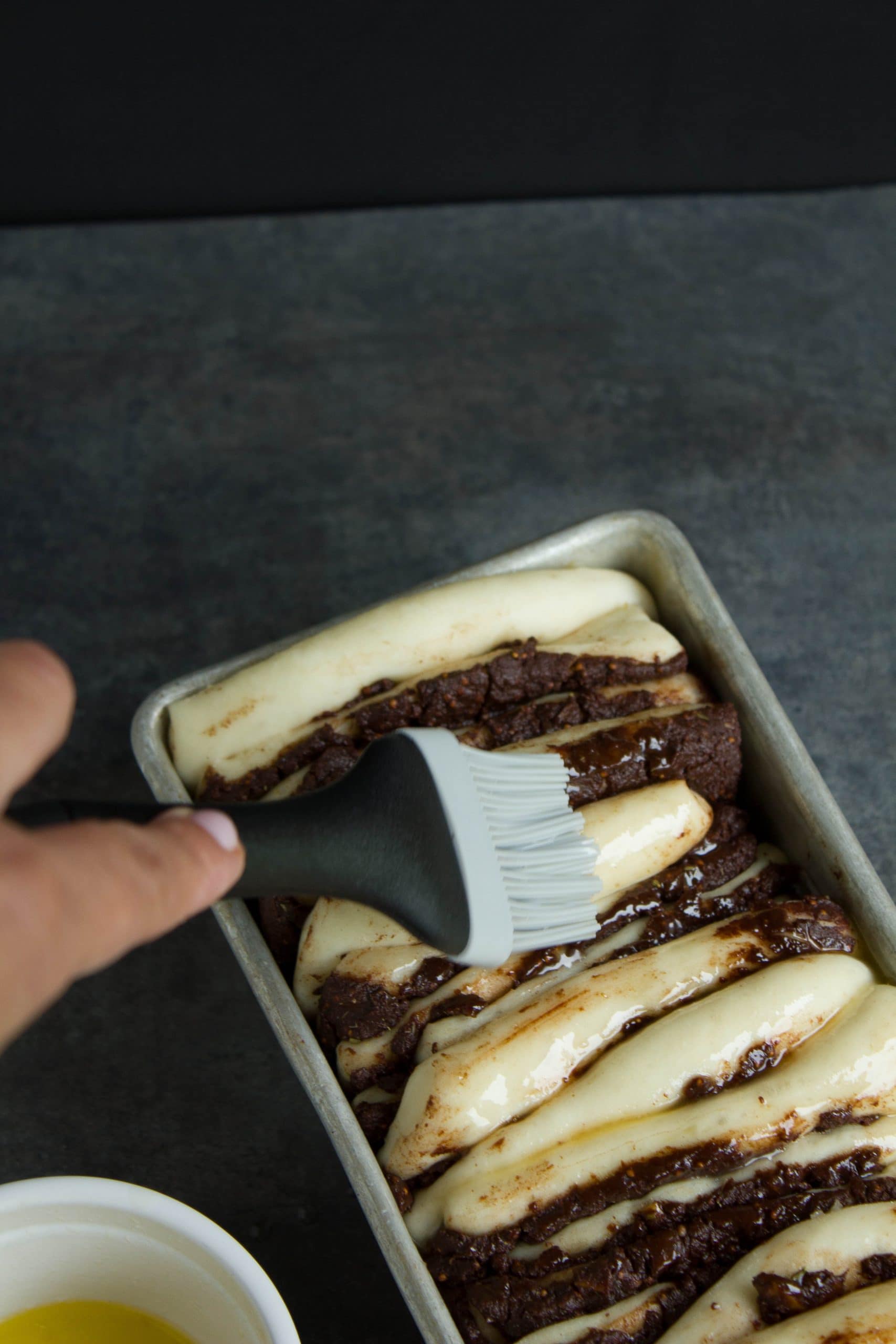 What's a little butter between friends?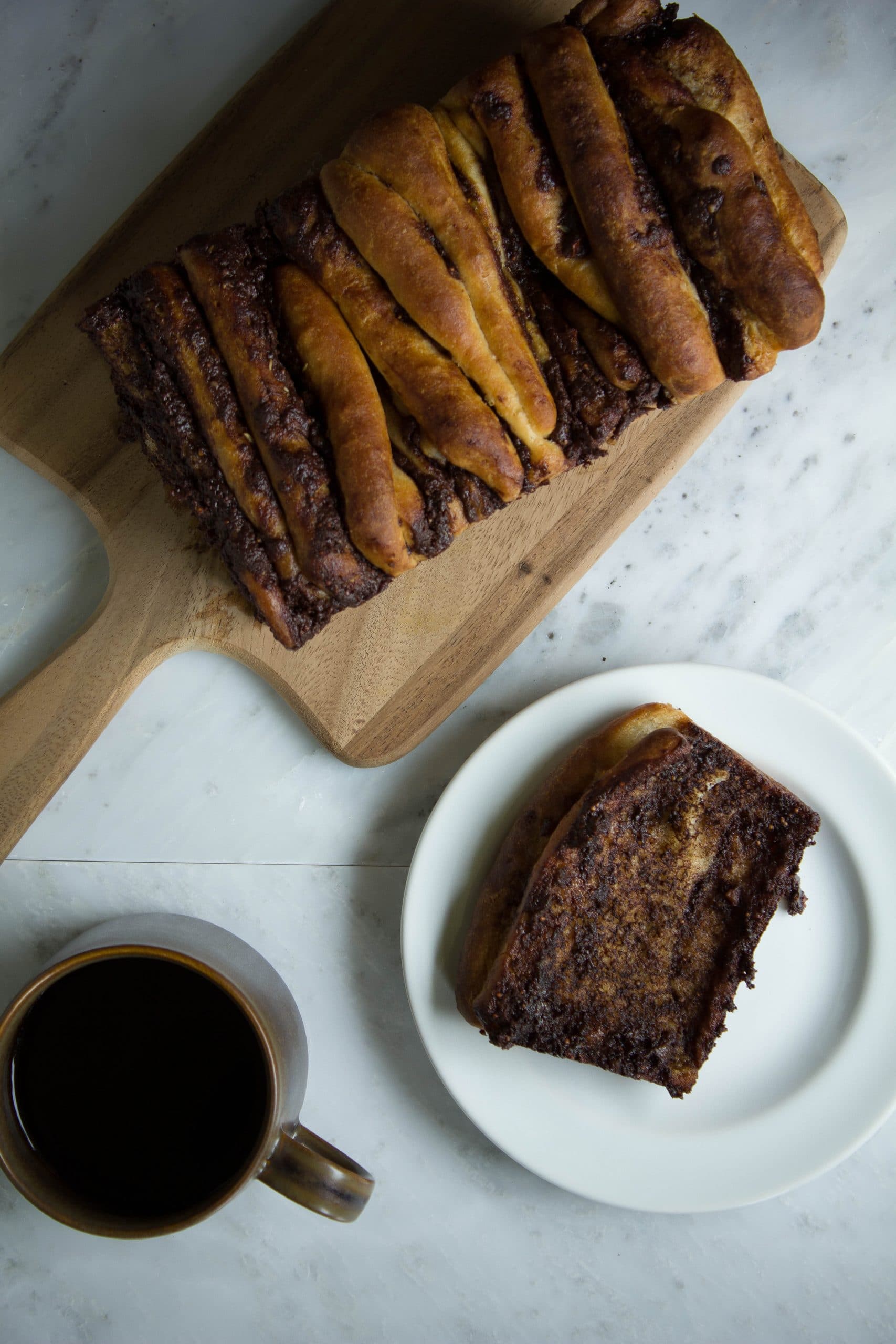 Ingredients
For the bread:
1 C. milk
1/4 C. vegetable oil
1/4 C. sugar
1 1/8 tsp. active dry yeast
2 1/4 C. flour
1/2 tsp. baking soda
1/2 tsp. baking powder
1 tsp salt
For the filling:
6 T unsalted butter
4 oz semi sweet chocolate chips
1/2 C. powdered sugar
2 T. unsweetened cocoa powder
1/2 tsp. whole fennel seeds measured, then crushed
1/4 tsp. kosher salt
1/2 C. dried but soft figs diced
Servings:
Instructions
1. In a large saucepan gently heat the milk, oil and sugar. Once the sugar has melted remove from the heat.
2. Allow the mixture to cool to 100-115 degrees F, then add the yeast and 2 Cups of the flour.
3. Stir to combine, and cover with a soft towel. Put in a warm place to rise for 1hour.
4. Once risen, dump dough onto a board that has been floured with the 1/4 flour left in the recipe. Sprinkle the baking soda, baking powder and salt on top of the dough and work the ingredients into the dough on the board. If the dough is too sticky, add 1 T. of flour additionally.
5. Roll dough out into a large rectangle. Spread the dough evenly with the chocolate, fig mixture. Using a pizza cutter, cut the dough into long wide strips, approximately 4-5″ in size. Then cut each strip into 5-6 squares, depending on the size of your rectangle.
6. Stack the squares on top of each other then place standing up in a greased and floured loaf pan. Cover with a towel and allow to rise 1 additional hour.
7. Preheat the oven to 350 degrees F. Melt 1 T. of butter and brush on top of the dough. Place the pan on a rimmed baking sheet and bake for 30 minutes. Cover the pan with foil at the 20 minute mark if you feel it's browning too quickly. Allow to cool completely before removing from the pan.
To make the filling:
1. In a small saucepan combine the butter and the chocolate over low heat. Stir until completely melted.
2. Add the remaining ingredients and combine completely. Set aside and allow to cool slightly. If the mixture sets up too much before spreading onto the bread, gently reheat it over low heat just until loosened. Add an additional T. of butter if needed.