After we announced the strawberry challenge and first posted our warmed strawberry reduction over the hot pancake, a lot of friends were really interested to know what we're going to try next.

Strawberry itself is so fresh and delicious; we barely need to do anything with it. My husband and I are competing against one another to create the most delicious recipe with strawberry in for our blog.
It's the first time I cooked savory strawberry sauce, it was challenging and exciting. The sauce turned out to be so amazing. It was flavorful and fresh. The sauce reduced to a thick and creamy liquid perfectly coated our simple pan grilled chicken.
Chicken with Strawberry and Black Pepper sauce
Ingredients: (2 servings)
For chicken:
2 chicken fillets
1 tbsp oil
A pinch of salt and pepper
For sauce:
2 cup fresh strawberry
3 cloves garlic- finely minced
2 tsp black pepper powder
1 tbsp Worcestershire sauce
1 cup chicken stock
3/4 tsp salt
1 tsp sugar
2 tbsp butter
Chopped parsley for garnishing
Method: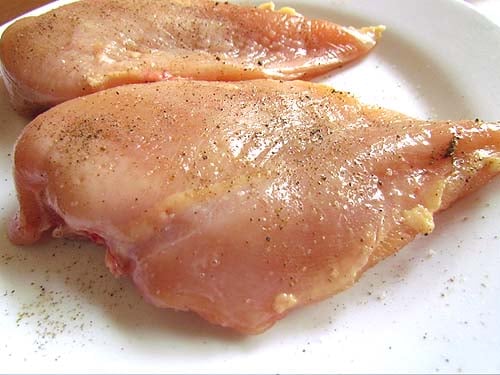 Sprinkle salt and peppers over chicken fillets and set aside.
Heat 1 tbsp oil in the pan over the medium heat.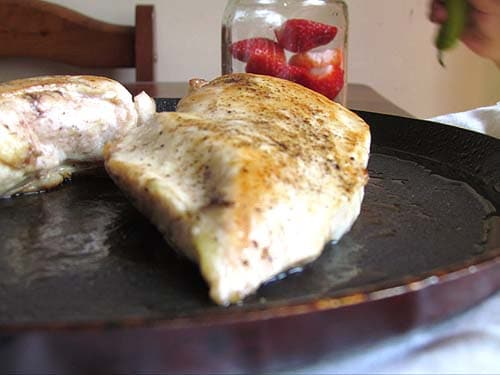 Add chicken fillets and cooked them for few minutes each side or until golden brown from both sides. Transfer to the serving plate.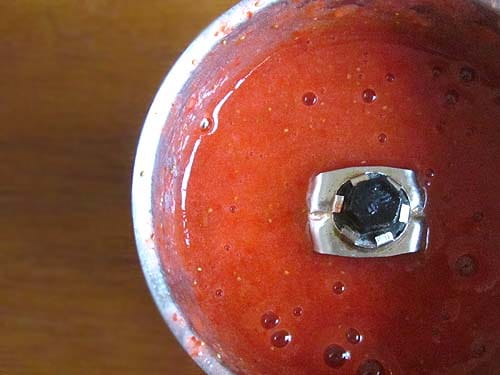 Puree fresh strawberry in the food processor until smooth.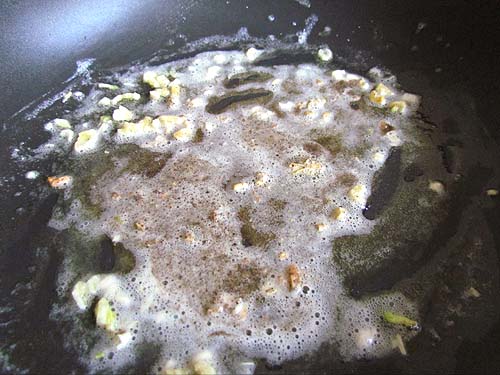 Heat butter in the sauce pan over the medium-low heat, add garlic and stir until garlic turned gold brown.
Add pepper and stir just for a few second.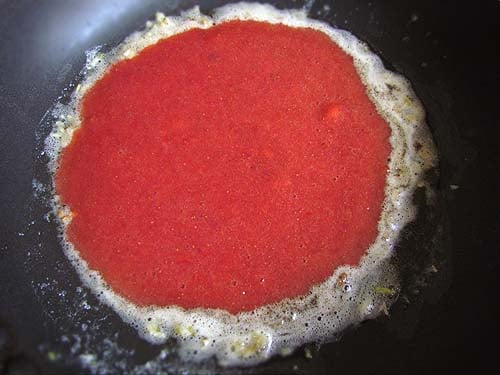 Add strawberry puree, chicken stock, worcestershir sauce, sugar, and salt then bring to boil over the high heat.
Reduce the sauce until half of the sauces remain.
Drizzle the sauce over the chicken and garnish with some chopped parsley.
Serve hot.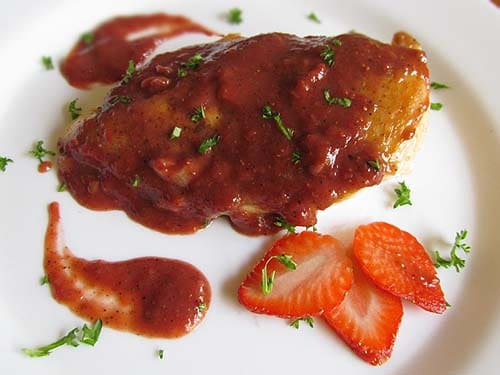 When I brought the plates of chicken with strawberry and black pepper sauce over the table, Yaseen and my husband was very excited. "Wow…this is so goooood!" my husband said while alluding in the rich pink sauce. He aksed for more sauce and finally nothing is left in the pan. The sauce was sweet with a little bit of sourness and a comforting heat of black peppers. Another successful experiment!
Have you tried any strawberry recipe lately?
Take care,