It's no secret that I'm kinda of crazy about red meat; steaks in particular.  I know red meat has been scrutinized in the past couple of years for causing and/or contributing to a plethora of health problems, but my motto in life is "everything in moderation", and my definition of moderation includes a rather large New York strip from time to time.  In fact, if I was given an unlimited budget and my pick of any restaurant my little heart desired, you can bet the farm I'd be heading to the hoity-toityist steakhouse in town.
Truth be told, the most exciting part of dining at fancy steakhouses is not even the steak – a good steak is a good steak, and if I'm paying $45+ for a piece of meat, I expect it to be pretty damn good.  The most exciting part about said ritzy steakhouses is the sides. Sauteed mushrooms (swoon), lyonnaise potatoes (back off, not sharing), onion rings bigger than a bagel (throwing elbows), and the best, most spectacular side of all, the creamed spinach (I die).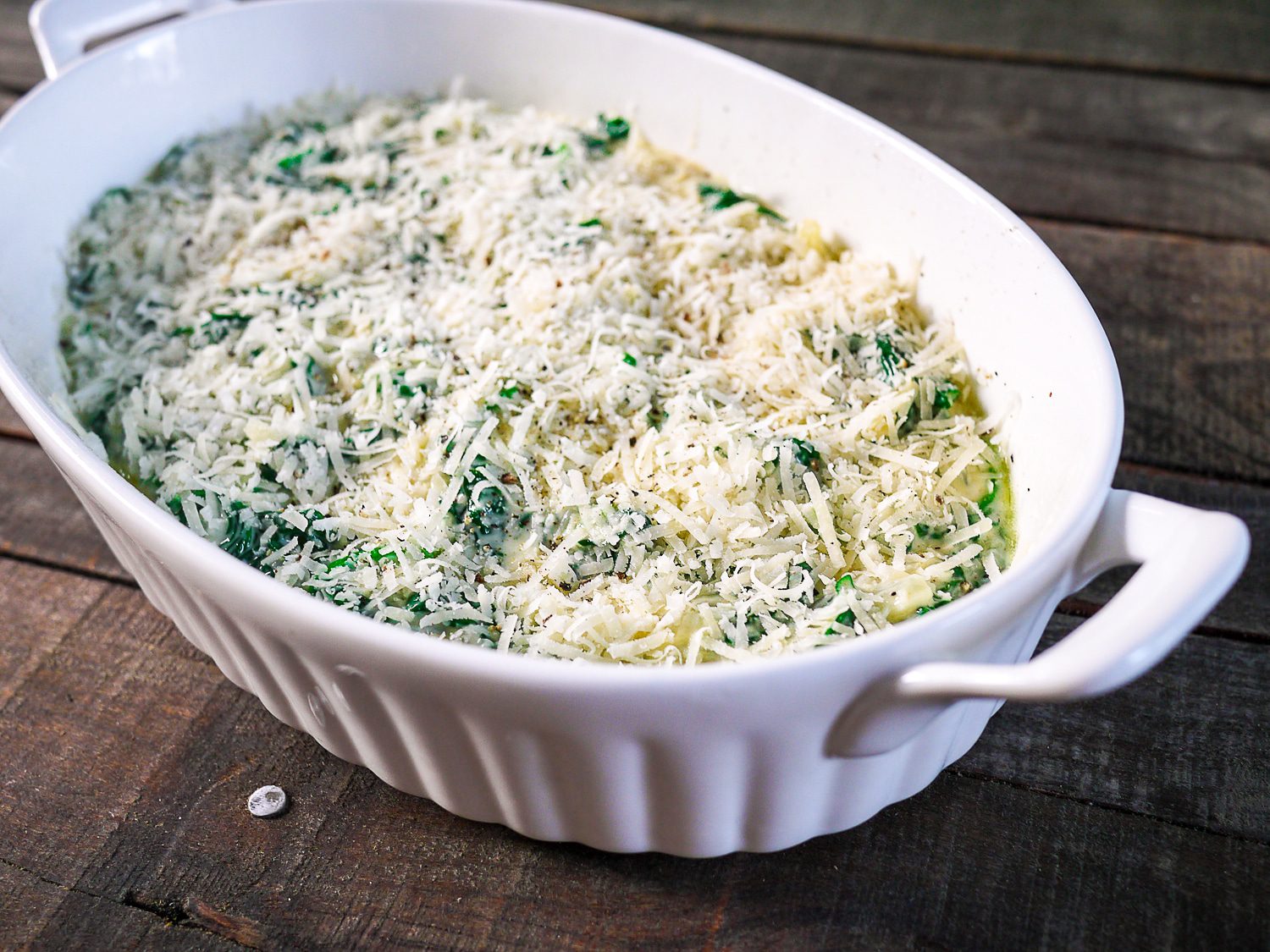 Unfortunately, the budgeter in me cannot wrap my mind around Scott and I dropping $45+ on a steak unless it is a really,really special occasion, and, even more unfortunately, it's rare (i.e. never happens) that we are offered an unlimited dinner budget and pick of restaurants from benevolent strangers.  So, we often enjoy our significantly less expensive yet almost equally as tasty steaks at home.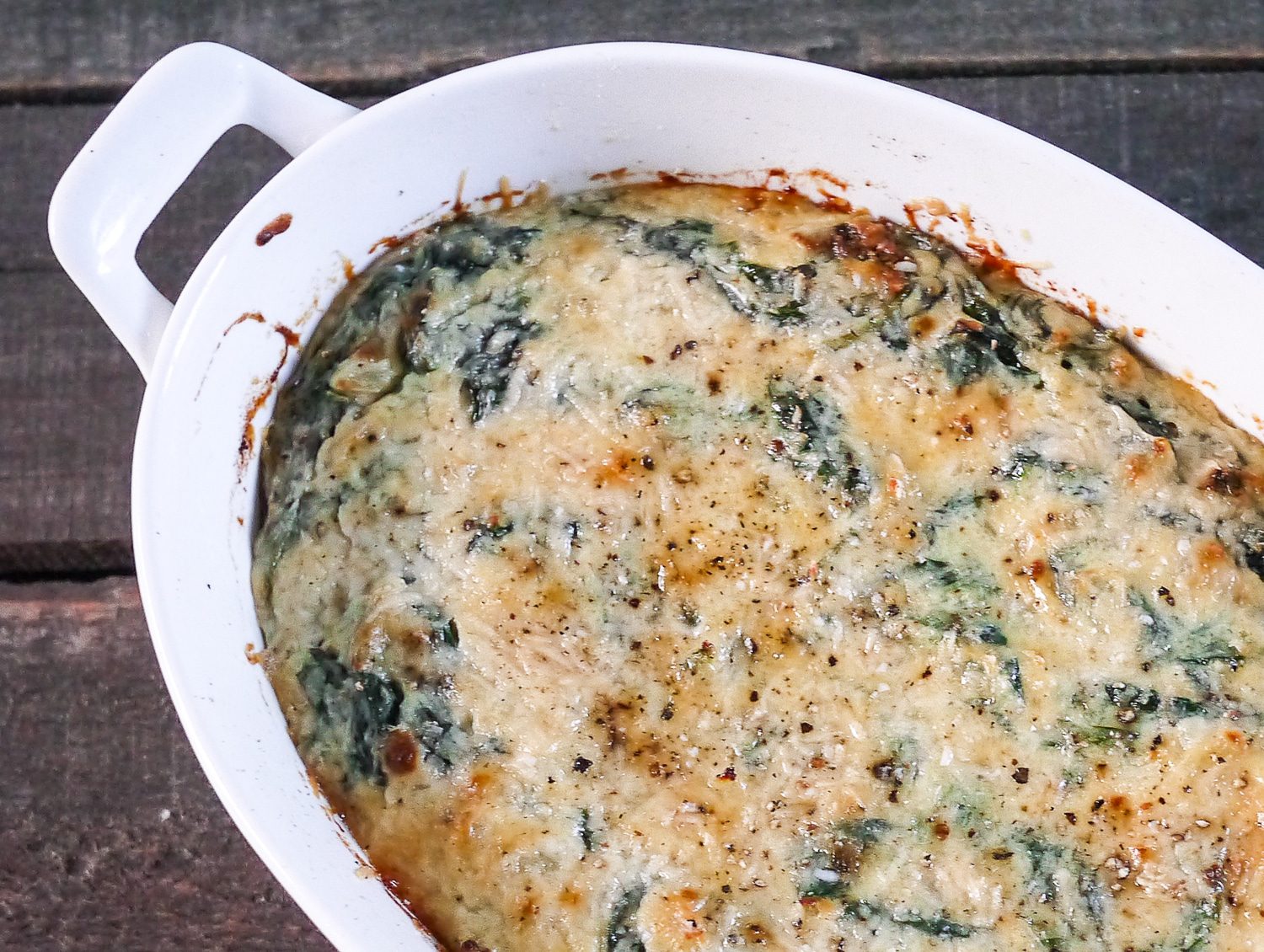 In an attempt to recreate the steak house experience at home, I often serve steakhouse-inspired side dishes with our steaks.  Sometimes it's sauteed or grilled asparagus and a chopped salad, others it's twice baked sweet potatoes and roasted green beans, and recently it was this spinach casserole.  In an effort to make the typical creamed spinach a little more friendly on the waistline, I subbed Greek yogurt, olive oil and eggs for the usual butter/heavy cream/white flour combo.  The end result was a spinach casserole the familiar rich and creamy taste of creamed spinach minus the guilt and the extra cardio sessions that inevitably follow the next day.  Success.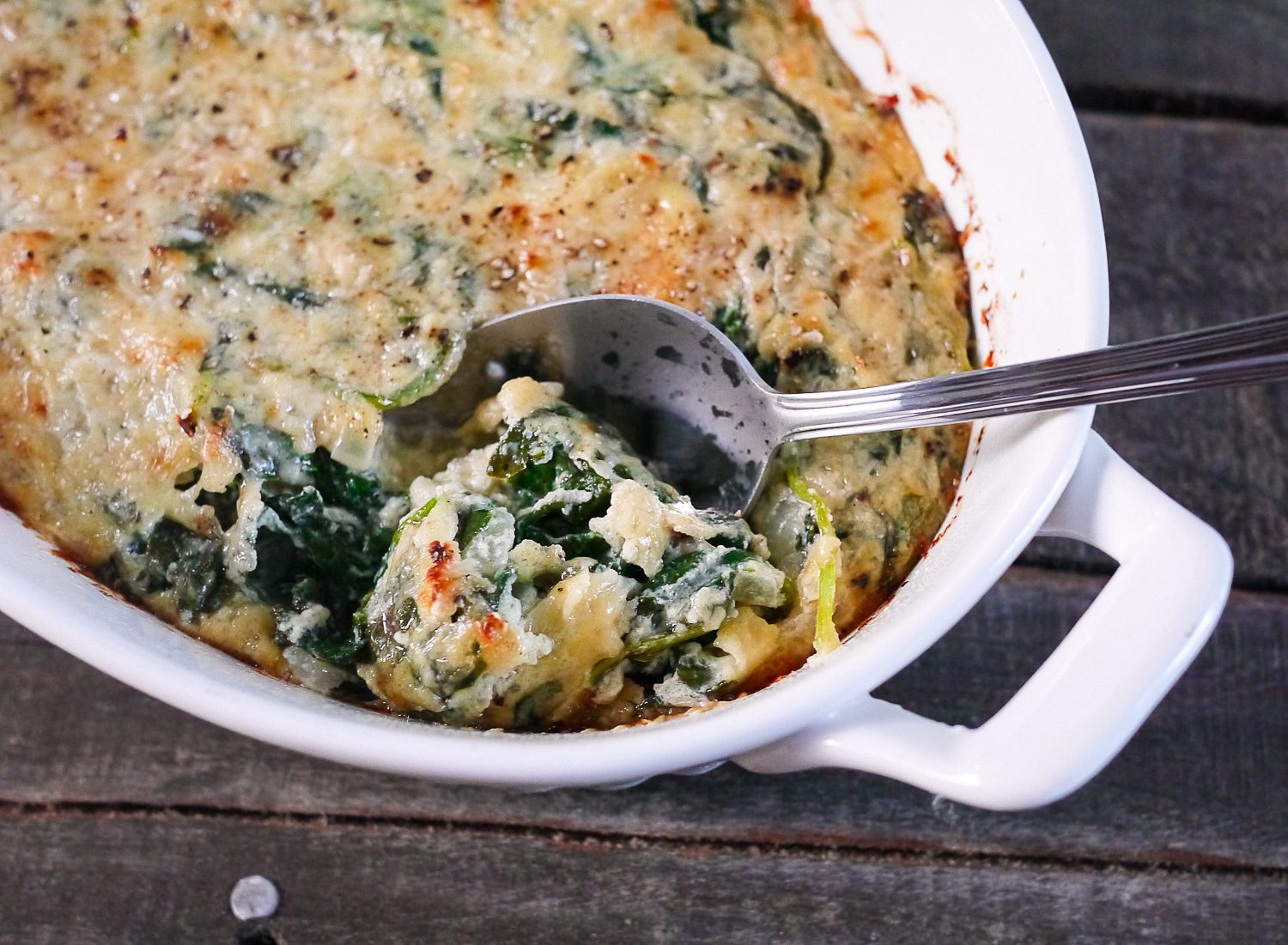 "Creamed" Spinach Casserole
Serves: 8 (or 4 if you divide between smaller casseroles)
Prep Time: 20 minutes
Cook Time:  30 – 40 minutes
Total Time:  50 minutes – 1 hour
Ingredients:
1 pound fresh spinach
1 large yellow onion, diced
2 tablespoons of olive oil
3/4 cup of 0% Greek Yogurt
1/4 cup of mayonnaise 
2 eggs, beaten
2 cloves of garlic, minced (or 1 teaspoon of garlic powder)
1 teaspoon of salt
1 teaspoon of nutmeg 
1/2 teaspoon of black pepper
1/2 cup of fresh grated Parmesan cheese
1/2 cup of fresh grated Romano cheese
Directions: 
Preheat oven to 375 degrees.  Heat a large skillet or dutch oven over medium high heat.  Add 1 tablespoon of oil to the pan and allow oil to heat for about 30 second to a minute.  Add spinach (you will likely have to do this in two batches if you use a skillet).  Toss to coat with oil and cover.  Allow to cook down about two minutes.  Remove lid and stir spinach, cooking for another minute or so until spinach is wilted.  Drain spinach in a colander.  Wipe out pan or and return to medium high heat.  Add remaining tablespoon of oil and allow oil to heat for about 30 seconds to a minute.  Add diced onion and cook for 7 to 10 minutes until tender, stirring occasionally.  Add sauteed onions to a large bowl.  When spinach has cooled enough to handle, squeeze out excess liquid and add to bowl.  Add Greek yogurt, mayonnaise, eggs, garlic, salt, nutmeg, pepper and 1/2 of the cheese to bowl and mix well.  Pour into a greased 9 x 12 casserole dish or 2 smaller casserole dishes (8 x 8 or the equivalent). Top with remaining cheese.  Bake for 30-40 minutes until top is browned and spinach is bubbly.
Tip:  Freeze the second casserole for an easy side dish in a pinch.
Extra Tip:  It would be really good with artichokes added.