I love angel food cake – it's so light and airy, it almost feels guilt-less when you indulge in slice.
My favorite way of eating it is topped with fresh whipped cream and lots and lots of ripe, juicy strawberries.  But for these mini angel food cakes, I decided to go a little patriotic (since the Fourth of July is right around the corner), and throw in some blueberries.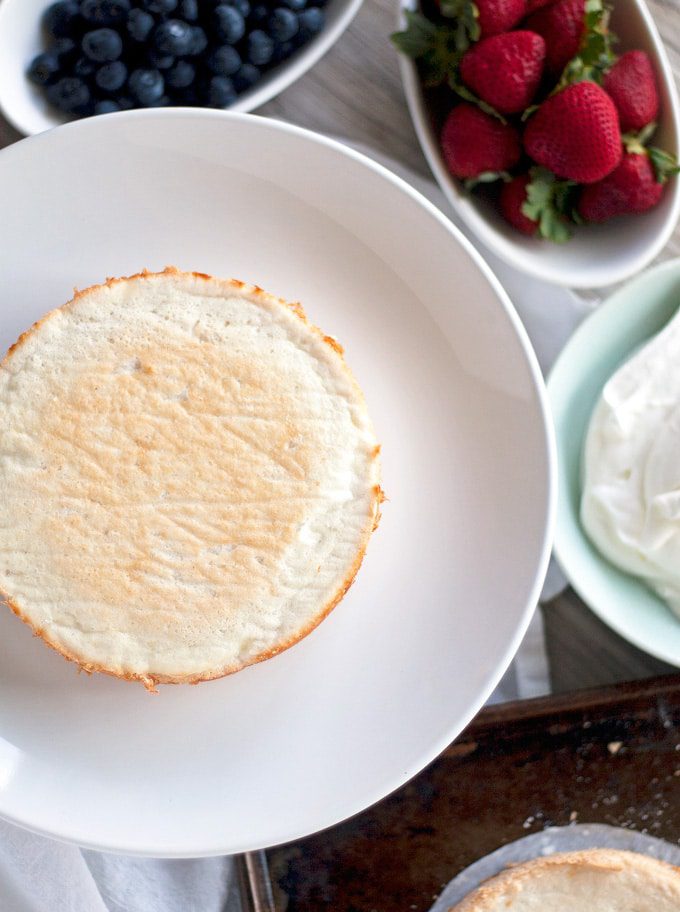 I've really been into mini cakes.  At my house, it's just me and my fiance – and my dog.  She counts because she really loves desserts.  We get these key lime gelato ice cream sandwiches (really they are amazing!) and as soon as you open the freezer door and rustle the package, she comes running!  She will so cutely paw at you until you give her a bite.  And she loves it!  Who would've thought – dogs and key lime?!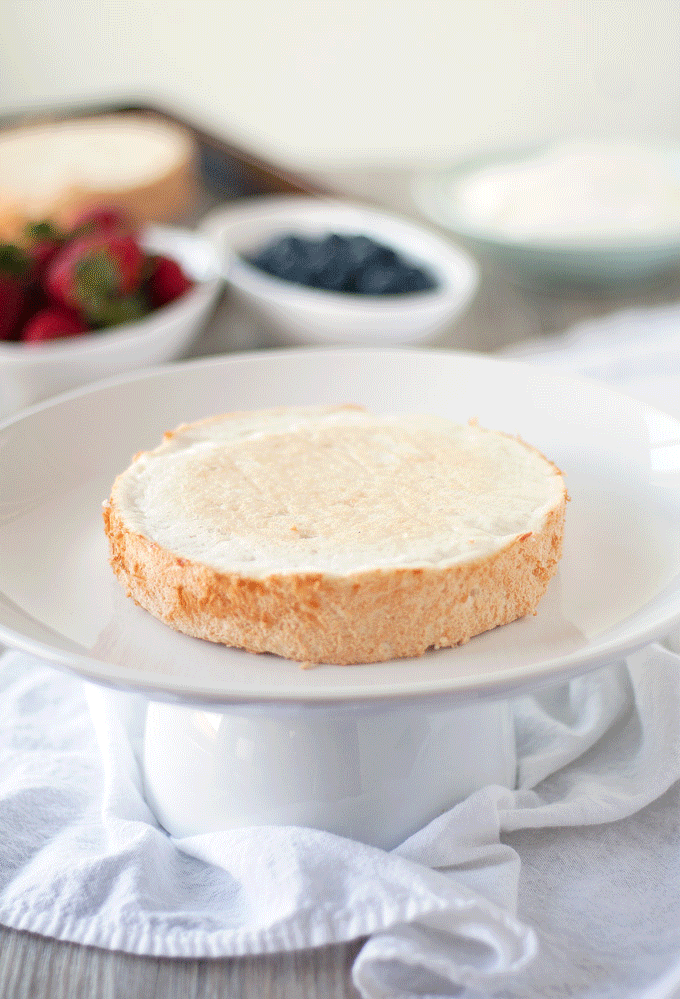 Ok- back to the mini cakes.  With just the two three of us, we really can't ever go through a whole cake.  It goes dry before we can eat it or takes up way to much, highly-needed, refrigerator space.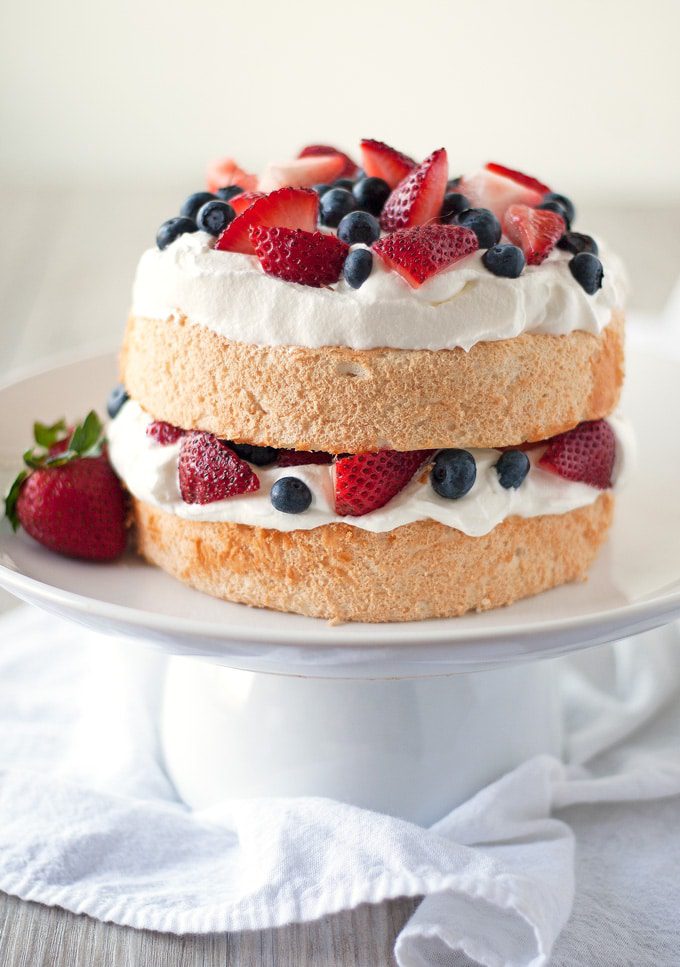 So I bought some 5″ cake pans and have never been happier.  And they were the perfect size for this mini angel food cake.  It was also perfect because I could not only load the top up with fresh whipped cream and berries, but also stuff all that goodness in between the two layers.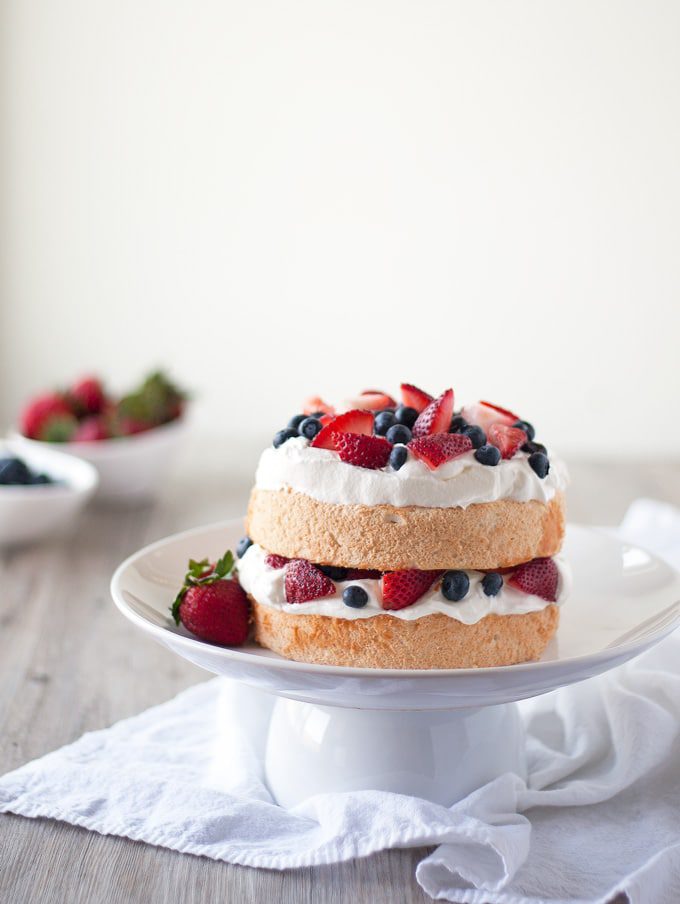 This cake is light and fluffy, with just a hint of sweetness, plus the creaminess from the whipped cream, and the juicy fruit!  So delicious and the perfect addition to any summer celebration – but especially a Fourth of July celebration!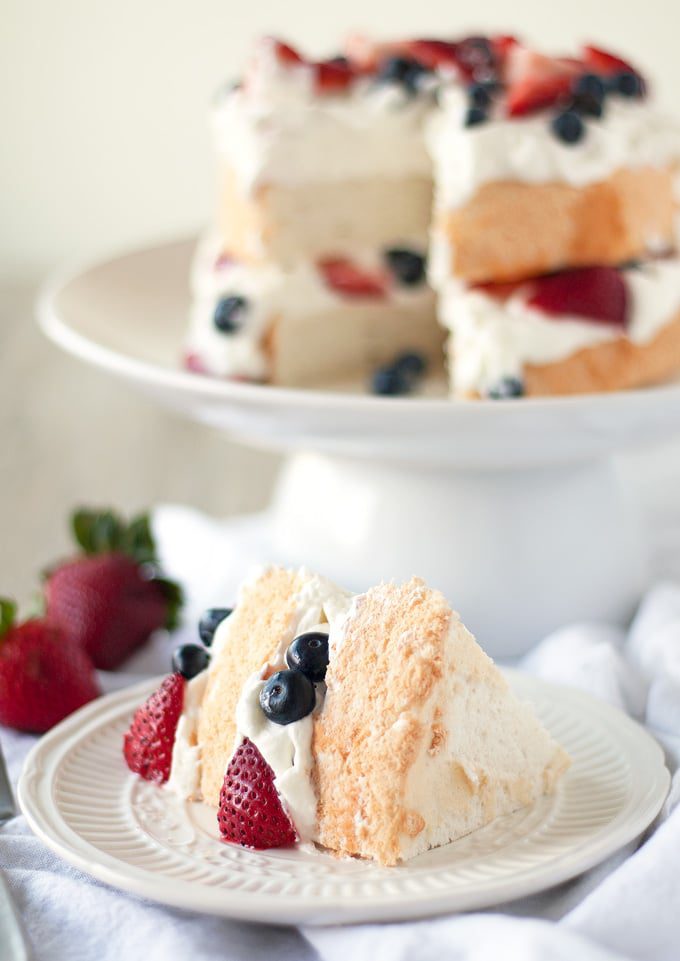 mini angel food cake
Ingredients
cake
½ cup cake flour
6 tablespoons sugar, divided
6 large egg whites, at room temperature
½ tablespoon warm water
pinch of salt
1 teaspoon fresh lemon juice
1 teaspoon pure vanilla extract
fresh whipped cream
¾ cup heavy whipping cream
2 tablespoons sugar
fresh fruit, for garnish
Instructions
cake
Preheat oven to 325 degrees F, with rack positioned in the lower third of oven.
Sift cake flower and 3 tablespoons sugar into a medium bowl.
In the bowl of a stand mixer, slowly beat egg whites with warm water until foamy.
While still mixing, add lemon juice, salt and vanilla. Increase speed to medium and beat until soft peaks form, about three minutes.
With the mixer still running, slowly add the three remaining tablespoons of sugar, scraping down the sides of the bowl if necessary.
Increase speed to high and beat until stiff, glossy peaks form, about 2 minutes.
Remove bowl from mixer and sift flour mixture over the egg-whites in three additions, gently folding after each addition.
Evenly distribute batter to 2-5″ parchment lined cake pans. Run a skewer or tip of a knife through the batter to remove any air pockets.
Bake until cakes are golden brown on top and spring back when touched, about 25 to 30 minutes.
Place cake pans on a wire rack and let cool for one hour.
Carefully run a knife around the edges to loosen and then flip cake over.
Cakes will keep, covered, for one day or refrigerated for 5 days.
Whipped Cream:
In the bowl of a stand mixer beat heavy whipping cream and sugar until soft peaks form.
To assemble
Place one cake round on a plate or cake stand and top with whipped cream and mixed berries.
Place second cake on top and repeat with whipped cream and berries. Refrigerate 30 minutes before slicing.