"I spent my whole childhood wishing I were older and now I'm spending my adulthood wishing I were younger." –Ricky Schroder
The quote is so true especially when I cook recipes and dishes that my mom used to cook for us. Since my mom rarely made sandwiches at home, leftover breads was almost always featured as upma for breakfast or evening snack. Bread upma takes at the most 15 minutes from start to finish but me and my brother used to rush our mom with "Is it done yet" questions every few seconds and I guess that's what gave it an extra boost in taste that I don't seem to perfect it yet. I have a list of recipes for my mom to make when I visit her next time. Even though I often make these dishes at home it somehow tastes better when my mom cooks. Isn't it always?
This recipe is so easy to make and needs no expertise. I made this recipe extra spicy just the way I like it, if you don't eat spicy food then adjust the curry powder and green chillies accordingly. The tomatoes in the recipe needs to be little firm and not over ripe as they tend to make the bread extra soggy. As is the tomatoes do make the bread soft, if you want to avoid that then omit the tomato in the recipe and squeeze lemon/lime juice instead. Also this recipe needs to be served immediately, so make them few minutes before you are ready to eat. Enjoy!!!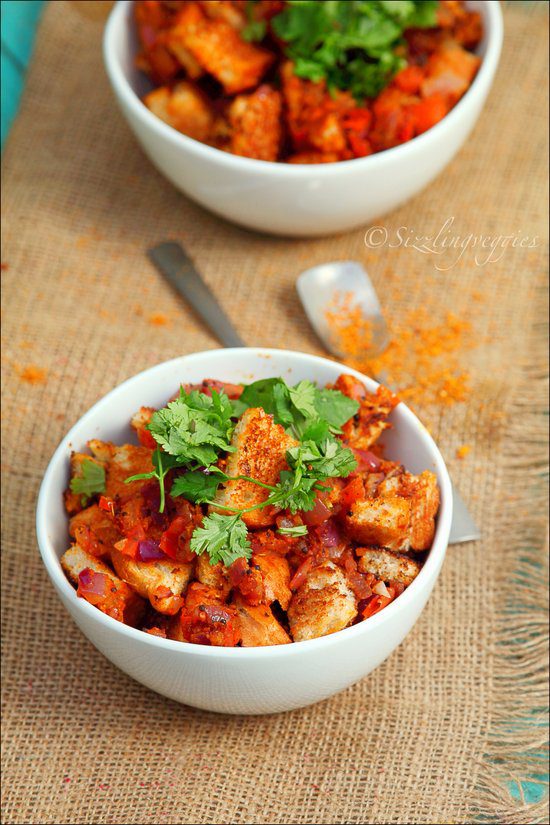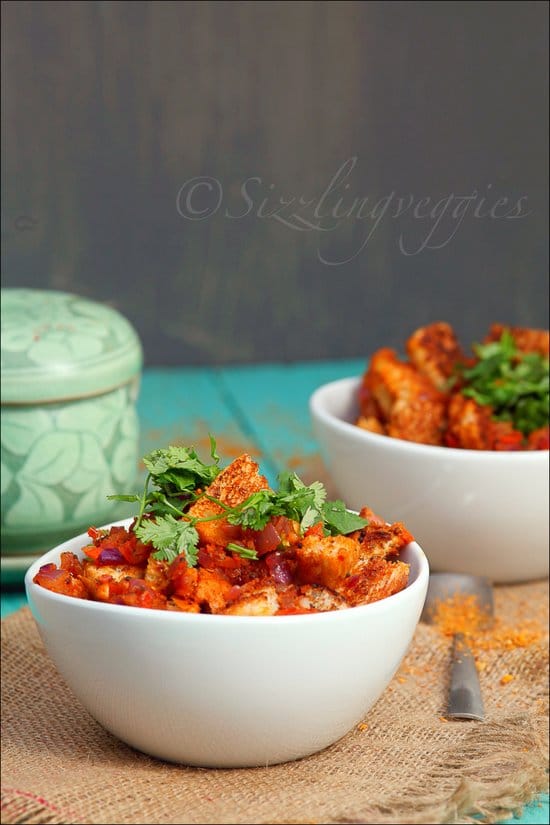 Print
Bread Upma
Ingredients
Bread — 8 slices (I used whole grain white)
Onion — 1 small (finely chopped)
Tomato — 1 medium (diced to small cubes)
Green Chillies — 1 to 2 (finely chopped)
Mustard Seeds — 1 tsp
Curry Powder (home made or store bought) — 1 Tbsp (can be substituted with sambar powder or chilli powder)
Butter — as needed to spread on toasted bread
Salt — to taste
Oil — 1 tsp
Coriander leaves — 1 tsp (chopped finely)
Instructions
Dry toast bread in toaster or stove top until its golden brown. Spread butter on both sides. Cut them into small squares and set it aside.
Heat oil in a wide pan and add mustard seeds, let it splutter. Add green chillies and onion and saute till the onions are translucent. Add chopped tomato and saute for about a minute.
Add curry powder, salt and mix well. Lower the heat and make sure the spice powder doesn't get burnt. If the mixture is very dry then sprinkle some water and cook the masala for about a minute.
Add bread pieces and carefully toss them together until the masala is evenly coated with the bread. Do not over mix as the bread will become over soft. Serve the upma immediately. Enjoy!!!