Oh, how I love mini bell peppers! They're much sweeter than their bigger cousin and are crisp when raw, but vibrant when roasted. I got a great deal on a huge bag of them, so I knew I wanted to find a way to use a bunch of them. These mini stuffed peppers were the perfect thing. The creamy, but substantial filling makes them perfect party finger-food or great for a light summer dinner with a green salad.
Thehummus-mushroom-quinoa filling is the perfect balance of creaminess, tanginess, and richness. For those who tend to miss the dairy in their diet, these stuffed peppers definitely give you the comfort of a cream-cheese filling but are a way healthier option.
These peppers are gluten-free, soy-free, and are perfect for someone trying to eat more whole foods and completely plant-based dishes.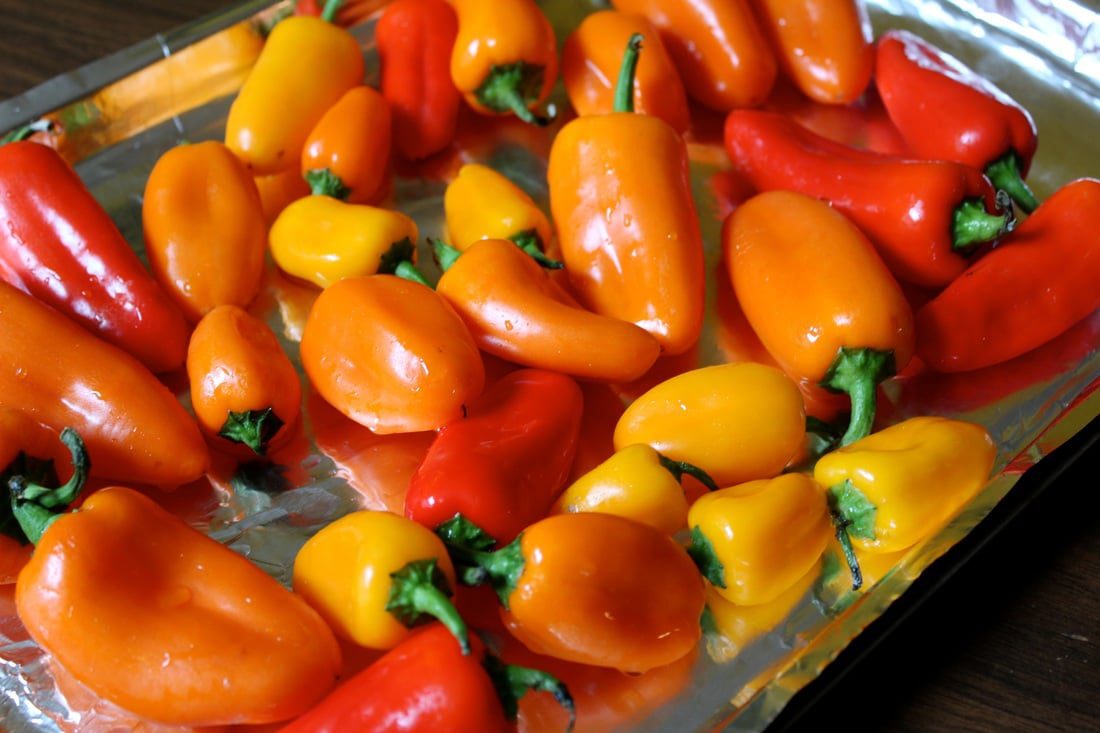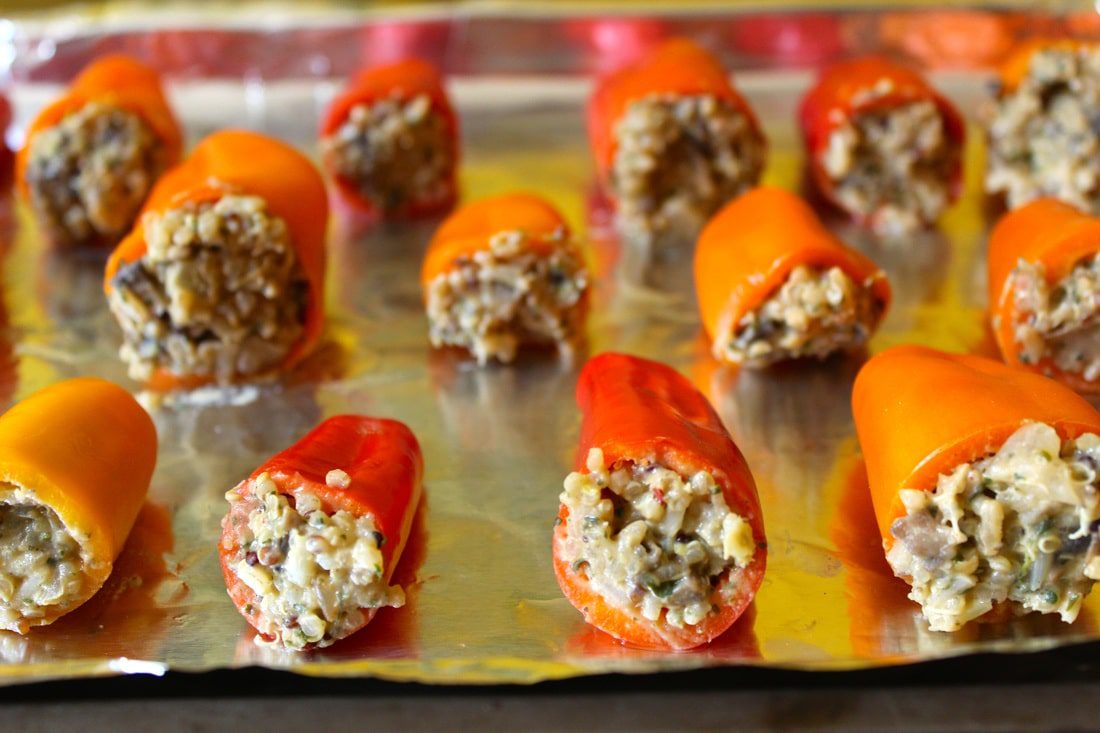 PREP TIME: 20 minutes
COOK TIME: 25 minutes
TOTAL TIME: 55 minutes
YIELD: Up to a party of 12 (2 peppers per person)
INGREDIENTS:
2 lbs. mini sweet peppers 
​1 cup uncooked quinoa
1 cup mushrooms
1/2 yellow onion
3 tbsp three-layer hummus*
1 tsp garlic powder
1 tsp dry parsley
crushed red pepper to taste
olive oil for sautéing
​
​DIRECTIONS:
1. Preheat oven to 375F
2. Wash baby bell peppers. Chop the tops off and hollow out the insides. If the pepper is less than an inch tall, it may be too small to use. 
3. Cook 1 cup quinoa according to package.
4. Finely mince onion and mushrooms. Sauté in olive oil over medium heat.
5. Once quinoa is cooked, combine with mushrooms and onions. Remove from heat.
6. Transfer quinoa/mushroom mixture to a mixing bowl. Add 3 tbsp three-layer hummus, garlic powder, dry parsley, and crushed red pepper. Stir until well mixed. 
7. Carefully stuff each pepper with filling, being sure to push the filling down inside the pepper.
8. Roast stuffed-peppers for 25 minutes, flipping once halfway through.
9. For best results, serve warm.
***About the three-layer hummus, I really do think the complex flavors in the Trader Joe's three-layer hummus are a big part of the success of the filling. If TJ's isn't an option for you, I definitely recommend a cilantro or spicy hummus to help elevate the flavor of the dish.