In an attempt to recover a batch of somewhat mushy lentils, I came up with this yummy and hearty side dish. With 13g of protein and 8g of fiber per serving in this trio lentil blend I purchased from Costco, you could easily make this dish as a main course served over some sauteed veggies or brown rice.
Now this dish certainly doesn't look the prettiest so maybe not something for when you're trying to impress guests at a dinner party, but it's hearty, healthy and tastes darn good.
Ingredients:
1 ¼ cup cooked lentils
1 cup crushed no salt added tomatoes
½ large white onion
2 cloves garlic, minced
¼ teaspoon paprika
¼ teaspoon chili powder
½ teaspoon oregano
2 teaspoons braggs liquid aminos/soy sauce
Salt and pepper to taste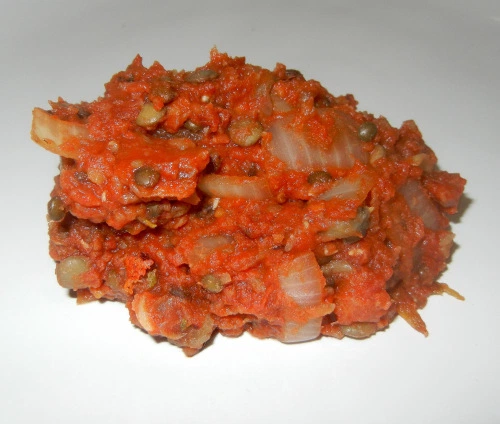 Directions:
Dice a ½ of a large white onion with 2 minced cloves of garlic and a bit of olive oil for a few minutes. Add in 1 cup of crushed tomatoes and 1 ¼ cup cooked lentils and stir around until heated through.
Sprinkle on paprika, chili powder, oregano, braggs liquid aminos/soy sauce and salt and pepper and stir to incorporate.